As Greater Toronto Area home prices have made their stratospheric gains over the last decade -- and particularly over the course of the pandemic, with the average increasing a whopping $340,113 (37.6%) between March 2020 and January 2021 -- questions have been raised as to how buyers are still managing to afford their home purchases.
---
That it's really the "Bank of Mom and Dad" -- parents digging into savings or their own home's equity to fund their adult kids' down payments -- propping up the region's real estate market has been a popular theory, especially as property price growth has well outstripped that of millennials' wages.
However, new numbers from Ipsos, released in partnership with the Toronto Regional Real Estate Board, reveal these down payment gifts account for less than what has perhaps been perceived, and that their prevalence has stayed consistent over the past six years, despite eroding affordability.
Read: Average GTA Home Prices Forecast to Rise Another 12% This Year
The research shows that in the fall of 2021, "gifts from family / friends" accounted for 11% of down payment sources -- a number that's barely budged, reaching back to 2015. Savings from within an RRSP made up the bulk of funding sources at 35%, followed by equity from an existing property (27%). Finally, savings from within an RRSP and "Other" make up 14% and 13%, respectively.
It should be noted that the proportion of down payment gifts is slightly higher for the first-time buyer segment, at 17%, indicating that more than four-fifths of newbie buyers are sourcing their cash from places other than their parents. In fact, this group is most likely to come up with funds the old-fashioned way, with savings outside of an RRSP accounting for 40%. Just 17% of savings came from within an RRSP, perhaps reflecting the fact that the federal government's Home Buyers' Plan -- which allows first time buyers to borrow funds from their RRSPs tax-free -- is severely under-utilized.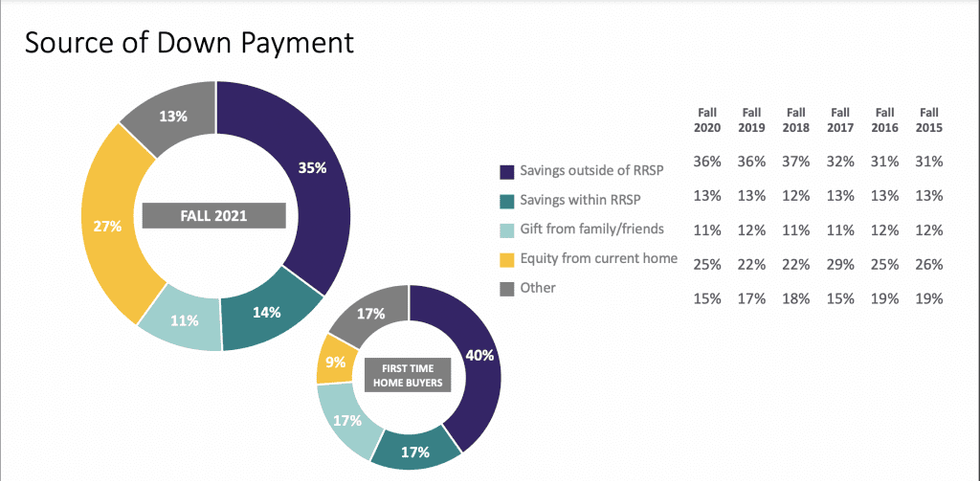 Toronto Regional Real Estate Board
Down Payment Sizes "Quite Remarkable" in Today's Market
Sean Simpson, Senior Vice President at Ipsos, says this indicates buyers have indeed been able to keep pace with price growth, despite the affordability challenges present in Canada's largest markets.
"One thing that's been quite remarkable over the last couple of years, given the growth in housing prices is that, for the most part, GTA residents have been able to keep up with their down payments," he stated in TRREB's live Market Outlook and January News Release call.
"Where these down payments are coming from, well in fact, these have also been remarkably stable over the last number of years. If there was a huge shock to the system, we'd see these fluctuate, as people try to look for new sources of funds for their down payment, but they're quite consistent… There's a lot of rhetoric out there about the 'Bank of Mom and Dad,' and for some people, that's certainly the case, but overall, it looks like those gifts have been stable over the last half decade."
In fact, he adds, overall down payment size remains well above the minimum requirement, with down payment intentions for fall 2021 actually at all-time highs in the 416 and 905, at 32.5% and 29.8% -- again, fairly consistent over time.
"Most [buyers] do not require an insured mortgage, and if we look at the figures among first-time homebuyers, their average down payment is over 25% as well." Simpson said. "So the government seems to be worried, and perhaps rightly so, about some people overextending in terms of what they can afford, but it shows the vast majority had very healthy down payments on the purchase of their home."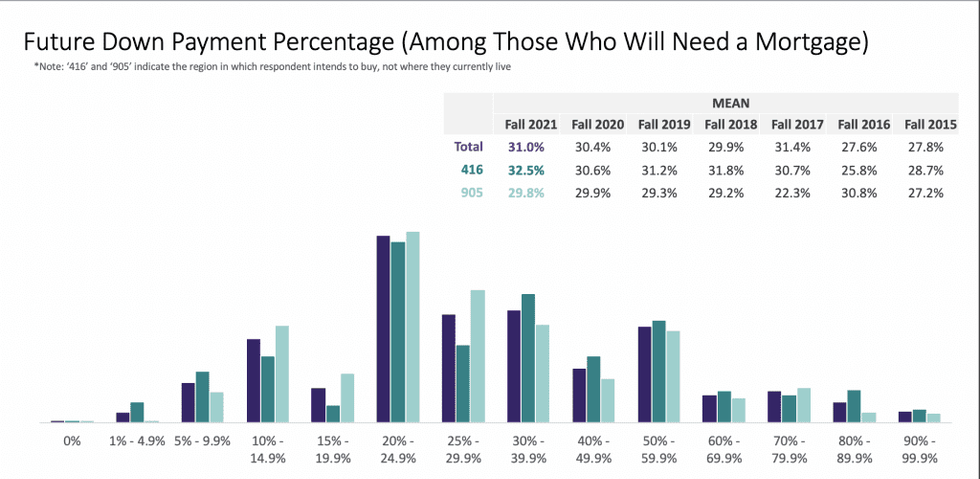 Toronto Regional Real Estate Board
These numbers are just the latest in the quest to determine parental influence in the housing market. A report released last November from IG Private Wealth Management found "affluent" Canadians -- defined as having at least $1 million in investable assets -- give, on average, $145,000 to each child to go toward the purchase of a first home.
Another CIBC report found 30% of first-time homebuyers -- and 9% of move-up buyers -- received some help from family to get into the market in 2020, with the former receiving an average gift size of $82,000 (up from $52,000 in 2015) and the latter an average of $128,000.
So, while it's clear many parents out there are helping their kids get into the housing market, it seems fewer people are relying on the bank of mom and dad than previously thought. Which doesn't mean you should avoid asking the question if it's on the table...
Toronto