As the old saying goes, 'what goes up, must come down... and go up again?' In this case, we're referring to average rents in the Greater Toronto Area, which have declined for the 12th straight month due to impacts of COVID-19.
According to the latest TorontoRentals.com and Bullpen Research & Consulting Toronto, GTA rent report, the average asking monthly rent in the GTA for all property types was down more than 16% year-over-year in November to $2,056, marking a full-year of declines.
---
But after months of declining average rents, the new report suggests that the falling rent in Toronto might have an end in sight, as Bullpen Research & Consulting forecasts double-digit rent growth for apartments (condo and rental) in 2022, following a modest rise in 2021.
"Our forecasts call for even lower rents in the first half of 2021, with a modest rise in the second half of the year," said Ben Myers, president of Bullpen Research & Marketing. "However, we expect a substantial bounce back in 2022, with rents increasing by double-digits with a mad rush back into the downtown Toronto market."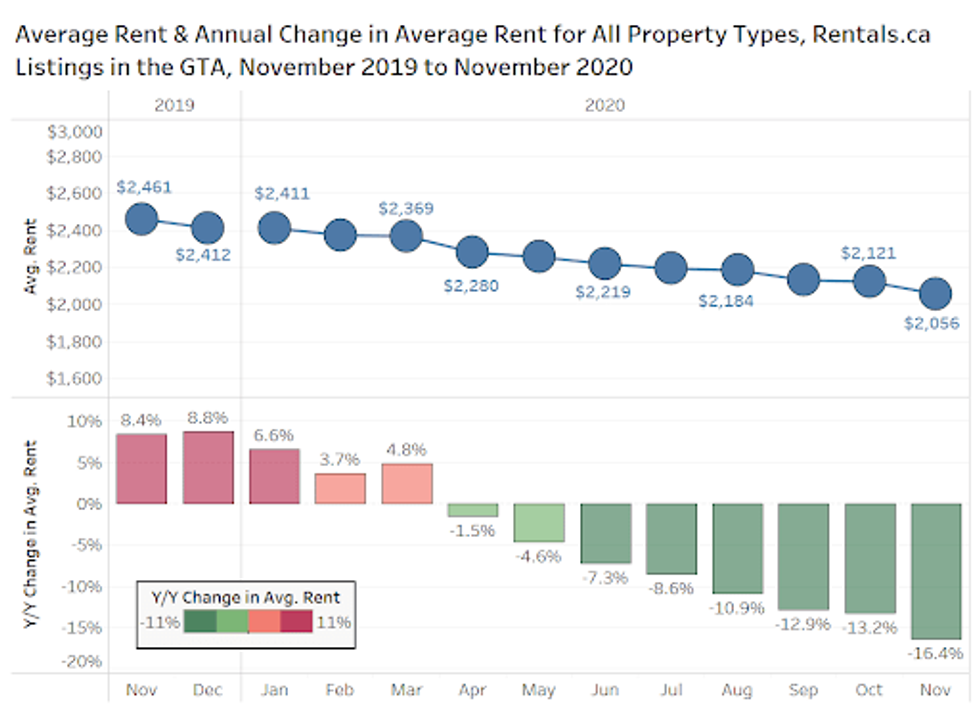 READ: Average 1-Bedroom Rent in Toronto Dropped 20% in 2020
According to the report, rents are expected to decline in Toronto until the middle of 2021, and then slowly recover in late 2021 before rising "sharply" in 2022, finishing that year up 13% to 14% annually.
While this increase might sound drastic, this will still average slightly below the 2019 peak rent level of $2,454 per month. What's more, rents are expected to slowly increase through the end of 2022 in the GTA suburbs and the city of Hamilton.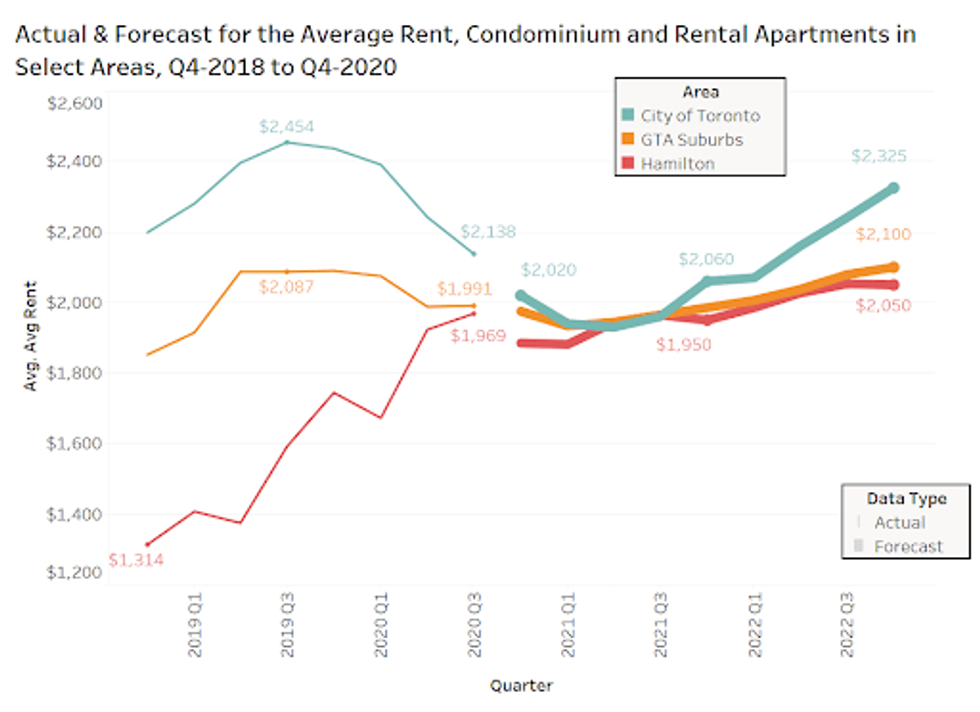 Here in Toronto, average rent in pre-amalgamation Toronto continues to experience dramatic rate decreases, with November year-over-year changes in average rent approaching -19%.
On a wider-scale, one- and two-bedroom rents are both down by about 15% year-over-year for average rents in the GTA -- $1,827 for a one-bedroom, and $2,288 for a two-bedroom. According to the report, this equals a potential saving for the prospective tenants of $330 and $390, respectively from one year before.
However, with a second province-wide lockdown coming into effect, and many employees continuing to work from home, the report says that any rapid reversal in rents is not expected in Toronto or the GTA over the next four to six months -- which remains good news for those looking to enter the rental market in the near future.
Renting