Real Estate News
Average Rent in Canada Up for Fourth Straight Month, Especially in Toronto
If you're in the market to rent, the time to act is now. Actually, it was months ago, when Toronto rental prices dropped to a four-year low.
Now, Canada's rental market has roared back to life, as predicted this past June.
For the fourth consecutive month, the average rent in Canada increased for all property types, rising to $1,763 in August, up 0.6% over July and 5.2% since this year's market low of $1,675 in April, according to Rentals.ca's and Bullpen Research & Consulting's latest National Rent Report.
Year over year, the average asking rent for all Canadian properties listed on Rentals.ca was down 0.3% in August. But as rents have trended upward the last four months, the percentage is narrowing: In April, average annual rents were down 9.3%; in May, they were down 5.7%; in June, average rents were down 2.7% annually and in July, they were down 1.1%.
The good news? Canada's average monthly rent is still about $190 below the market peak of $1,954 in September 2019.
But rents are expected to continue to rise as university and college classes resume, as (some) workers return to the office, and as the border is reopening. As we've seen before, however, the pandemic has the ability to turn things around quickly, so the forecast is contingent on the Delta variant staying in check. In the meantime, however, the rental market is clearly back in action.
Throughout the country, single-family homes in particular have bounced back, with a higher average rental rate in August than in the same month in 2019. Average monthly rent for apartments continues its slow and gradual increase year-over-year, while average rents for condominium apartments continue their slow and gradual decline. The latter may come as a surprise to Toronto or Vancouver residents, as those notoriously pricey cities saw rents climb 15% and 16% respectively from February to August.
As such, the report suggests that condo rental rates could soon turn around again on a national basis.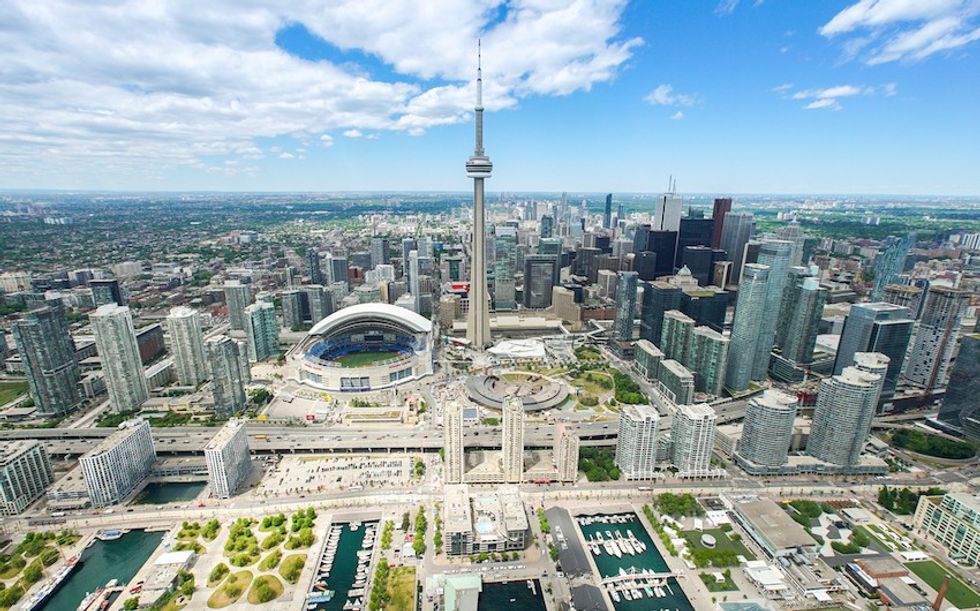 "The rental market continued its upward trend on a national basis in August as some normalcy returns to the country. With elementary schools opening in September, there was strong rent growth for single-family properties again in August," says Ben Myers, president of Bullpen Research & Consulting.
Larger units with three or four bedrooms have experienced significant year-over-year increases in Canada, suggesting the demand for larger units persists as tenants expect working from home to continue in some fashion.
Rent prices in Toronto are quickly on their way back to their pre-pandemic levels, judging by the recent price hikes. Toronto finished second highest on the list for average monthly rent in August for a one-bedroom at $1,989 and for a two-bedroom at $2,628.
"Toronto and Vancouver are experiencing huge rental demand, especially for higher-end condos," says Myers. While the Toronto rental market was expected to rebound with the pandemic recovery, experts like Myers are surprised by how quickly the city's rent prices climbed.
Year-over-year, average monthly rents were down slightly in August in Toronto for both a one- and two-bedroom. But month-over-month, the average monthly rent for a one-bedroom was up 7.2%, and up 0.8% for a two-bedroom. In Toronto, the condo rental market has recovered in recent months, rising 7.2% month-over-month to $2,362 in August, and 15% since the February low.
In Toronto, the Bay Street Corridor remains one of the most expensive neighbourhoods for renters in August, along with Waterfront Communities and Kensington-Chinatown, which has the largest year-over-year increase at 9%.
Some of the more inexpensive neighbourhoods for average rent include South Parkdale, North St. James Town, and Mount Pleasant West. The average rental rate in South Parkdale has declined 14.2% annually to $1,691 per month in August.