---
The City of Vancouver published a new development application that would see two rental buildings constructed just a few blocks away from the Millennium Line SkyTrain's Renfrew Station in East Vancouver.
The proposed development site, located 2406-2484 Renfrew Street, would take up the entire block between East 8th Avenue and East Broadway.
The site is currently occupied by a row of six single-detached homes, all built prior to 1952, and a single-storey office building built in 1960, according to BC Assessment.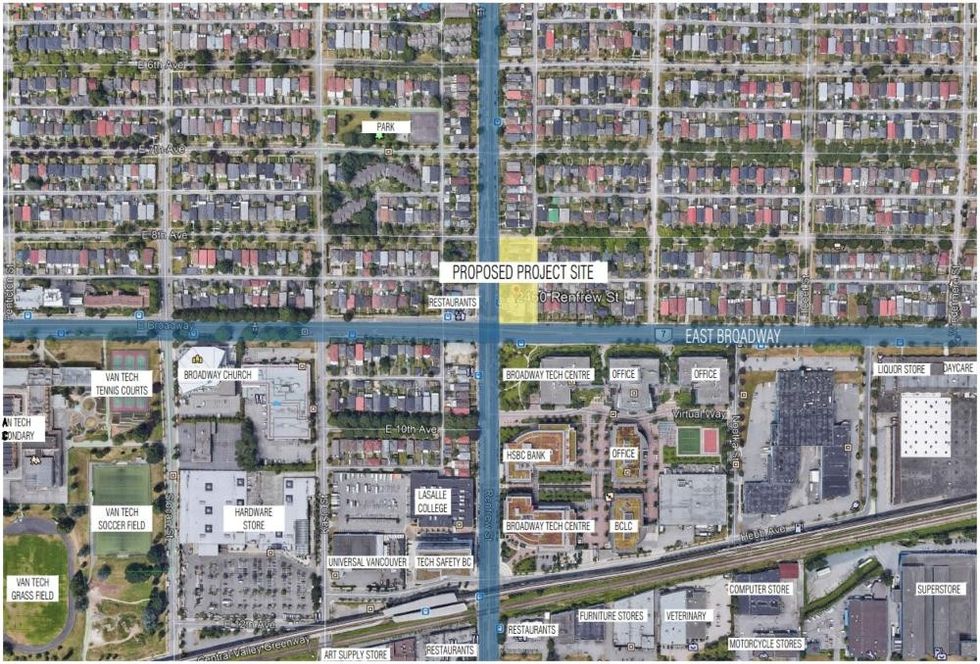 (Epta Development Corporation)
The proposal calls for a 15-storey building housing a total of 179 rental units, 20% of which (by floor area) will be secured at below-market rates for those with an income between $30,000 to $80,000, under the City of Vancouver's Moderate Income Rental Housing Pilot Program (MIRHPP).
The unit mix was not included in the application documents, although two-bedroom and three-bedroom units will be provided, as required by the MIRHPP. The lower floors of the 15-storey building will house approximately 7,000 sq. ft of commercial retail space, while the top floor houses the building's residential amenities.
The second building will be seven storeys in height. Although it is also referred to as the podium for the 15-storey building, is not actually attached to the 15-storey building and is separated by an outdoor space. According to the project's Design Rationale, this is likely the result of the significant sloping of the site.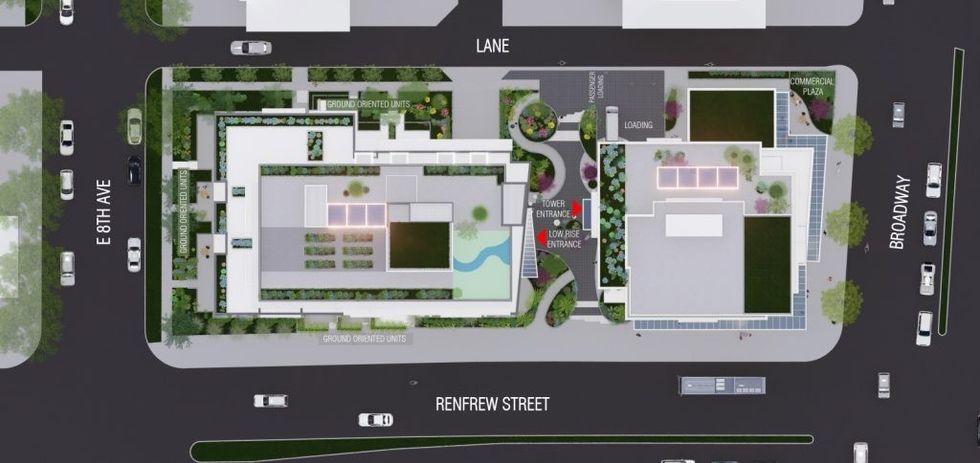 Overview of the site. (Epta Development Corporation)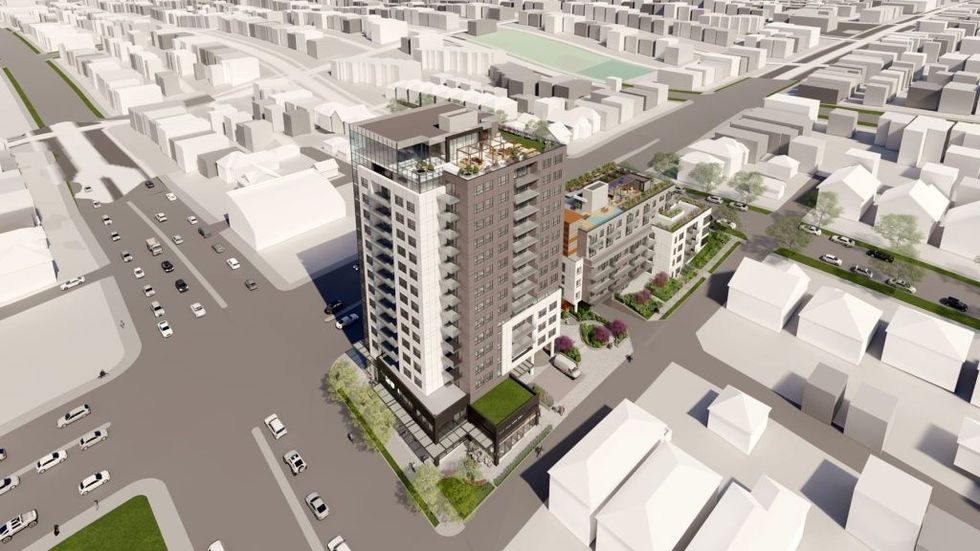 Epta Development Corporation
The developer behind the proposed project is Vancouver-based Epta Development Corporation, whose portfolio includes a mix of commercial and residential builds, including a four-storey mixed-use building in Burnaby that was built in 2016, was eventually sold to GEC Living, and is now a student rental building.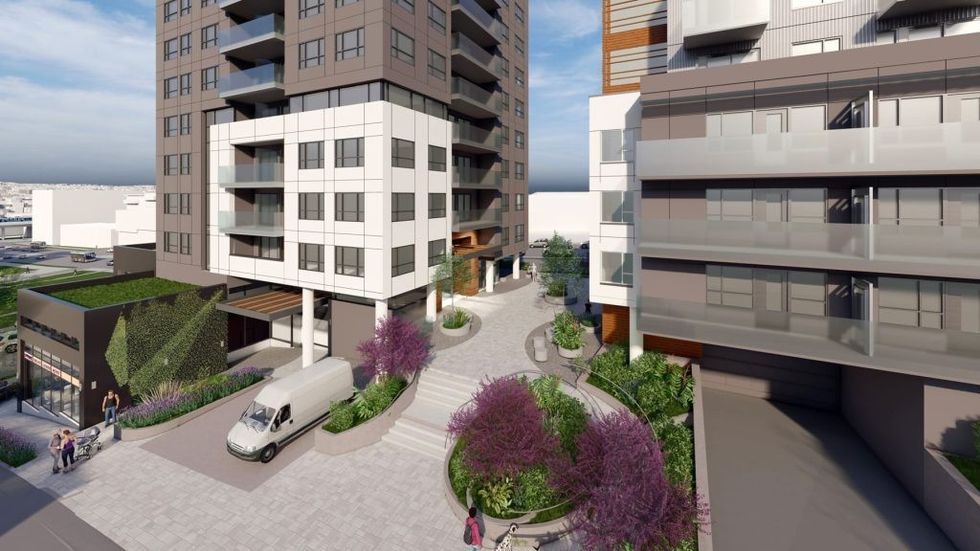 Epta Development Corporation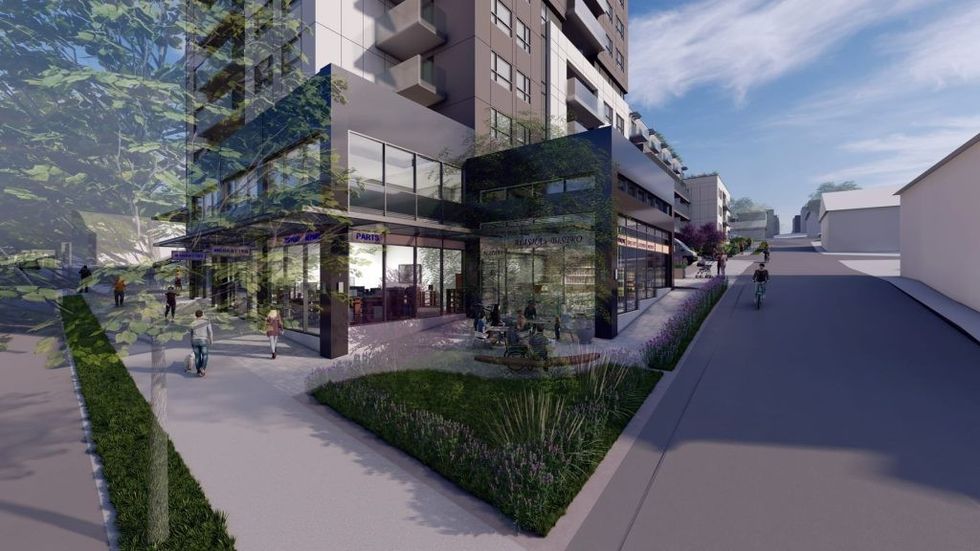 Epta Development Corporation
Vancouver-based Studio One Architecture is serving as the architect of the project, and say they are aiming to establish "a visual connection up Renfrew Street that aids in connecting the residential North/South fabric through the industrial corridor."
READ: 32-Storey Rental Tower Proposed For West End of Vancouver
"The low-rise adopts a multi-family expression along Renfrew in keeping with the massing of the approved residential developments on Renfrew Street south of Broadway," Studio One added.
Being just a short seven-minute walk from the aforementioned Renfrew Station, and a 15-minute walk from Rupert Station, the rental buildings would be well-serviced by transit. The neighbourhood also notably has a plethora of retail stores along East Broadway, as well as numerous parks.
The City of Vancouver is accepting public comment on this Renfrew rental building project from now until Friday, February 24.
Renting