---
A stretch of Avenue Road, which currently houses a group of beloved flower shop businesses with apartments above, could soon be converted to a 12-storey mixed use building. 
An application was recently submitted to the City of Toronto to convert the prime Annex/Yorkville real estate at 126-130 Avenue Road, at the north-west corner of Avenue Road and Bernard Avenue. 
The proposed development consists of a new 40m (12 storey) building housing 55 dwelling units -- including 11 rental replacement units -- and 205 sq. m of grade-level retail, with a separate residential lobby. The residential units are proposed for floors 2-12, with a mix of nine studio units, 27 one-bedroom units, 14 two-bedroom units, and five three-bedroom units. 

The proposal features a total of 114.20 sq. m of indoor amenity space and 130.50 sq. m of outdoor amenity space. The third floor will house all of the indoor amenity space, which will be linked with a 25.20-sq-m outdoor amenity area. Meanwhile, the building's rooftop will offer the remaining 105.30 sq. m of outdoor space on the eastern face of the building.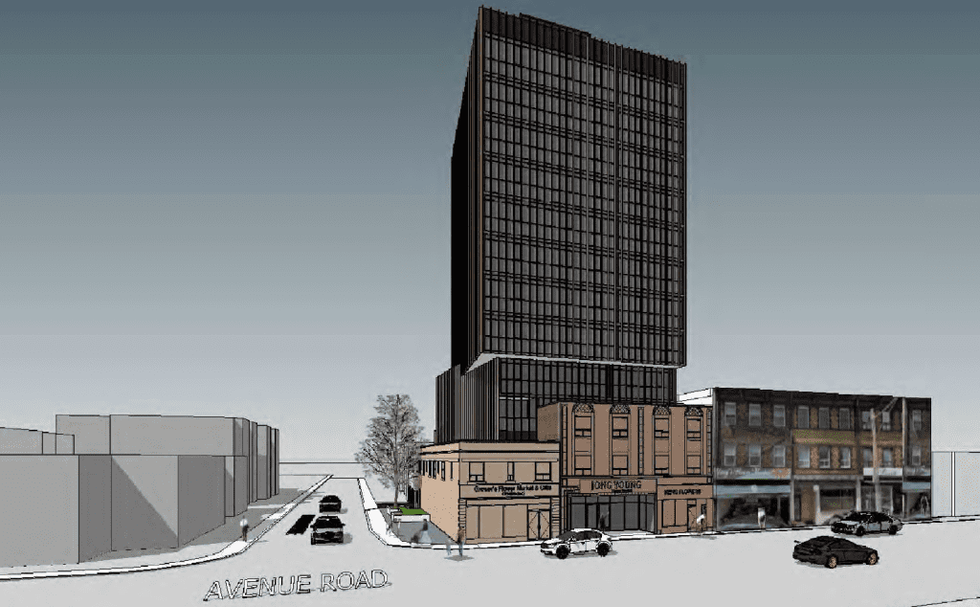 WND Associated
A total of 13 vehicular parking spaces are proposed, all of which will be contained within two underground parking levels. A total of 54 bicycle parking spaces are also provided, comprised of five short-term spaces and 49 long-term spaces, which will be split between the building's ground floor and first underground levels.
Surely coming as some (key word) relief to local residents who may not want to see the storied neighbourhood change any more than necessary, the heritage elements of the site will be retained and incorporated into the overall design. 

Generally rectangular in shape, the proposed site includes a frontage on Avenue Road of roughly 21 m, as well as a frontage on Bernard of just over 35 m. Currently, 128-130 Avenue Road contains a three-storey mixed use building, with at-grade and residential units up above.

The construction of the proposed development would result in the demolition of all 11 existing rental units, but there would be an average replacement ratio of over 100% of the existing unit area, while securing the rental tenure for a 20-year period. 
As for the local flower shops -- and their loyal decades-long customers -- they'll likely become a neighbourhood memory. Sigh.
Toronto