It's no secret that Toronto's rental scene has been flipped on its head, after a surge of Airbnb has-beens hit the market as a result of the pandemic over the last several months, meaning (hugely) increased unit availability and, ultimately, lower rent prices.
But just how much have these rent values changed?
---
According to recent numbers from Padmapper, the answer is: significantly. In fact, the median cost to rent a one-bedroom in the city has dropped a whopping 10% year-over-year.
As it stands, the median cost for a one-bedroom rental in Toronto was $2,070 in August, according to the report. In addition to sitting 10% lower than it did at the same time last year, this price reflects a 1.4% drop from July. Meanwhile, the two-bedroom median has also plummeted; sitting at $2,630 in August, this cost reflects a 12% fall from the same month in 2019 and a 0.8% decrease from July.
What's more, the recently released National Rent Report from Rentals.ca and Bullpen Research & Consulting revealed the average price to rent a one-bedroom apartment in Toronto now sits at $2,013 — down 1.3% from the month previous, and a staggering 13.8% year-over-year. Rent for two-bedrooms fell 8.9% over the past year, too.
READ: Average Price of One-Bedroom Apartment in Toronto Drops to $2,000
Despite these record lows, it should be noted that Toronto still holds the highest ranking for the most expensive one-bedroom cost median, and falls below Vancouver's two-bedroom price-point -- $2,750 -- by only $120.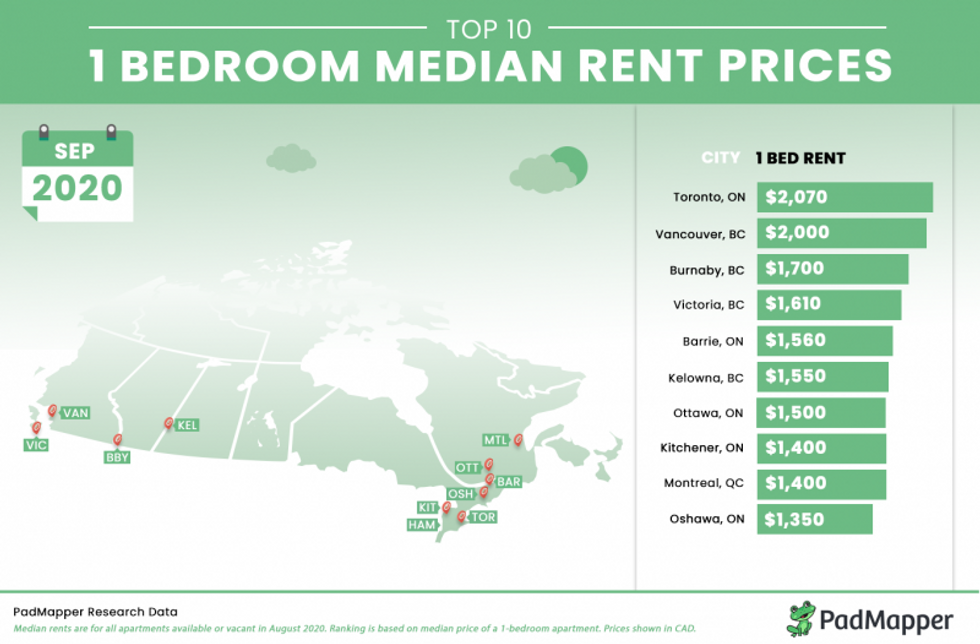 Over in the 905, where some Torontonians tend to see the grass as greener (or maybe it's just that the region has grass in the first place), price plummets haven't been nearly as dramatic. In many cases, in fact, numbers have actually risen. But, unsurprisingly, median costs still loom around much lower values than those we see here in Toronto.
One-bedrooms in Hamilton have gone up 6.5% in median price y-o-y, settling at $1,320 in August. While it's a jump from the year before, the cost is lower than July of this year by 2.2%. Meanwhile, two-bedrooms are up 7.1% from the same time last year, and 2.5% from July, reaching $1,660 in August.
Imagine -- an over-7% jump, still coming in below $1,700.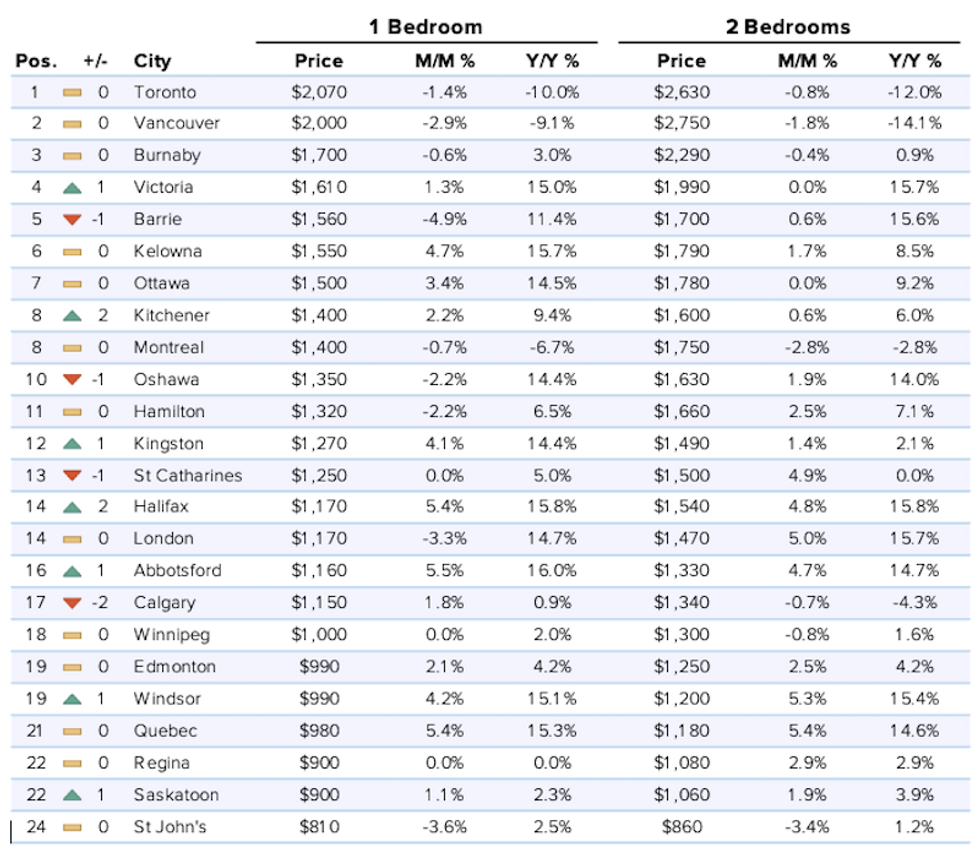 Aside from Toronto and Vancouver, which sit at the top of the list of the country's most expensive cities, "the rest of Canada seems to be steadily recovering from the sudden halt in rental demand during the pandemic as half of the total cities saw rents grow on a monthly basis," the report says.
Joining Toronto and Vancouver in the priciest ranks are Burnaby, BC, where the median cost is $1,700 for a one-bedroom and $2,290 for a two; Victoria, BC, which shows $1,610 for a one-bedroom and $1,990 for a two; and Barrie, ON, where the one-bedroom median cost is $1,560 and the two-bedroom is $1,700.
Based on these numbers, it's clear that even as prices in Toronto fall and other areas see increases, those regions that are less hustling and bustling continue to offer cheaper rental options. But of course, the caveat there is that -- should you choose to go -- you'll pay the price of being further from all the city has to offer. It all depends, ultimately, on how high up the "greenest grass" is on your priority list.
With files from Ainsley Smith.
Renting