---
Vacation homes are often hard to justify. Not only is there the initial cost, there's the ongoing upkeep, recurring design decisions, and the stress of knowing it will sit empty for long stretches of the year.
It can be so daunting that many of the fortunate few lucky enough to entertain the idea of buying another property settle for renting instead, and in the process miss out on arguably the single most beneficial aspect of Canadian real estate -- the equity opportunity.
Enter wecasa, a new PropTech company that's just launched in Canada with hopes that their unique co-ownership model can make owning a second home feel less like a distant possibility and more like a 2023 reality.
Founded by the Vancouver-based duo of Mark Proudfoot and Alex Conconi, who were introduced by a mutual friend, the wecasa home co-ownership model is similar to a timeshare, but with an ownership structure more like that of professional sports teams.
Rather than owning 100% of a property, co-owners each own between 1/8 and 1/2 of the home. The minimum amount of co-owners for a property is two, while the maximum is eight, and stakeholders who hold more than 1/8 of the home gain more access to the property. (Out-of-province buyers are accepted, but international buyers are currently not.)
"It's hard enough to buy a primary residence, let alone a second home," Conconi told STOREYS. "Most people would love it -- and Mark and I have seen that the trend is growing -- but there are only so many second homes, so where are they going to come from?" Conconi says the trend is growing steadily as a result of the shift to remote work, as well as a huge portion of baby boomers retiring.
Conconi -- who graduated from Simon Fraser University with a Master of Finance and founded a mortgage technology company called Lendesk that was later acquired by Rocket Mortgage -- also points out that many timeshare homes often end up empty for large chunks of the year, and that their model dissuades this, as people who have an ownership stake in the property are much more inclined to use it.
Where this model differs from traditional timeshares is that you truly have ownership of the property, meaning you can sell your wecasa ownership and benefit from any appreciation in the value of the property, like you could owning a chunk of a sports team.
There are also quality-of-life benefits to sharing ownership rather than splitting a lease. Owners have a vested interest in the property, which allows for professional interior design, higher-quality furnishings, and better home maintenance, all of which wecasa handles.

(Wecasa)
Conceptualized over a year ago, with pre-marketing starting in January and February 2022, wecasa officially launched on Wednesday, December 14 with two properties in British Columbia now ready for co-ownership and financing options a work-in-progress.
The first home is located in BC's most-famous resort town: Whistler. It's a 5,200 sq. ft home on a 16,000 sq. ft lot, with six bedrooms and seven bathrooms, and 1/8 ownership costs $1,216,509, including taxes. This price also includes a 12% service fee from wecasa, which asks as the company's primary source of revenue. Though co-owners will also have to pay monthly operating costs, 1/8 of which are estimated to be $1,750 per month for this property.
The second home is located in the Okanagan's Naramata Bench -- often referred to as Canada's Napa Valley for its abundance of vineyards and wineries. The property is a 1,900 sq. ft, three-bedroom townhouse near the water, and 1/8 ownership costs $294,325, plus a $941 a month operating cost.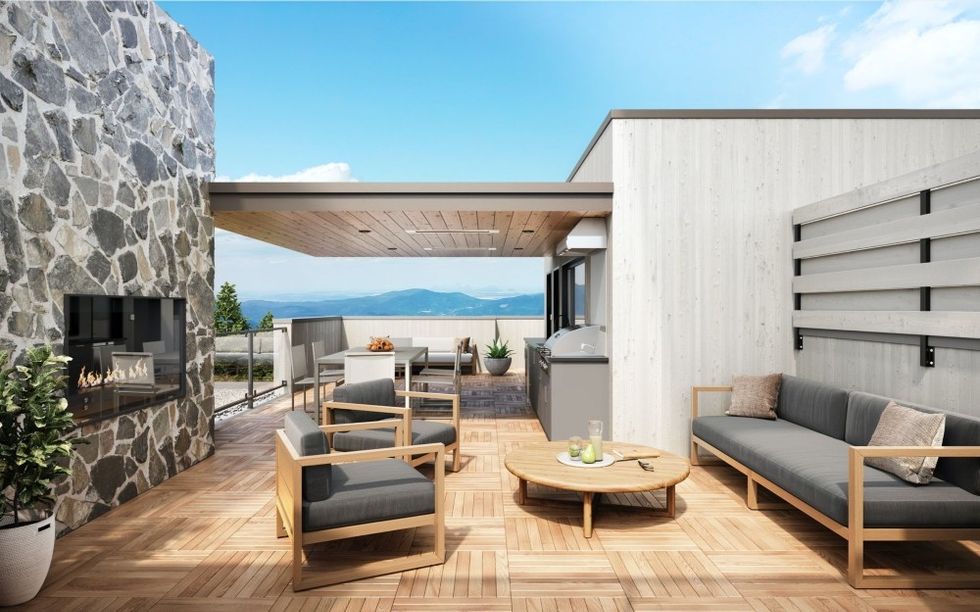 The Anna Avenue home in Naramata. (Wecasa)
Each 1/8 you own grants you six reservable weeks a year (or more, if there are less than eight co-owners), as well as an unlimited amount of short-notice stays (classified as those booked within 30 days or arrival), with the remaining time used for inspections and maintenance in between stays. Bookings are made through wecasa's app, which is also used to manage expenses and payments.
Wecasa handles all of the property maintenance, as well as all of the legal aspects that come with owning a property, which they recognize as one of the aspects of home ownership that can be a real hassle -- and even more so with co-ownership. Handling the legal aspects is so core to what wecasa offers that the company's first official hire was General Counsel.
The Whistler and Naramata properties are the only two currently available from the company, but Proudfoot and Conconi say more will be coming, with announcements expected in the new year.
Proudfoot and Conconi tell STOREYS that they have two models when it comes to acquiring properties. The first is what they call the "right-size" model, where they work with an agent and client who is interested in selling a portion of their home. The other is the "exclusive marketing model," where they work with the existing owner to convert it into a full wecasa property, acquiring the property via a limited partnership.
Wecasa also works closely with agents, and has introduced an agent partnership program, where agents who make a successful referral earn a commission. "All the agents we've worked with are excited about the model, especially realtors having a hard time meeting the needs or budget of a client," Conconi says. "Agents are very central to our model," Proudfoot adds.
Asked how they go about picking potential properties, Proudfoot -- who graduated from the University of British Columbia with a Master's in Business Administration -- says the properties have to meet a certain kind of criteria. "Each home has to be distinct, one that we can design, and one that meets certain standards of amenities, location, and design aesthetics," he says. "We want there to be variety for different kinds of buyers." 
Conconi says Whistler is their primary market at the moment, but that their rollout will be guided by demand, and they are seeing more demand in Muskoka, in Ontario, than in any other market. They also have their eyes on Alberta.
READ: Toronto-Based Cios Wants to Simplify Things for Renters and Landlords
Wecasa is not the first company in Canada to introduce co-ownership -- sometimes also referred to as "fractional" ownership. Another Vancouver-based PropTech company, Addy, also offers fractional ownership of real estate, but is more akin to a Real Estate Investment Trust (REIT) that helps you potentially earn passive income, whereas wecasa is more focused on those looking to buy into a market and own a second home for their own use.
"We really believe this is the way to make second-home ownership affordable," Proudfoot says.
Homes