The metaverse is growing, with more companies getting involved in virtual assets every week.
---
Take MetaSpace Real Estate Investment Trust (MREIT), which is the first tokenized real estate investment trust in the metaverse, according to the company. It launched in December 2021 by twin brothers Eric and Evan Klein, who each come with backgrounds in real estate -- Eric on the commercial side, Evan on the residential.

MREIT's goal is to allow anyone interested in investing in metaverse real estate the option to do so by purchasing the company's native token (MREIT).
Traditional Real Estate Experience an Asset in the Metaverse
Eric, who has over 10 years of experience in real estate and consulted with clients including Mortgage Architects, Chestnut Park, and Sotheby's International Realty, came up with the idea of tokenizing real estate through blockchain. In 2019, he founded KleinCap Investments, a cryptocurrency and blockchain investment company. MREIT, which launched on Unicrypt, an early VC investor platform, is a subsidiary of KleinCap. Evan, who previously worked with Compass, Sotheby's, and most recently as the head of brand at Keller Williams, in Toronto, joined to help with brand strategy.
Read: Do You Need a Real Estate Agent to Buy Property in the Metaverse?
While many companies working in the metaverse come from venture capital and technology backgrounds, Eric says his and his brother's experience in traditional real estate, in addition to his own background in cryptocurrencies, is a big advantage.
"A lot of the projects you see in the metaverse and crypto have totally anonymous teams, specifically blockchain companies and tokens, so you don't know who is leading the project," Eric tells STOREYS. "But with MREIT, the first thing we did was get audited, followed by getting a know-your-customer (KYC)."
(A KYC is a process where a company verifies the identity and risk associated with their customers, done so to help protect against money laundering and illegal transactions.)
How Does Investment in the Metaverse Work?
MREIT focuses on buying, leasing, and minting virtual real estate in the metaverse, with profits linking back to token holders by way of smart contracts (programs stored on a blockchain that run when predetermined conditions are met). Every time a new token or pair is released, companies will have their smart contracts audited and showcased publicly. The audit checks for security features and executions, and if done correctly, allows everyday investors to freely buy, sell, and trade virtual assets. MREIT's smart contracts (token) were audited by SolidProof, a German-based blockchain auditing company.
In order to participate you need to be a token holder. A token is a blockchain based unit of value issued by an organization. Token holders then "hold and get put into a reward pool as well as onto a whitelist for anything the company does," says Eric. MREIT buys digital assets entirely on the blockchain, so the value and revenue can be tracked via transactions made on the Ethereum blockchain, including its reward pool.
"You receive fractions of a token based on the amount you put in, just like Bitcoin," says Eric, adding that token holder's average investment is between $1,000 to $3,000. Currently, there are approximately 900 investors participating in the MREIT platform, he says.
It is similar to buying and selling, where you can swap cryptocurrency like Ethereum (ETH) back into MREIT, thus taking MREIT out of the public available tokens, which limits supply and then drives the price up.
The cost of building out a building depends on the size and memory of it, and REITs share rental income, with the company sharing a piece of all revenue, says Eric. Investors don't have any equity in the assets and are advised to only put in what they are willing to lose, just like any investment model.
"If you look at the traditional real estate model, it would take 25 years to pay off fees, whereas we can pay of in 18 to 24 months, plus we own that land. Everything is profitable after that," says Eric. "A token holder is part of the project, which is different than a VC company that plays in their own big pool, goes out and buys, and then investors get all the profit."
MREIT recommends which virtual world, such as The Sandbox or Decentraland, would be best for a company's agenda and then serves as their metaverse landlords. They help them build a business model and determine their metaverse strategy. For example, Sandbox is better for a more "destination brand", since you are stuck within that lot until you exit and can't run around, so it is better for companies looking for office space or property for a concert, says Evan.
How To Profit
MREIT charges for development and makes royalties on non-fungible token (NFT) sales. They then pool together 25% of that and convert it back to the MREIT token, which then gets dispersed amongst token holders. The company can build a building, NFT collection, or lease space to brands, generating revenue via a lease or advertising.
"Our first thing is monetization -- we want companies that we work with to make money," says Eric, who shows companies demos to then determine an e-commerce play. Klein also brought on Joshua Chisvin, a PSR Brokerage partner, to kickstart the investor relations at MREIT.
"We don't build in Decentraland like most people do. We use a software called Blender, which I work with," says Evan. "It creates life-like buildings that you design however you like. I built our headquarters in Blender and then published it in Decentraland."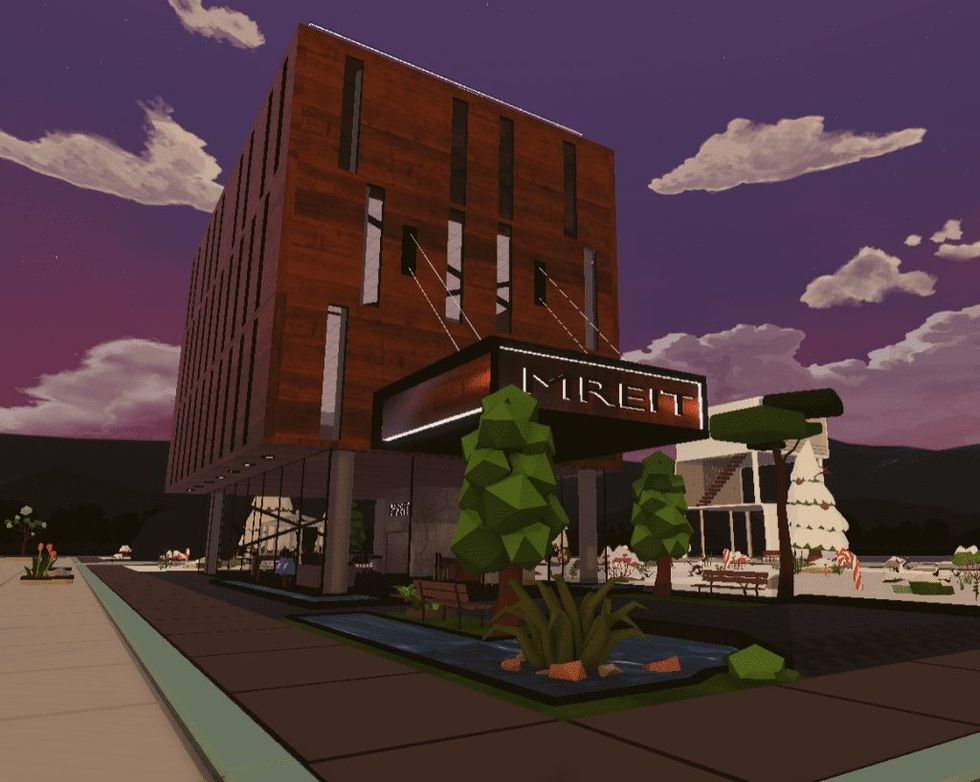 The main floor of the HQ is dedicated to the team. The above floors are dedicated NFT space for brands that want to come into the metaverse.
The brothers say they utilize Discord as a way to connect with their users, answering questions and providing information on the actual utility of the virtual assets. MREIT uses Rentible to handle its property listings and transactions.
"We have four times the demand from brands than we do land," Eric says, noting that Decentraland only has 90,000 parcels of land available, with much of the space not for sale (i.e. rivers, trees).
Metaverse Opportunities Lie in Virtual Office Space
Evan says he is most excited about how virtual reality (VR) will help build workrooms and spaces for those working in the metaverse.
"I think the bigger level VR integration will bring a huge opportunity for offices, virtual co-working, and work in general," he says.
While they declined to mention names, the Klein brothers said they are working with four "well-known Canadian and U.S. brands to build out a product in the metaverse," and "we're going to be acting as their landlord and operator to get them started."
"I don't think you can apply the rules of the real world into the metaverse, that's not how it works. So, I think we are going to see a hybrid situation on how realtors are going to be selling products or educating clients on products," says Evan. "We are working with companies to do both."
MREIT will be releasing three million tokens in March 2022. Currently, transactions are done over the Ethereum blockchain (MREIT ERC-20). Read the whitepaper here.
Office