According to the City of Victoria, local renters — not unlike those in other cities across the country — are facing an extremely tight market, with vacancies around 1%, and those who successfully find an apartment are often forced to spend much more than 30% of their income on rent.
In light of this, the City of Victoria is exploring the possibility of creating two new incentives to "support non-market rental housing developments and the inclusion of units affordable for households with median incomes in market rental projects."
---
The first is a straightforward 50% reduction in development cost charges (DCCs) for non-market rental housing. Like other municipalities, the City of Victoria charges DCCs on all development projects and uses the money to pay for expanding or improving infrastructure.
The City collects the DCC payments at the time of the building permit application, which makes the incentive something that helps developers get their projects off the ground, through improving proformas.
The second incentive then helps both during and after a project is constructed, and is what the City is calling a Revitalization Tax Exemption (RTE).
Under normal circumstances, property assessment values naturally increase from year to year, which can result in an increased tax burden that adds to operating costs. The RTE would provide a 100% exemption of this incremental increase amount — on both the land and improvement (building) values — for 10 years, on properties to be redeveloped and new developments.
"The cost savings from the tax exemption reduce the operating costs and allow for more of the rental revenue to service the debt," City staff said in a report last month, and a 10-year exemption is the maximum that is allowed under British Columbia's Local Government Act.
Staff note, however, that the RTE would have varying degrees of benefit depending on the kind of rental project, saying that the benefit would be less for non-market rental housing than it would be market rental housing because the land and improvements for non-market rental housing are assessed by BC Assessment at lower values than those of market rental housing.
Because of this, staff are recommending that non-market rental housing projects receive both the Revitalization Tax Exemption and the 50% DCC reduction, while market rental housing projects will only receive the RTE.
In terms of the requirements, non-market rental housing projects have to be owned and operated by a public housing body, be secured for rental and at affordable rates for a minimum of 60 years, and tenants of the existing units that are lost to the redevelopment must be given the right of first refusal to one of the newly-constructed units.
For market rental projects, developers must also provide the right of first refusal to displaced tenants, but also have to secure 10% of the units in the building at rates that are affordable to median-income households, as determined by the City, in perpetuity.
The City notes that developers of rental projects often have to show an expected profit margin of at least 10% to secure financing and that these two new incentives would contribute towards that, while working in conjunction with the City's existing incentives, which include priority processing, reduced parking requirements, and bonus density, among others.
Last month, the Government of Canada announced that it would be eliminating the GST on new rental construction, also greatly contributing towards making rental projects more financially viable.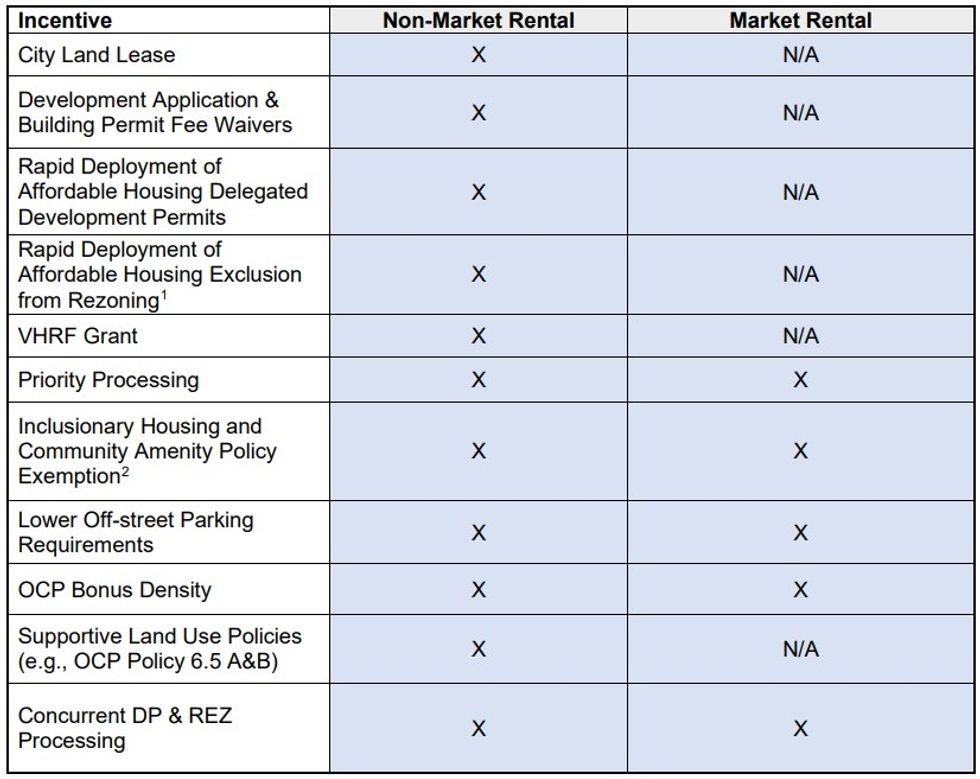 Incentives that currently exist for non-market rental and market rental projects.(City of Victoria)
Victoria City Council is expected to make a decision on the staff recommendations in a Council meeting today, October 12. If approved, City staff will then begin working on creating the necessary programs and bylaws. No timelines have been provided on when that work would be completed and when the incentives would come into effect.
Alongside these two new incentives, staff are also recommending revisions to the Victoria Housing Reserve Fund guidelines, including removing the $500K cap on grants, establishing a new funding stream for below-market units, establishing grant amounts for four-bedroom units, and increasing the City's grant payment schedule from 50% to 80% prior to construction.
The new rental housing incentives come shortly after the Province announced housing targets for 10 municipalities, including Victoria, which received a five-year target of 4,902, of which 3,483 (71.1%) must be rental units. Of those 3,483 rental units, 1,798 (51.6%) must be below-market units.
The City of Victoria had proposed these new incentives in mid-September, but the decision was delayed to this week, so the incentives are not a direct response to the housing targets. Nonetheless, it's something that the Province, as well as rental developers, will likely be happy to see.
Real Estate News