Rental scams often make headlines in big cities. But despite the awareness these stories bring, people still fall victim to "too good to be true" listings. That's why a new trust tool is hoping to change the game. 
RentSeeker.ca recently introduced a new feature on its platform and website called Verified Listings. It displays a blue check mark next to properties and companies the rental site has verified as a trusted source. This helps ensure renters are having safe and authentic transactions when searching for a new rental home. 
---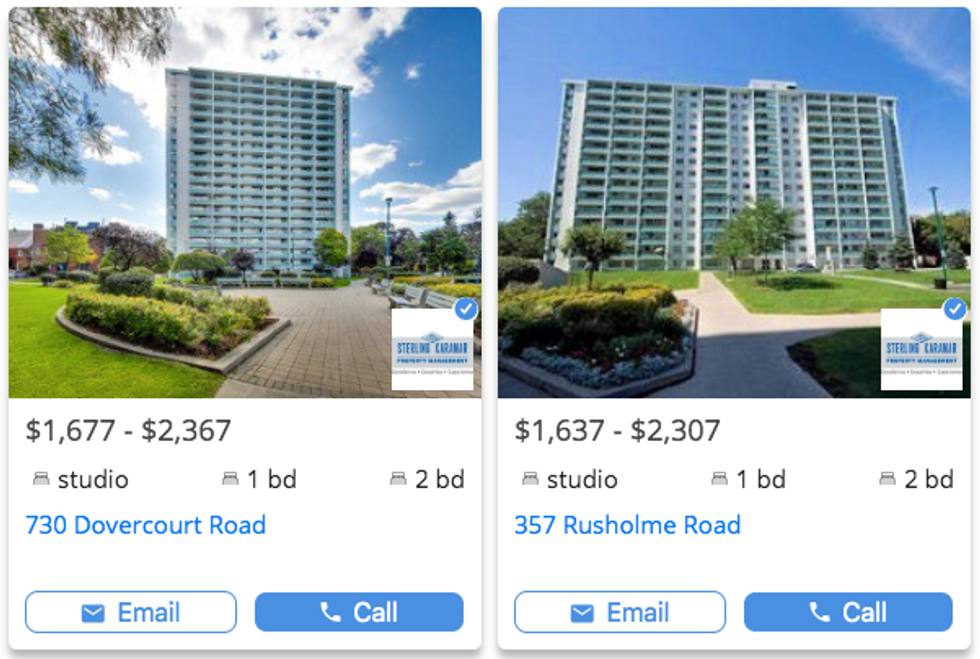 An example of the Verified Listing feature on RentSeeker.ca
"The tool is extremely helpful for renters to avoid the unfortunate growing issue of rental scams," Chaim Rivlin, CEO of RentSeeker.ca, told Toronto Storeys in an email. "We're always looking to continue to improve the apartment search experience for renters, so [we] thought it would be a great new tool to have for them to help avoid these rental scams." 
The Verified Listings tool underwent beta testing for a few months before it was introduced as a permanent feature on RentSeeker in July. The feedback thus far has been positive.
"[The tool] is another of our latest features and services, which we plan to continue to develop, to help renters make informed and responsible decisions throughout the apartment search experience," Rivlin said in a press release.
The majority of renters (90 per cent) search for listings online, and more than 60 per cent of those searches are on mobile, a press release noted. That's why it can be easy for scammers to take advantage of prospective renters. 
Last year, at least eight Toronto renters were scammed by a fake landlord who listed a unit at 87 Peter St. The apartments were part of a then-unfinished development by Menkes. Another 30 renters were reportedly spared from the scam after Menkes staff became aware of the situation. 
Toronto's low vacancy rate means competition is high for renters. This circumstance "makes people vulnerable to scams," Geordie Dent, executive director of the Federation of Metro Tenants' Associations, told CPA Canada. 
"If you are desperate to find something, you are more likely to send money," he said. 
So how can people protect themselves? Using a realtor, checking City Hall's land registry database, or requesting a City of Toronto property-tax bill to confirm ownership are all viable safeguards. Read more about protecting yourself from rental scams here. 
Renting