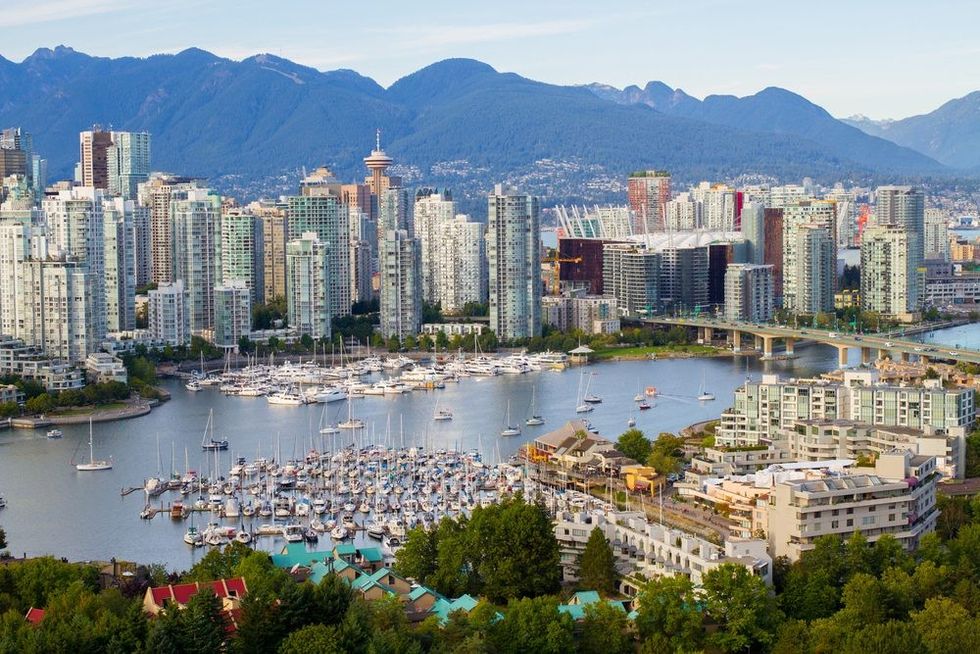 False Creek/Shutterstock
Vancouver
Real Estate News
False Promise at False Creek or a Once in a Century Development Opportunity?
If surrounding real estate values are any indication, the City of Vancouver's plan to redevelop its prized 80-acre site on the south shore of False Creek will become a prime real estate asset.
The city's real estate division recently released a conceptual plan to redevelop the site and more than triple the number of market condos. Market rate rental units would go from 150 units to 2,020.
George Wong, a major condo marketer in Vancouver, estimates that the current rate of a new mid-market condo at False Creek South would sell for around $1,150 a square foot. He guesses that there are behind-the-scenes conversations happening between developers and city staff.
"It's expensive. It's not cheap land," he says of the city-owned acreage.
READ: Frustrated Investors Set Sights on Vancouver's White-Hot Industrial Sector
The property is leasehold, which means the City retains ownership and the leaseholder purchases the unit for a term that's usually around 99 years. As the years go by, the term shortens, but the resale price isn't really affected until the last decade or so before renewal.
Leasehold properties are, on average, about 10% less than a freehold property, says Wong. And any luxury units built on the land would sell for much higher.
He looked at nearby properties, such as the Olympic Village site to the east, where units sell for about $1,600 or $1,700 per square foot. Further east, near Science World, Concert Properties sold out a luxury waterfront property for $1,800 per square foot on average, says Wong.
He based his False Creek South estimate on nearby mid-market freehold condos in midrise buildings of 12 or 14 storeys, which average around $1,300 a square foot.
Buyers are more accepting of leases than in the past, he says. Leasehold properties, such as those at the University of BC and Simon Fraser University, are in demand. And Wong says that remaining strata leases at False Creek South, with about 15 years left, are still trading.
Most people stay in a home typically around five years before they need to grow.
"So the remaining term of the lease is a bit academic. You're not going to live there for 99 years."
The False Creek South community broke ground around 1976, when a movement was underway to create a diversity of housing for all incomes, in walkable, livable urban areas. The former industrial waterfront site was designed to appeal to all ages, with ground-oriented clusters of housing with courtyards and gardens that would suit families, as well as non-market housing for seniors and those with disabilities. As a result, about half the housing is non-market, including several co-op buildings that have provided secure, affordable housing for low to mid incomes for decades.
READ: Iconic Vancouver Office Building Renamed After its Legendary Architect
The new plan is to significantly boost the number of market-rate rental apartments and leasehold strata units, and relocate the co-op and non-market units, away from the seawall and closer to the West 6th Ave. thoroughfare, in midrise buildings. The low-rise housing clusters and some midrise buildings would be demolished.
Once it's completely built out, the proportion of non-market affordable units would drop from 56% to 34%, assuming there is senior government funding for it. Market rate rents for a one bedroom in the area are around $1,600 a month, according to the CMHC. Housing rights advocates say the City should be building more affordable housing — not less of it. The City says the plan is only part of a long process.
Wong says he'd market the rebuilt neighbourhood to the young urban professional tech worker who works in nearby Mount Pleasant or downtown. He'd like to see studios and one-bedrooms for those workers.
"It's a welcomed move. I hope the City will continue with freeing up land and be less stringent with density applications… with every square foot of density you are allowing higher density occupancy, which means housing more people."
As for the argument that such density will destroy what is a globally celebrated model of urban livability, Wong thinks the neighbourhood can handle the transformation.
"NIMBYs usually complain about shadowing, sunlight, traffic patterns and safety, those kinds of things. But when you look at downtown or different nodes where density had gone through the roof, or [areas] like Metrotown, as in South Cambie and Marine Drive, where there is mass transit, I don't think livability is compromised."
Developer, planner, and adjunct professor at SFU, Michael Geller was a Canada Mortgage Housing Corporation special coordinator when he worked on the False Creek South community in the mid '70s. Because the City will have to buy out leases as they come due, he says the redevelopment will take around 30 years, and the non-market housing might not materialize. He says it's better to give developers more density to create a portion of below-market units, called "inclusionary zoning."
He too welcomes the new density, but hopes it's not a sea of skyscrapers like the north side of False Creek, or the cramped midrise neighbourhood that is Olympic Village.
"I would hope the redevelopment here is bold. It shouldn't just become like the Northshore of False Creek… that would be a shame in my opinion. I think it can be better than Olympic Village."
Wong says that a single developer should take on such a multi-phased undertaking, rather than the City dealing with six or seven developers and redeveloping the site piecemeal.
"If I were the City I would take it to one developer and I would have some design guidelines in terms of public realm, that would all come through in the application process in terms of green spaces and roadways, those kinds of things, whereas if you are dealing with six or seven developers it's just harder to control."
There are obvious contenders who might bid on a master-planned community of thousands of new homes. One of them would be Concert Properties, who just completed a six-acre community of five towers to the east. Concord Pacific is another obvious choice. The major developer already single-handedly transformed the north side of False Creek when it redeveloped the old Expo 86 lands. It also paid a reported $1 billion for the St. Paul's Hospital site downtown.
Geller said he'd prefer to see the City create a separate development arm that oversaw the project, much the way they did it back in the 1970s. The City would retain control. SFU and UBC have hired several developers, such as Polygon and Adera, to build out their master planned communities, he says. Geller helped SFU optimize its land assets.
"I like the idea of the City overseeing the development because of the geographic disparity east and west, and all the different locations and the time frame. But I think the idea of replicating something like the False Creek Development Group, or using the new versions of that, which are the UBC Properties Trust, or the SFU Community Trust.
"It would be a separate entity… and ideally, you hire an experienced person, maybe the president of Concert to manage the development, and then you have a board that is a mixture of city representatives, people from the non-profit sector, and the private sector. And that's worked well at UBC and SFU."