Vancouver
Vancouver
Iconic Vancouver Office Building Renamed After its Legendary Architect
Being hailed as a rare honour, a prominent office tower in downtown Vancouver is being renamed after its legendary architect, Arthur Erickson.
Located at 1075 West Georgia Street, the office tower, formally known as the MacMillan Bloedel Building, has been renamed Arthur Erickson Place after the legendary Vancouver-born architect.
Standing 27-storeys with 363,000 sq ft of total floor area, the building was once the tallest in Vancouver when it was completed in 1968 by Arthur Erickson in partnership with Geoffrey Massey for forestry giant MacMillan Bloedel during a corporate building boom in the 1960s.
"It is time to give this powerful, monolithic office building its due place on Vancouver's skyline by branding it after Arthur Erickson in honour of his excellence," said Jon Stovell, president and CEO of Reliance Properties, in a statement.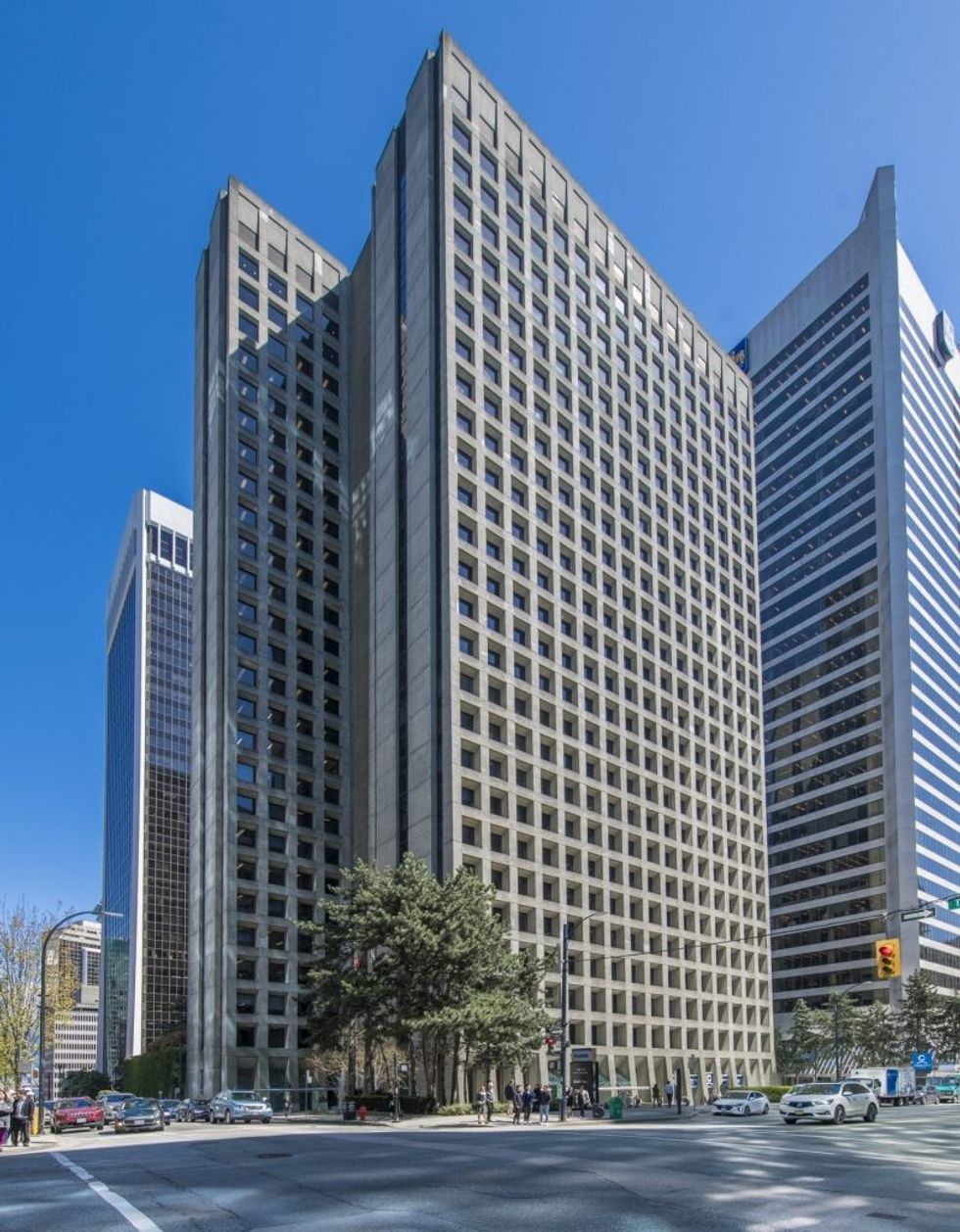 "With its heritage distinction, central downtown location, and strong visual identity, Arthur Erickson Place will continue to be the address with cachet."
The building consists of tapered concrete walls and deeply recessed windows and is set on a plaza constructed several feet below street level and is contained by reflecting pools, creating a public space for the community. Its use of reinforced concrete as the primary finish on both the exterior and interior of the building creates a building that blends both Modernist and Far-eastern architectural aesthetics.
READ: Arthur Erickson-Designed Loft Sells for $1.425 Million
Following its completion, the building was featured in Time magazine in the 1960s and won a series of accolades, including the esteemed 1970 Massey Medal for Architecture, BOMA's Building of the Year (1969), Design Canada's Concrete Award Certificate of Merit (1971), and has become a multi-award winning national heritage landmark.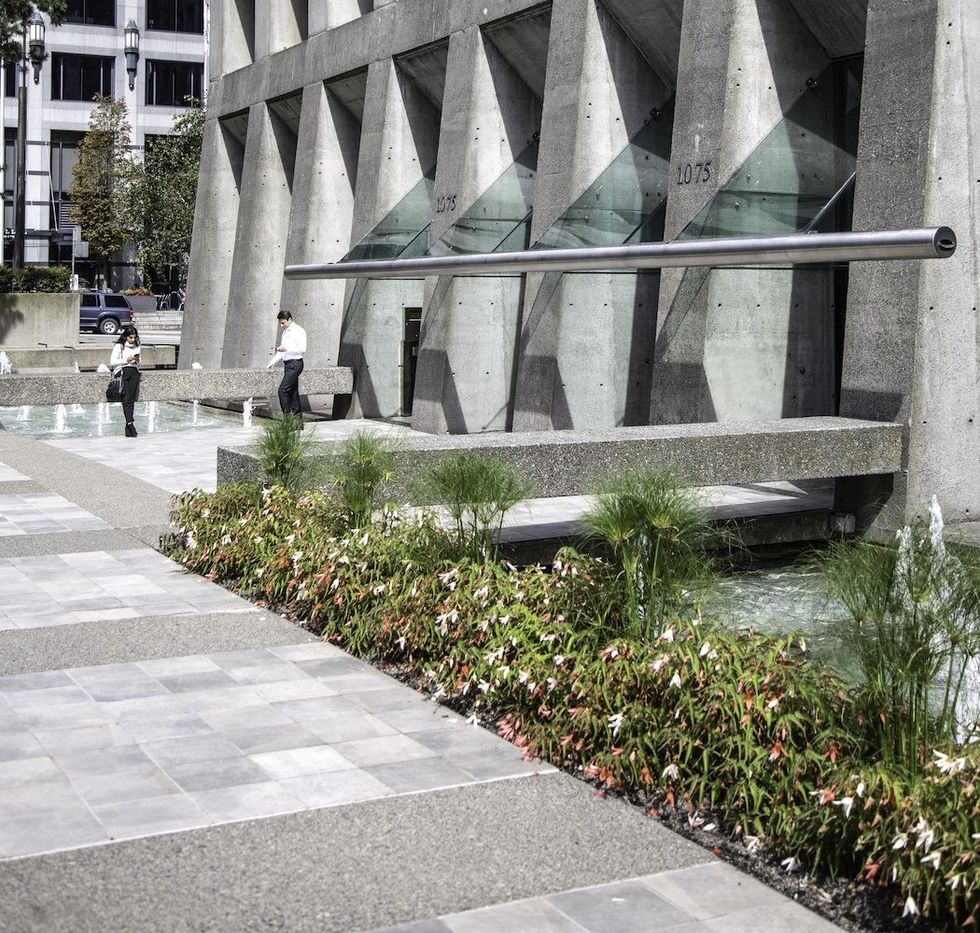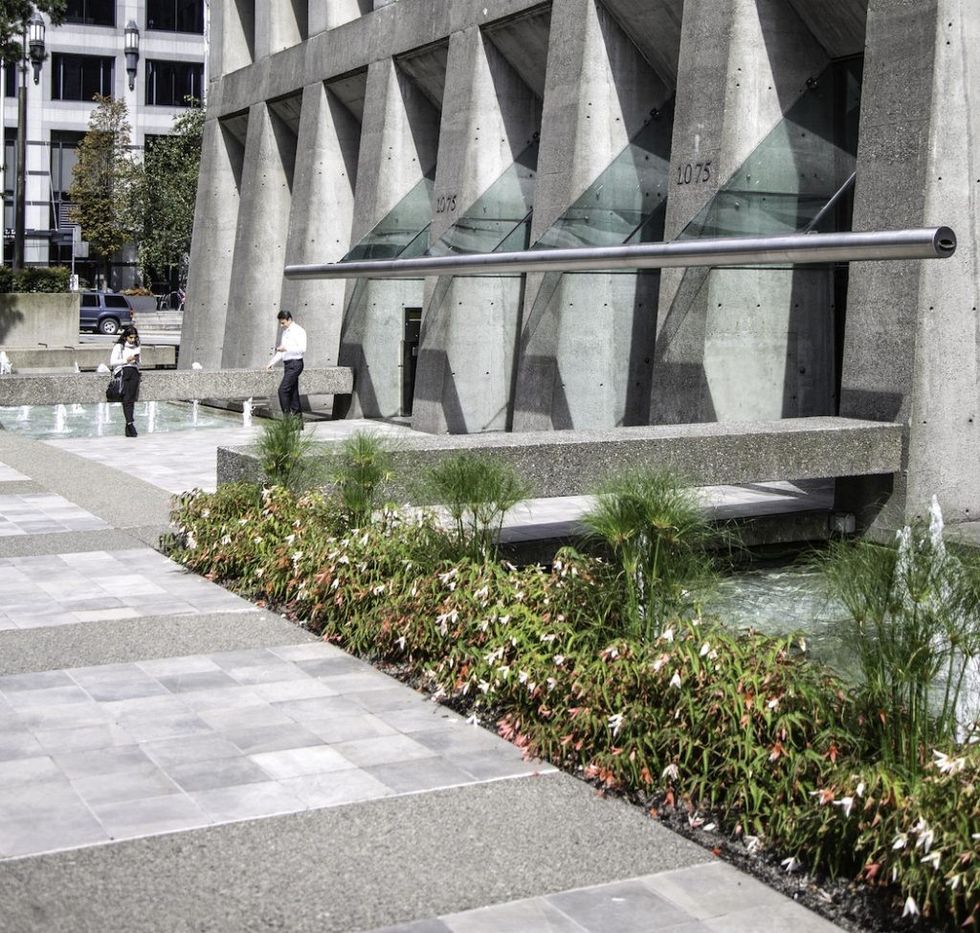 Thanks to its unique Modernist design, the tower also gained the City of Vancouver's Class A heritage classification in 1993 and was added to the Canadian Register of Historic Places in 2008.
"It is rare for an architect to be honoured in this way, and I know that Arthur would be very proud to have the building carry his name, as it encapsulates all he strove to achieve architecturally," said Erickson's nephew, Christopher Erickson.
"The building's classic beauty and clarity of structure expresses the ruggedness of our land and majesty of our forests with a powerful cadence that tapers into infinity as it rises from its roots."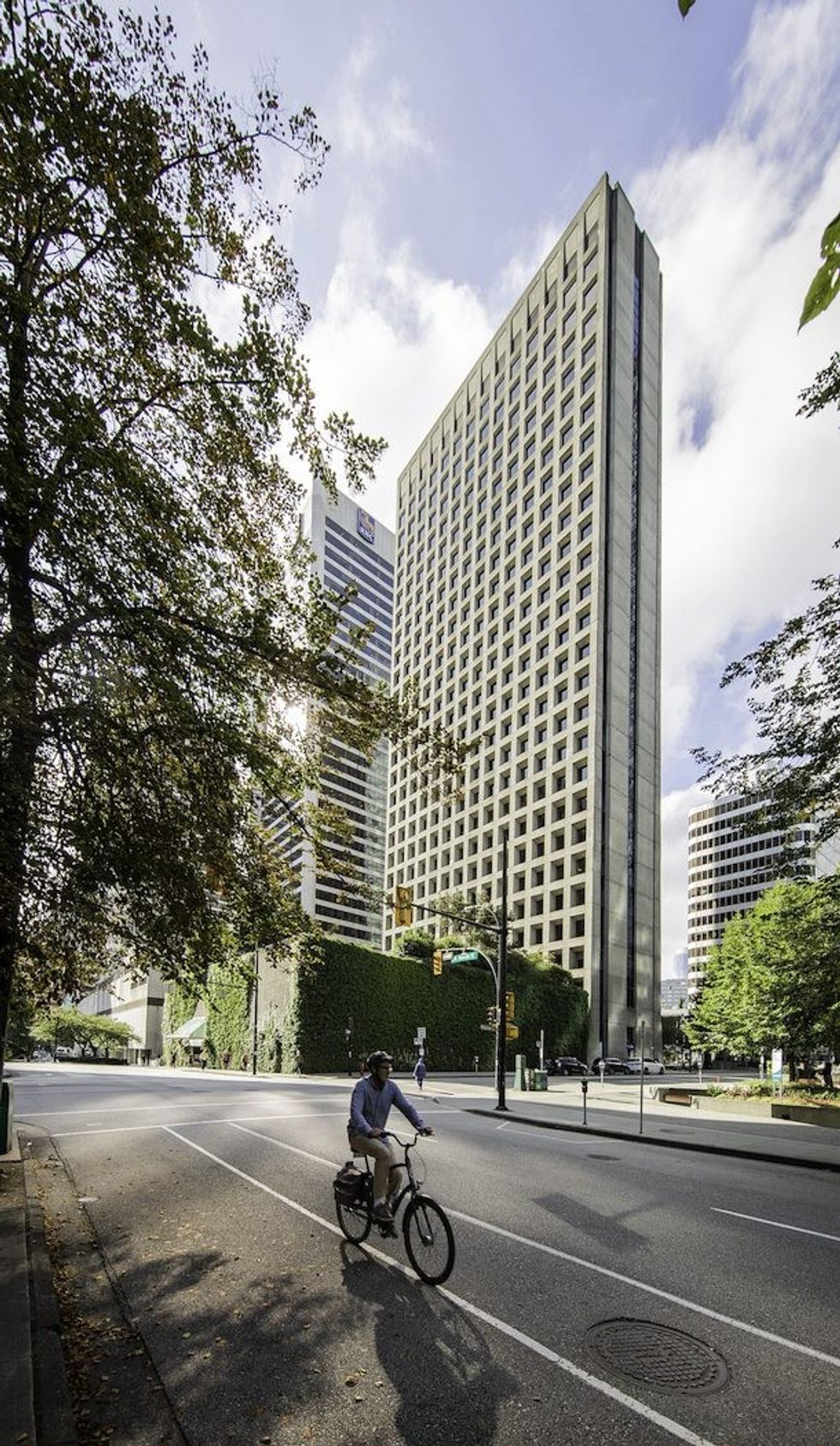 Now 53-years-old, the distinguished concrete building has continued to be called MacBlo even though the company ceased to exist 22 years ago. Two years ago, KingSett Capital, Crestpoint Real Estate Investments, and Reliance Properties jointly bought the building with a plan to reestablish it as the premier corporate office in downtown Vancouver.
Born in Vancouver, Erickson has become a globally celebrated modernist architect and master planner. His designs can be found across the Middle East, and he had a special relationship with Japan, including designing the multi-award-winning Canadian Government Pavilion at Expo '70 in Osaka.
In his vast global portfolio of 700 designs, Erickson designed only nine office buildings, two of which are located in downtown Vancouver — the Evergreen Building and Arthur Erickson Place, both of which are listed on Canada's heritage registry.
Before his death in 2009, at age 84, Erickson designed Roy Thomson Hall in Toronto, the Vancouver Law Courts, Simon Fraser University, UBC's Museum of Anthropology, the Vancouver Art Gallery, the Museum of Glass in Tacoma, Washington, and the Canadian Chancery in Washington, DC.
"Arthur Erickson Place is an iconic presence in the heart of Vancouver, expressed with timeless repose and finesse," said Christopher Erickson. "Arthur always said that the mind was at the service of the heart. This is evidenced in the sublime artistry of Arthur Erickson Place."