---
Investing in the Vancouver residential market yields diminishing returns seemingly by the day, but savvy investors have turned to the city's white-hot industrial sector where the vacancy rate is a paltry 0.6%.
Warehouse proximity to dense urban centres is vital for e-commerce, and with the Lower Mainland's paucity of available land, prices are quickly surging. To stretch the financial viability of industrial land, developers in the city have introduced a new model of stacked units that are typically comprised of industrial warehousing on the first floor, and storage and office units above.
At the same time, Vancouver's condo investors have grown disillusioned by rent control, rising property taxes and, in recent years, condo insurance premiums as a result of extreme weather events. Aware of the industrial sector's robust fundamentals -- as well as the fact that there are neither strata fees nor increasing property taxes and insurance premiums -- quite a few of them are purchasing units in stacked developments and satisfying exorbitant demand.
"It makes sense for investors to participate in this market because of the demand for industrial space, in terms of leasing," Michael Chiang, Director of Union Allied Capital Corp., told STOREYS. "Purchasing has been strong for the last four years, so it seems like a good investment now. With the way commercial leases are, it makes more sense than investing in residential leases. The BC government just issued its rental increase rate for residential, but there are no such restrictions in commercial, so it makes sense for investors to jump on the industrial bandwagon."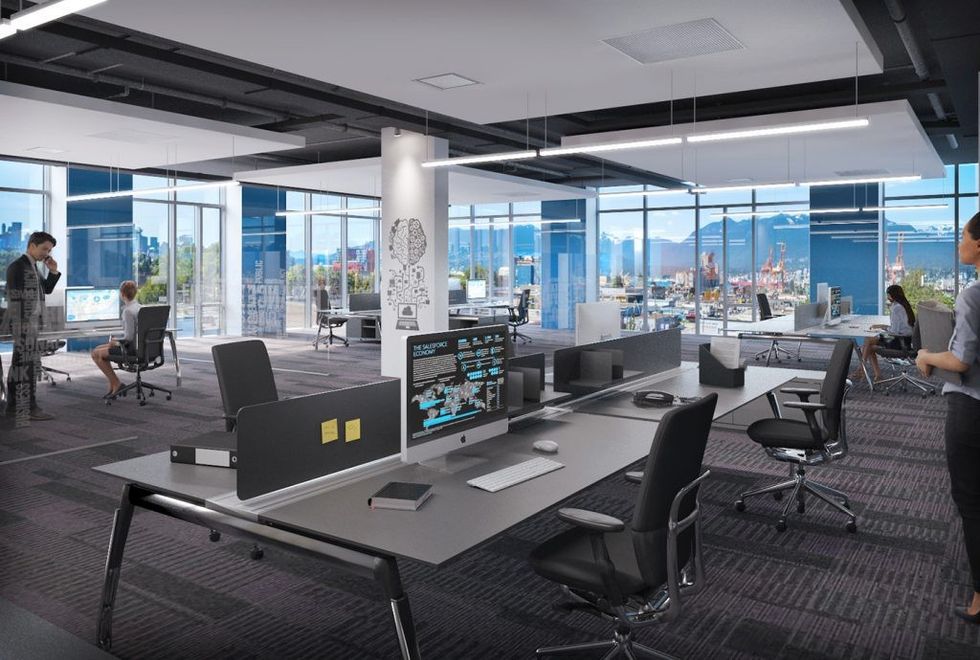 An office unit at 1308 Adanac. (Rendering)
Union Allied is developing 1308 Adanac in East Vancouver, which is slated for occupancy in the second quarter of next year, and while only two of its 11 units have been sold, Chiang says securing construction financing wasn't an issue because of Vancouver's low vacancy rate. Additionally, the unsold units' values will continue rising, making it likely that they're offloaded around occupancy.
With exorbitant land costs, building vertically is a way to keep the price per square foot in check. Although construction costs eat away at those savings, developers and purchasers alike ultimately come out ahead. Chris MacCauley, Senior Vice President CBRE Vancouver, says investors, familiar with the sector's propitious horizon, have been quietly buying industrial units for the last five years, and because downtown Vancouver had among North America's lowest office vacancy rate prior to the COVID-19 pandemic, stacked industrial facilities are more likely to be found near the city's core than in its suburbs.
"Vancouver has the lowest industrial vacancy rate in all of North America and still has among its lowest office vacancy rate. There's still a need for office-type space in the core," MacCauley said. "When you go to the suburbs, you don't have as many users that will occupy the second or third floor as you would in Vancouver proper. This is more of an urban solution, not a suburban solution."
MacCauley also disabuses the notion that stacked facilities are a fad, pointing to the city's dearth of available land.
"I don't think, in the near future, this will slow down; if anything this will accelerate over the next several years. Vancouver still has a lot of obsolete industrial that can be redeveloped, and so this doesn't necessarily have to be on vacant land."
Vancouver