Metro Vancouver and BC are never-ending hubs of urban development. Some are very high-profile, such as a new skyscraper or shopping centre. Some have less of a social impact, such as a modification to a private residence.
---
Others are more middle-of-the-road: they may not be awe-inspiring, but are impactful nonetheless, such as new affordable housing, or construction in a high-traffic area.
Here are five such projects across BC, all announced in the past two weeks, including a trio of new social housing projects, a new student housing building, and a strata condo building.
Developer: TL Housing Solutions Ltd.
Development Type: Residential (Social)
Public Comment Period: November 1 - December 5
This project was announced most recently, with the City of Vancouver publishing the development application Monday afternoon. It's a partnership between TL Housing Solutions, Atira Development Society, IBI Group, and ETA Landscape Architecture, and will see a 16-storey building developed one block north of Oppenheimer Park, in the Downtown Eastside.
The building will consist of 180 social housing units, a childcare facility, and a social enterprise office. The applicants have noted that the proposed building exceeds the maximum allowed height as outlined by the Downtown Eastside Plan, but that "the proposed form has been designed to contribute to the streetscape while minimizing disruption to the existing infrastructure within the neighborhood."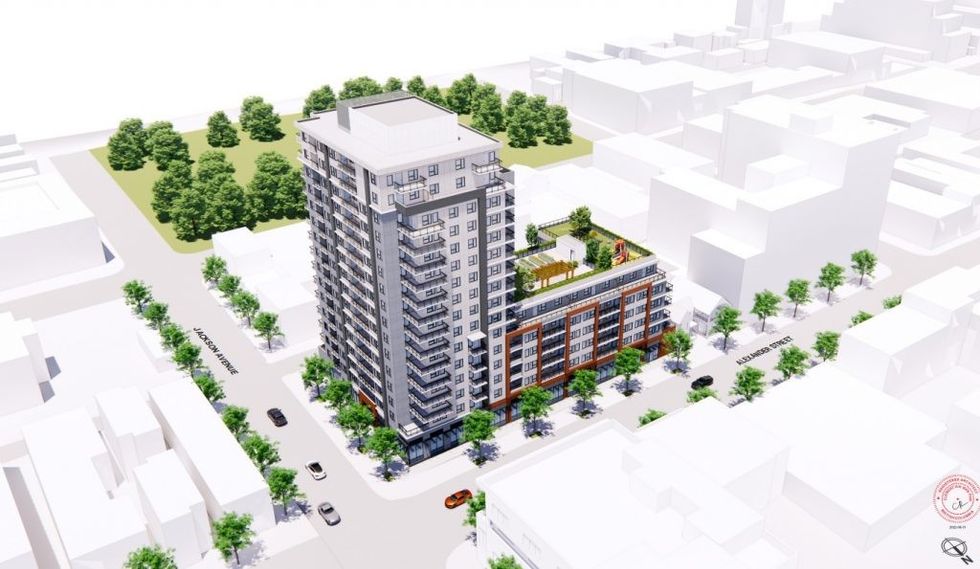 The building is at the corner of Alexander Street and Jackson Avenue, which the applicants say is an intentional decision in order to provide maximum separation between the building and other surrounding buildings. The building also includes a six-storey podium, in part to minimize the shadow of the 16-storey building, which will include a shared outdoor greenspace.
Developer: Entre Nous Femme Housing Society
Development Type: Residential (Social)
Public Comment Period: October 31 - December 5
The Entre Nous Femme Housing Society was founded in 1984 by three women -- one of the first housing development organizations created and led by women in Canada -- who wanted to make life better for single mothers and their children. Their proposal would see their existing six-storey building, named Alma Blackwell, after one of the founder's grandmothers, redeveloped into a new six-storey building that would increase the amount of social housing units from 46 to 97.
The building is located in the Grandview-Woodland neighbourhood, on Adanac Street near Woodland Park. The applicants are seeking funding from the Canada Mortgage and Housing Corporation (CMHC), but have already received a capital grant from BC Housing, through its Community Housing Fund. Because of that BC Housing funding, 30% of the 97 social housing units will be rented at market rates, 50% will have rents geared to income, and 20% will be rented at deep-subsidized rates for those on income assistance.
Developer: Holborn Properties Ltd
Development Type: Residential (Social)
Public Comment Period: October 20 - November 4
This is yet another social housing project, this time on 137 East 37th Avenue, between Main Street and Queen Elizabeth Park. The proposal is for a six-storey building -- designed by Stantec Architecture -- consisting of 49 units, including two-bedroom units, three-bedroom units, and even four-bedroom units, with one level of underground parking.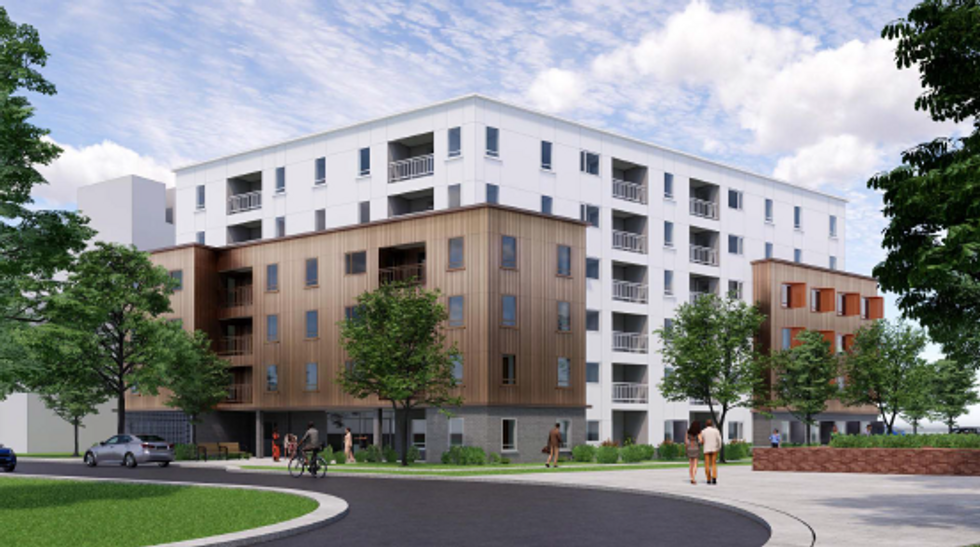 Rendering (Holborn Properties Ltd.)
This project is part of the larger Little Mountain Project for that area. After the City of Vancouver and BC Housing chose Holborn Properties to develop the site into a multi-building social housing community, the three parties signed a Memorandum of Understanding (MOU) in September 2021 to "expedite the delivery of the Little Mountain Development," after what they referred to as "unforeseen and unanticipated circumstances" resulted in delays. The MOU also sets a deadline for the social housing units to be completed by not later than December 31, 2024.
Developer: Province of British Columbia
Development Type: Residential (Student)
Early last week the Province of BC and Thompson Rivers University announced a new student housing building for their main Kamloops campus. The building will be four-storeys, with 148 beds across 80 rooms, and because the building will use a modular build, the building is expected to be completed as quickly as Summer 2023.
The Province's involvement is a result of its Homes For BC 10-year housing plan, which includes a promise to building 8,000 on-campus student housing beds. According to the Province, 7,763 are already complete or underway, and this latest addition brings the Province that much closer to hitting its goal.
"Post-secondary students need access to affordable housing to pursue their studies and lay the foundation for their future, helping to prepare them for the jobs of tomorrow," said Minister of Advanced Education and Skills Training Anne Kang. "We are committed to helping students by building thousands of new student beds throughout BC."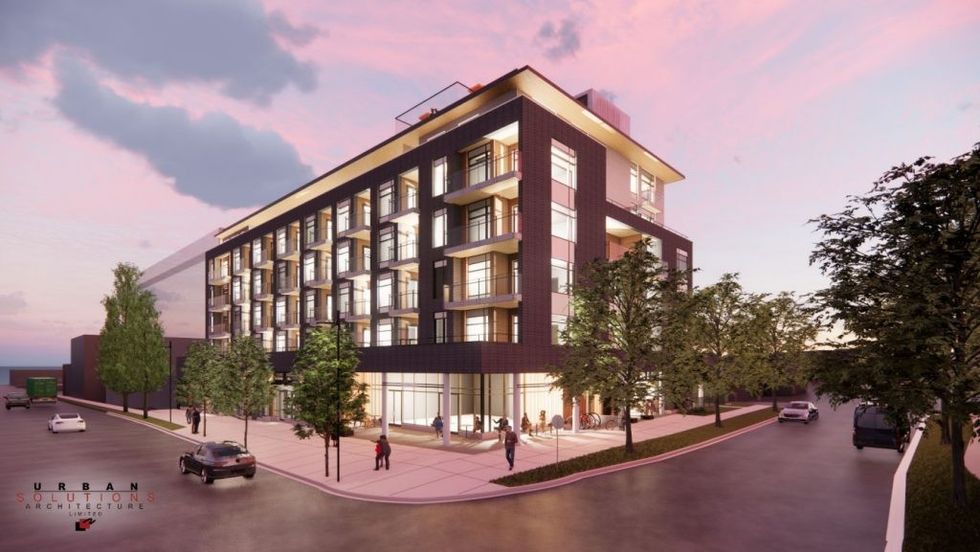 Rendering (Urban Solutions Architecture / Enso Group)
Developer: Enso Group
Development Type: Residential (Stata)
Virtual Open House: November 14 - December 4
Urban Solutions Architecture has filed a rezoning application on behalf of Enso Group to develop the site, which is located about a five-minute walk away from Commercial-Broadway SkyTrain Station. The site is currently a row of single-detached homes, and the site would need to be rezoned from RT-5N (Residential) to CD-1 (Comprehensive Development) to allow the project to proceed.
The proposal is for a six-storey mixed-use building, with retail space on the ground floor and 73 strata units above and two levels of underground parking below. Of the 73 units, 46 will be one-bedroom units, 20 will be two-bedroom units, and seven will be three-bedroom units. The building will also include a fairly-unique amenity space dedicated specifically for those working from home, with the applicants stating their desire to "support the missing middle and the knowledge-based, creative-base, and entrepreneurial-base of the neighbourhood."
Future Developments