Sponsored
Why Upper East Village is the Future of Post-COVID Urban Living
If you've passed the corner of Eglinton Avenue East and Brentcliffe Road, you've likely noticed the bustle of construction beyond the hoarding.
Here, Leaside's anticipated Upper East Village master-planned community is beginning to come to life.
Construction is well underway on the luxury Camrost Felcorp award-winning project, which will feature spacious condos and townhomes in a convenient and leafy enclave – located just steps from the soon-to-be-completed Eglinton Crosstown LRT (light rail transit) line's Laird station.
In three separate brick and glass buildings, Upper East Village will house upscale units, which vary in size from one-bedroom to three-bedroom plus dens. Common themes include thoughtful design features, contemporary finishes, and indulgent lifestyle amenities. Catering to both urban families and recent empty nesters, the development will feature large, elegant livable layouts. The expansive townhomes are two or three levels, offer space and privacy, and are complete with front yards on a tree-lined boulevard. Each sleek home offers no shortage of outdoor space, with balconies off both the master and second-floor bedrooms.
READ: The Future of Leaside: From Garden Neighbourhood to Growth Hotspot
This talk-of-the-town development will open up access to the family and pricey house-filled Leaside neighbourhood.
"Any type of master-planned community you can get along a transit hub is always a desirable thing," says Christopher Castellano, Head of Marketing and Sales at Camrost Felcorp. "With Upper East Village, you're also buying from a developer with a successful 45-year track record of expertise. Camrost's signature is these master-planned communities, and designing and building them in such a way that everything interacts with one another, with the livability of the resident at the forefront."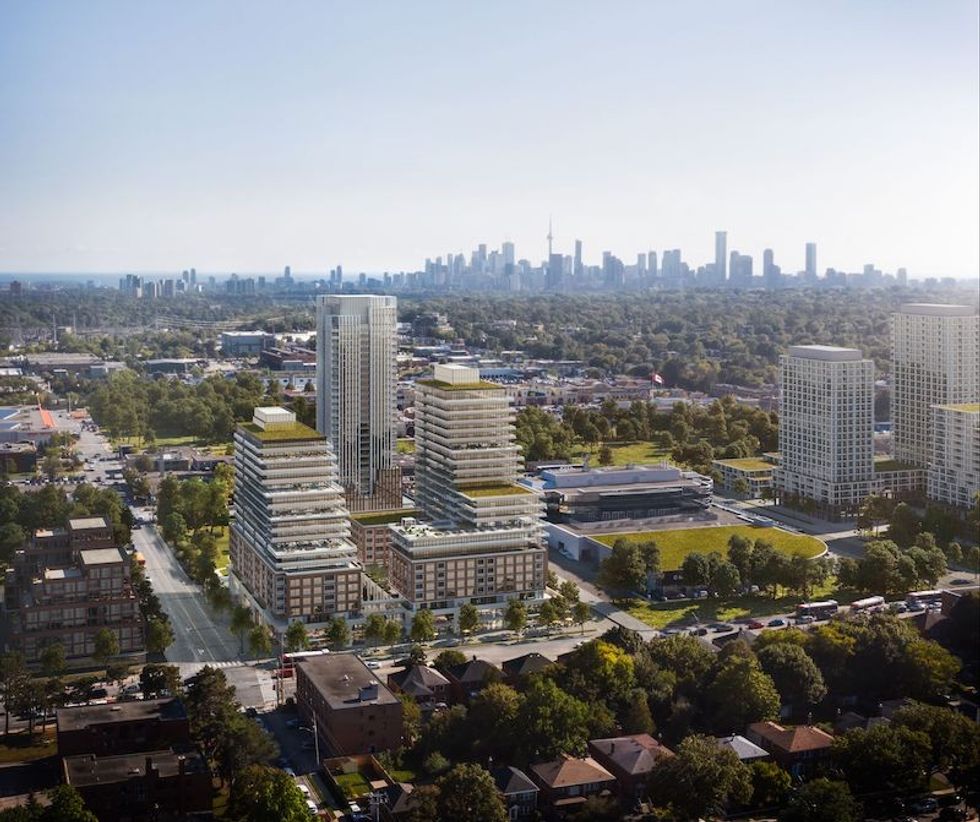 More than simply a luxurious place to call home, Upper East Village will offer a green-space filled urban community that shines as much in the amenities department as it does in the design department. It will include features such as a fitness/yoga centre, indoor pool, spacious party room, rooftop terrace with BBQs, a half-acre park with outdoor gardens, a fire pit lounge, and well-curated retail space.
"The Upper East Village suites are residences you can grow into; they're larger suites than those found in the traditional downtown condo building," says Castellano.
"This offers a great opportunity for people who have outgrown their space downtown, but still want a location that's easily accessible and has the community benefits they seek in the next life chapter – green space, access to cafes and restaurants, arenas, parks, baseball fields, soccer fields, and Leaside's incredible school system."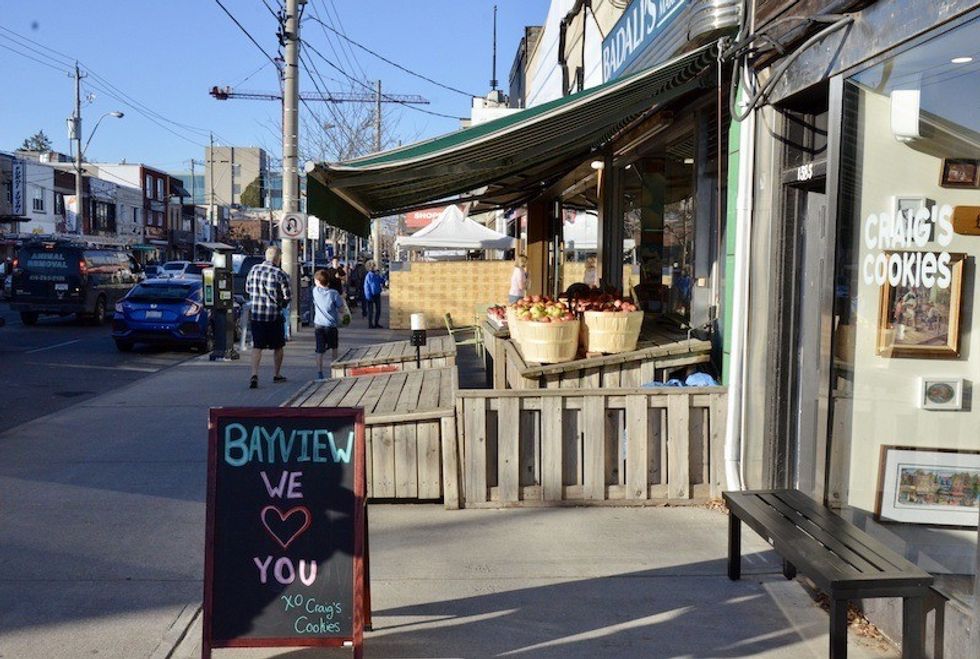 With developments like Upper East Village and the arrival of the LRT, Toronto's historically exclusive Leaside neighbourhood – the characteristic a result of its longtime location off the subway line – is becoming more attainable and, arguably, more desirable.
Currently slated for completion in 2022, the Eglinton Crosstown LRT will add 25 stations running east-west along Eglinton – from Black Creek Drive in the west to Kennedy Station in the east – including one at Bayview and Eglinton ("Leaside" Station), and another at Laird and Eglinton ("Laird" station). The Crosstown will link to 54 bus routes, three TTC subway stations, the UP Express, and the Kitchener, Barrie, and Stouffville GO lines.
Central to the tree-lined Leaside neighbourhood, the Bayview retail channel – which extends from about Davisville Avenue to just south of Eglinton Avenue – is surrounded by residential streets and no shortage of breezy green space. The latter is a reflection of Leaside's heritage and designation as a "garden city" – a method of urban planning whereby self-contained communities are surrounded by greenbelts. The LRT will breathe new life into the beloved Bayview strip, which has seen shuttered storefronts in recent years – the by-product of gentrification and increasing commercial real estate costs.
"Completion of the LRT will have two significant, and beneficial, impacts on Bayview Leaside businesses," says Trae Zammit, chair of the Leaside-Bayview Business Improvement Association (BIA) and owner of longtime Bayview business The Smokin' Cigar.
"First, since we're a short walk south of Eglinton, the LRT will greatly enhance accessibility to the area via public transit. Second, the likely resulting increase in residential density on Eglinton Avenue will provide more potential customers and clients for our retailers, restaurants, and personal service establishments."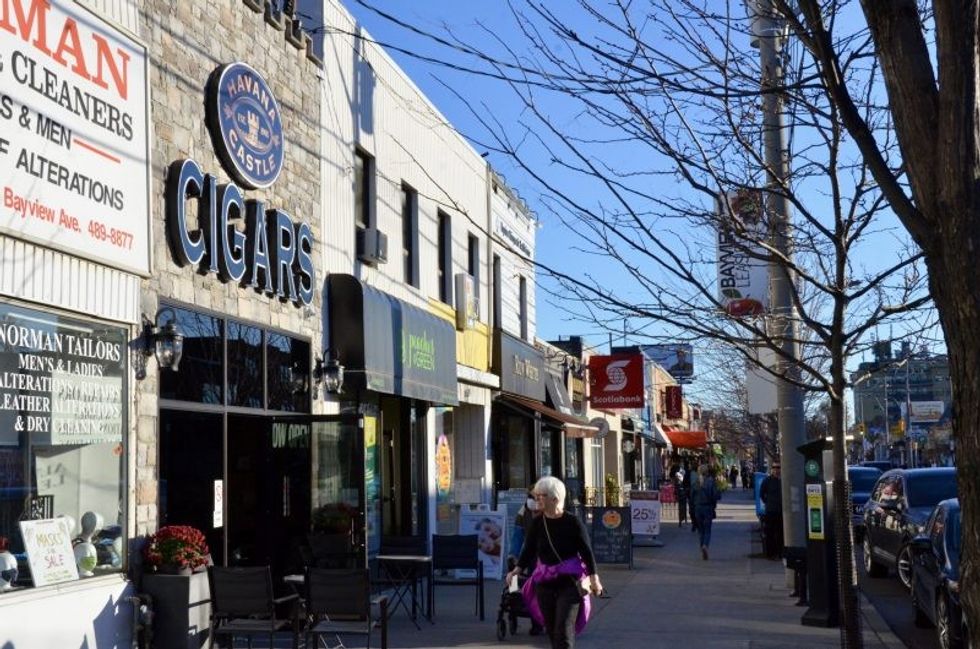 The collective opinion is that Leaside's impending population growth and influx of new retail spaces and restaurants will undoubtedly change the neighbourhood, but will only enhance its vibrancy.
"What's incredible about this spot is that the entire Eglinton corridor is going to be transformed within the next decade as the LRT is completed and all of these properties along Eglinton start turning into developments," said Castellano. "So, you almost get a first mover advantage of moving in or purchasing with Upper East Village, because you're able to see this neighbourhood as it transforms over the next couple of years."
Upper East Village is equally as alluring for both investment and residential purposes.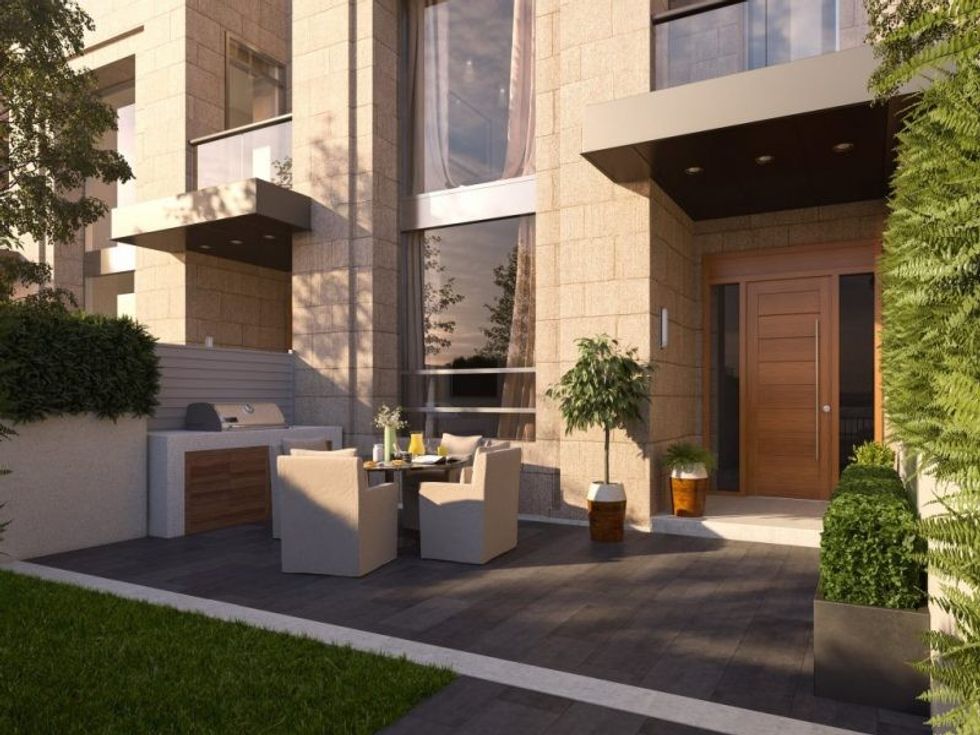 "I think one of the really interesting opportunities that Upper East Village presents to purchasers is that it's very much a transitional space," says Castellano. "More than that, it's a very good investment. It offers all the benefits of growing into the next stage of your life, but also the benefit of buying in the first building in a master-planned community. These are buildings that have given the best financial gain because we are building an entire infrastructure around them."
If you're interested, the time to act is now; the development is now 80% sold, with just four townhomes remaining. According to construction timelines, you could be living in your new space by this time next year.