---
The future of housing development in Toronto comes in the form of transit-oriented communities. 

Today, the Ontario government announced a partnership with the private sector and the City of Toronto to create nine transit-oriented communities along the upcoming Ontario Line, including one at East Harbour. 
Ground was recently broken on the Ontario Line, which will have 15 stops running from Exhibition Place up to the Ontario Science Centre. Most recently, it was estimated to open in 2030, but -- not surprisingly -- that is subject to change, according to the Province.
Transit-oriented communities are being planned for the future East Harbour, Corktown, Queen-Spadina, King-Bathurst, and Exhibition stations. 
These transit-oriented communities integrate housing, commercial space, park land, and other amenities near transit lines. In addition to the creation of much-needed housing supply -- including affordable housing -- the idea is to reduce gridlock, create more economic opportunities, and support the creation of thousands of new jobs. 
"The Ontario government is seizing a once-in-a-generation opportunity to build complete communities around transit," said Kinga Surma, Minister of Infrastructure in a Province-issued press release. "We have worked tirelessly with the City of Toronto and our private sector partner to reach this exciting milestone, and we look forward to transforming these communities to include transit facilities, while also ensuring compatibility with surrounding neighbourhoods and creating benefits for families and businesses for generations to come."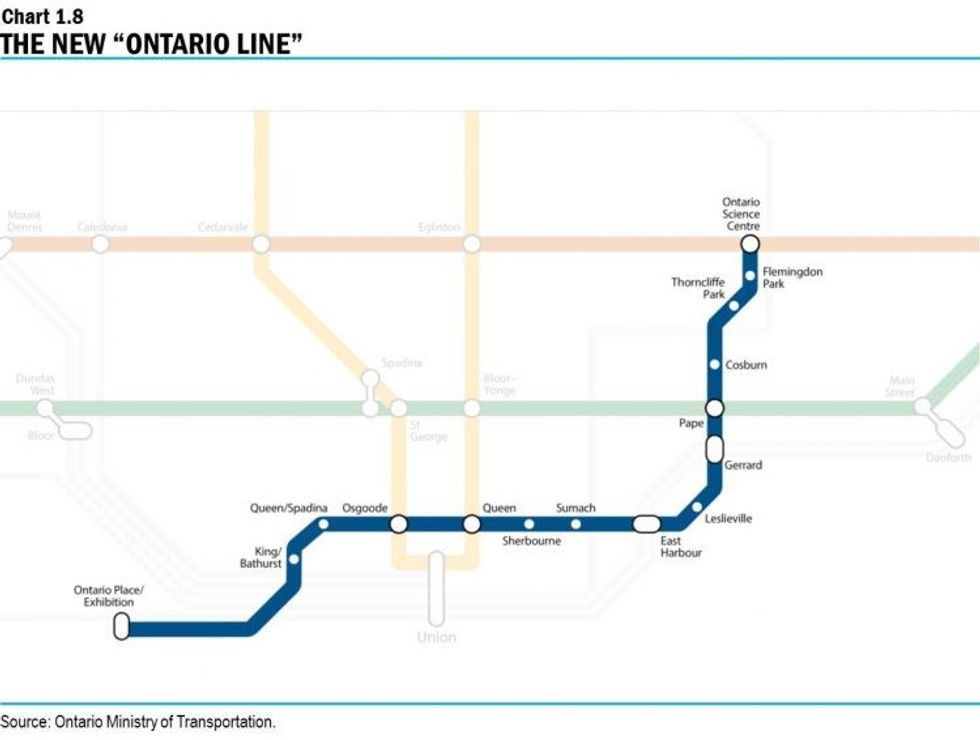 Source: Ontario Ministry Of Transportation
According to the Province, the creation of these new communities will generate an estimated 375,000 construction jobs. 
"I am excited by the prospect of these nine transit-oriented communities adjacent to future transit stations. The City is working in close partnership with the Province to bring about good development and I am confident that together we will be able to increase transit ridership, and provide affordable housing and community services, providing places for people to live, work and play," said Toronto Mayor John Tory in a statement.
Perhaps most notably, Ontario has signed an agreement with Cadillac Fairview for the creation of a transit-oriented community at the future East Harbour station. The 38-acre site will include the creation of a major employment centre expected to bring more than 50,000 jobs, as well as new residential and commercial space, community amenities, and park land. 
According to the terms of agreement between the City of Toronto, the Province, and Cadillac Fairview, the development will include a requirement for 215 affordable rental housing units for a 99-year period, the provision of two child care facilities, and a community recreation centre, along with other investments in community services and infrastructure in the area to support the East Harbour development. When fully developed, East Harbour will be a major mixed-use community, with up to 50,000 jobs and 7,000 residents. 

The East Harbour development includes the extension of Broadview Avenue from Eastern Avenue to Lake Shore Boulevard. The City and Province also agreed to cost sharing terms for the Broadview Eastern Flood Protection project, which will address flood vulnerability for a broad area around East Harbour, according to the City of Toronto.
"Our government is addressing the housing supply crisis head-on," said Steve Clark, Minister of Municipal Affairs and Housing. "This announcement is a testament to the strong partnership between our government and the City of Toronto. Today's Minister's Zoning Orders will help support transit-oriented communities while building approximately 7,000 much-needed new homes for Ontarians and their families."
The transit-oriented communities model has been implemented successfully in many other jurisdictions around the world, including Vancouver, London, UK, Sydney, Australia, Bay Area, California, Washington, DC and Tokyo, Japan.
Real Estate News