Minuscule and bloodsucking, bed bugs are a growing public health problem in Canada, especially here in Toronto.
And it just so happens that Toronto was ranked as the worst city in the country for bed bugs yet again, according to an annual ranking from pest control company Orkin Canada.
---
While bed bug sightings were down 20% over last year, Orkin Canada says that Toronto still managed to claim the number one spot for the second year in a row.
READ: Toronto Realtor Showed East-York Home While Tenants Were Self-Isolating
While Toronto holds the top spot, a number of other Ontario cities made it onto this year's list, including Sudbury (2nd), Oshawa (3rd), Scarborough (7th), Whitby (8th), Ottawa (10th), Hamilton (13th), Timmins (14th), North York (15th), Mississauga (16th), Etobicoke (17th), Sault Ste. Marie (18th), Windsor (21st), North Bay (22nd), and Brampton (25th).
Orkin says the findings are based on the number of commercial and residential bed bug treatments carried out by the company from January 1 to December 31, 2020.
Of course, it's concerning to see your city make it onto the list, but it's important to note that bed bug sightings are down year-over-year, which can be credited to public health measures in place to fight COVID-19.
"Travel bans, stay-at-home orders, and a general shift to working remotely have resulted in less opportunities for these hitchhikers to move around, for the first time since Orkin Canada released its annual survey five years ago," the news release reads.
However, the company says that when things return to normal, bed bugs will likely be back in business.
"Due to their ability to double in population about every 16 days, it should not be difficult for bed bugs to regain their grip on the Canadian market."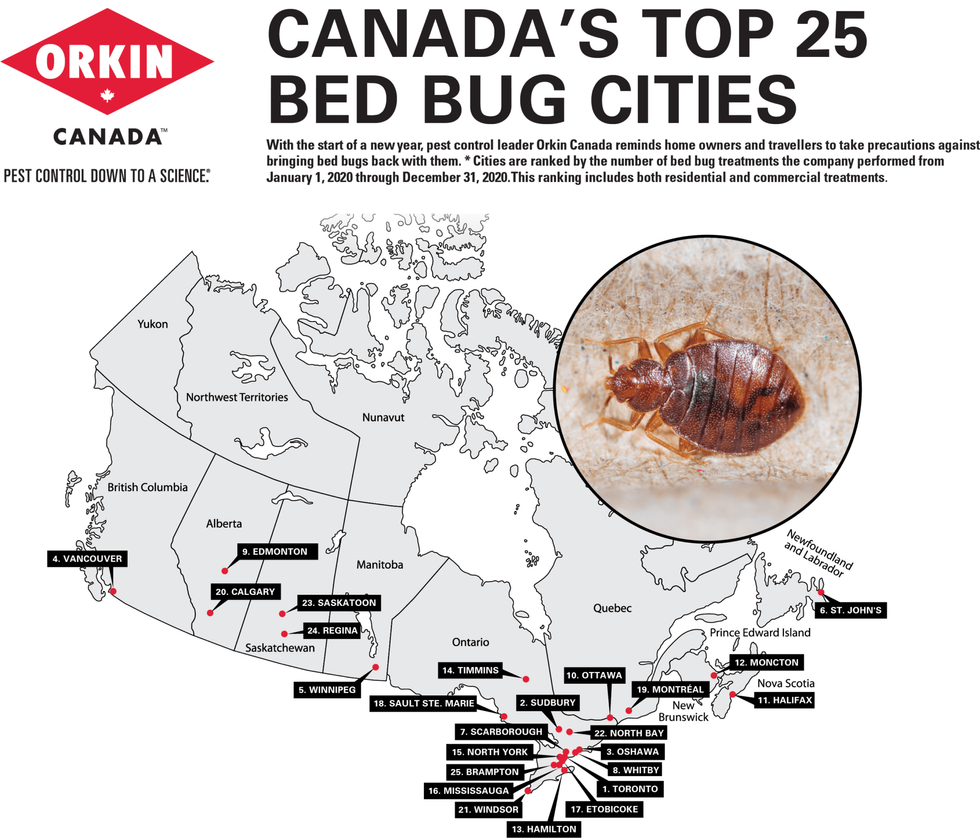 Orkin says these pesky insects can be identified by noticing tiny dark coloured stains, cast skins or live bugs most commonly on mattress tags and seams, under-seat cushions, behind headboards, creases of drawers, buckling wallpaper, and carpets.
Bed bugs are attracted to the carbon dioxide and warmth that humans emit, which Orkin says makes them particularly drawn to multi-unit buildings with lots of turnover like hotels or rental apartments, where they are often brought in on luggage or used furniture.
If you do find that bed bugs are calling your residence home, Orkin says you can prevent them from infecting your house by examining bags and clothing, drying potentially infested bed linens or clothing on the highest heat setting, and inspecting all second-hand furniture before bringing it into your home.
And remember Toronto, don't let the bed bugs bite.
Toronto