Toronto
Urban Living
Four Major Downtown Subway Stations Closing for 10 Days
If you're planning on riding the subway downtown in the coming days, four major downtown subway stations will be closing on Line 1 for maintenance.
The TTC says it is continuing to capitalize on reduced ridership during the COVID-19 pandemic to carry out vital state-of-good repair work with minimal inconvenience to customers.
Starting on Monday, May 17, there won't be subway service on Line 1 between St George and St Andrew stations for ten days, with service slated to resume on Thursday, May 27 at 6 am.
The work during this closure will eliminate years of platform by-pass, weekend, and nightly early closures. The TTC says several similar closures were conducted successfully within recent months.
To ensure a smooth ride for passengers, shuttle buses will replace subways during this time. All shuttle buses are accessible and will operate every 60 seconds or better during the morning rush period to provide safe travel and keep customer volume on vehicles as low as possible.
Customers are encouraged to use the Yonge side of Line 1 and connect to the affected stations by east-west surface routes.
Museum, St Patrick, Queen's Park, and Osgoode stations will remain closed during the closure. All entrances and exits at these stations will be closed, including TTC connections to hospitals.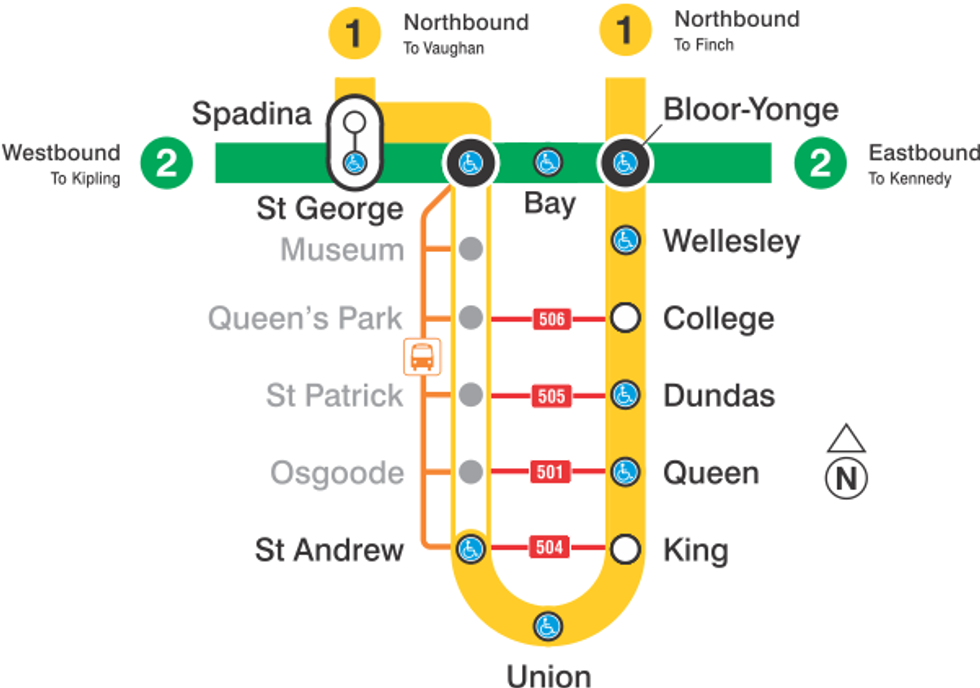 As the pandemic's third wave continues, riders need to remember that masks and face coverings are mandatory while travelling on the TTC.