Canadian rents continued to trend upwards last month — no doubt a reflection of short supply and roaring demand in markets across the country.
A new report from Rentals.ca and Urbanation shows that the average asking rent clocked in at $2,149 in September, marking yet another record high. That figure is up 1.5% month over month and 11.1% year over year.
---
"With year-over-year growth rising back into double-digits, the annual rate of rent inflation accelerated to a nine-month high," Thursday's report also says.
Shaun Hildebrand, Urbanation President, points out that "exceptionally strong" rent growth on a national level did not necessarily trickle down to individual markets. In fact, he says that "most major markets experienced a slower annual rate of rent growth compared to recent months."
Most notably, Toronto's rental market started the fall on a (relatively) soft note.

Urbanation Inc, Rentals.ca Network
For starters, although Toronto remains one of the country's most expensive rental markets, according to a ranking of 35 Canadian cities, it dropped down to the number three spot last month. (Ordinarily, Ontario's most populous city has been either the priciest or second-priciest Canadian market in the rankings.)
As well, the report notes that the annual rate of rent growth in Toronto slowed to a two-year low, "which may signal a broader impending moderation for rent inflation in the months ahead as the economy cools and renters face mounting affordability constraints."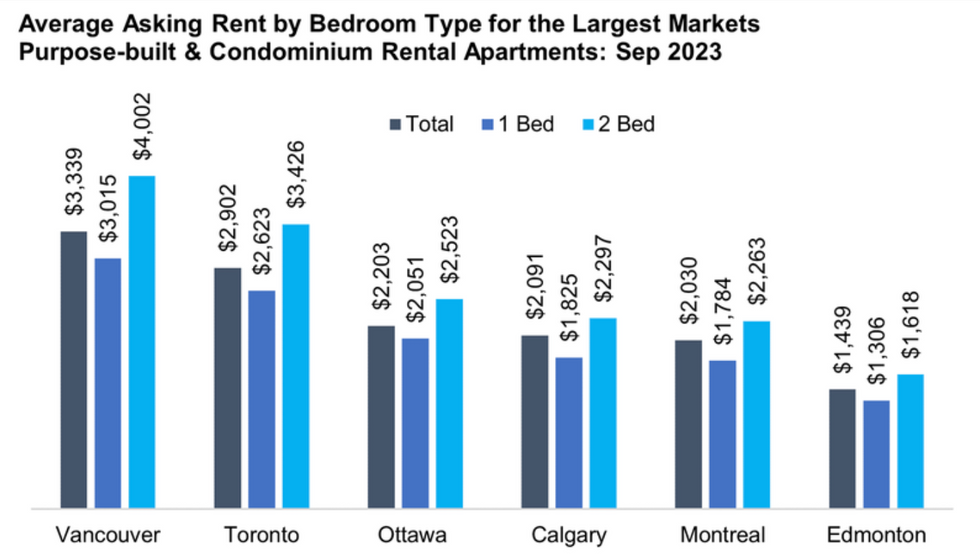 Urbanation Inc, Rentals.ca Network
Nonetheless, Toronto rents still swung unequivocally high in September, with the average coming in at $2,902. Meanwhile, rents for 'roommate accommodations' across the city ended the month at $1,308.
Though average rent for shared accommodations in Toronto came at a premium compared to most other major markets — roommate rents in Toronto were second only to Vancouver — it's worth noting that it saw little change from the $1,302 observed in August.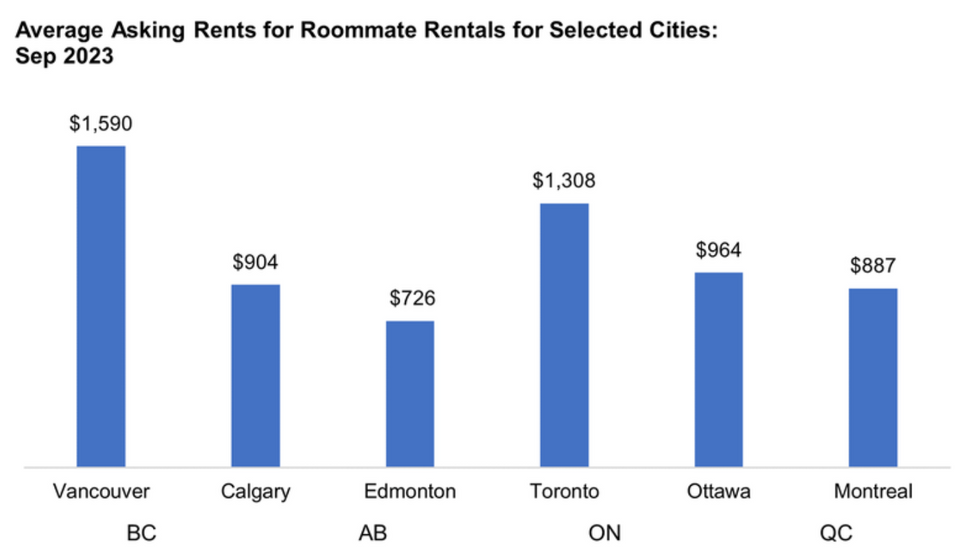 Urbanation Inc, Rentals.ca Network
Giacomo Ladas, Communications Manager with Rentals.ca, says there are definitely "some signs of a cool-off" in Toronto's market. However, he notes that "seasonality" is partially to blame.
"Typically, we do see this time of year a period of cool-down as fewer listings are available and fewer people are looking to move," Ladas tells STOREYS.
"As far as roommate listings, we are seeing nominal change. However, the amount of roommate listings becoming available has increased significantly, especially when it comes to rooms being rented out in single-family homes."
Renting