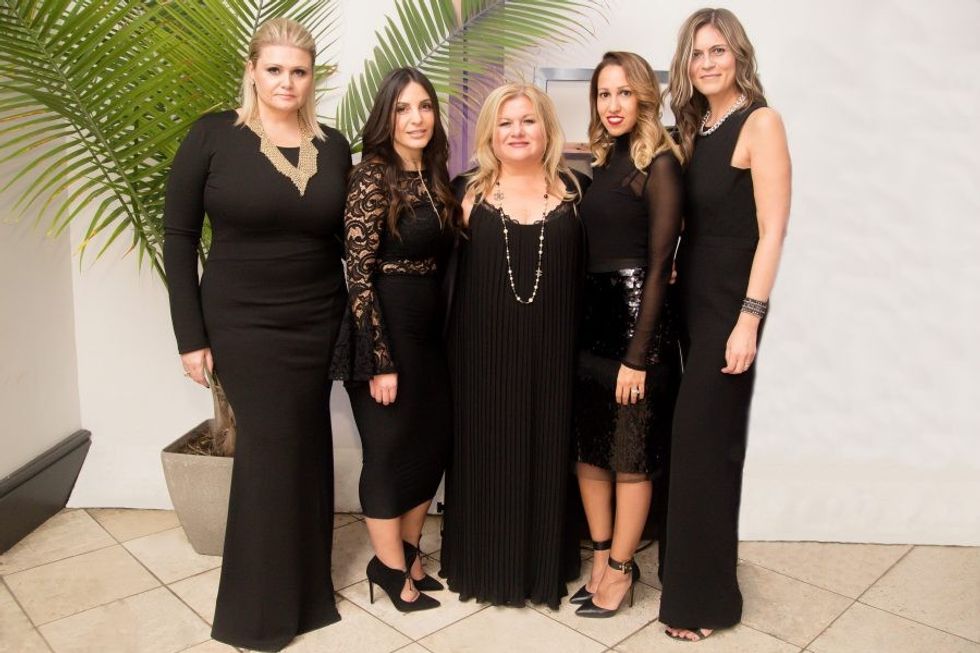 Boutique, full-service project-marketing firm In2ition was founded by Debbie Cosic, centre, who directs a staff of nearly 200, including her vice presidents, above.
Have you seen the 30-acre, 24-building, 6,000-unit Parkside Village community in the heart of Mississauga? Debbie Cosic did that.
---
Her project sales and marketing company, In2ition Realty, is also in Regina and Ottawa. And Texas. And also Grimsby, Wasaga Beach and Bobcaygeon. Up on the horizon? Europe.
There might not be an obvious thread connecting this random assortment of markets, except that Cosic's developer clients apparently don't want to work with anyone else, not even local sales firms. So when these builders pick up a new opportunity elsewhere in the province, country or continent — or overseas — they take In2ition with them.
"We think there's a real desire and demand for the type of sales and project marketing that we provide," Cosic says. "We are one of the most unique shops in North America currently."
That might explain In2ition's growth to date. From just a few support staff in 2002, formed when Cosic broke out on her own after working in sales and marketing for a builder, In2ition was rebranded in 2008 and has now reached nearly 200 employees. Her experience on the builder side helped her see the gaps on the service side.
Personal touch
"For many years (working for a developer), I hired brokerages to sell for us, and I always felt that personal, concierge touch was missing," Cosic says. "I know what I expected from my sales companies and my brokerage companies that I was hiring — it was also to be project marketer. But I wasn't able to find that.
"So when I went out on my own, I thought: let's put the builder's hat on and ask, 'What kind of qualities do I want in a sales and project marketing brokerage?'"
It turns out, Cosic says, that developers wanted a little bit of everything, from a service firm to a think tank.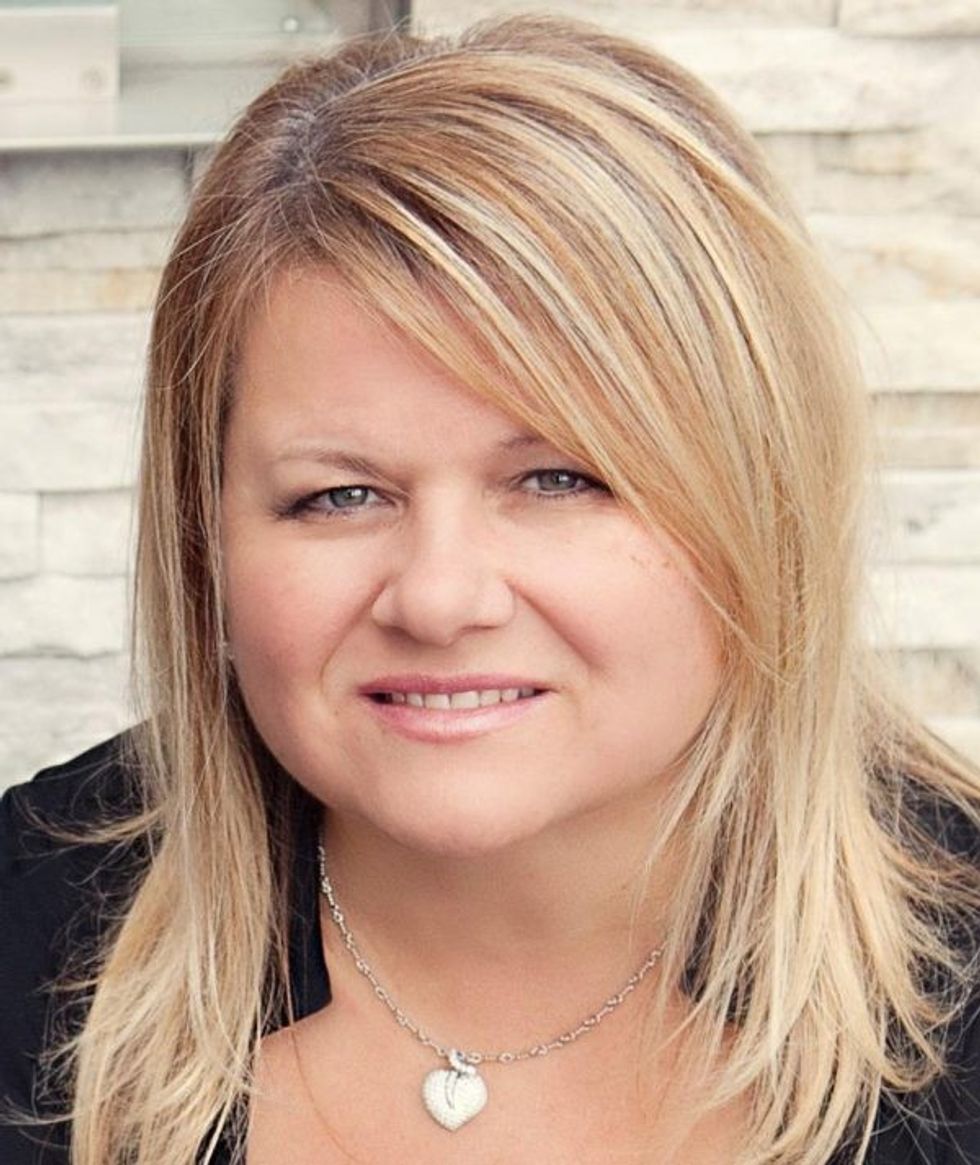 Debbie Cosic
"We came up with this wide variety of services — such as full-fledged market research, broker relations, design services, property management and leasing, land sales — that our competitors haven't rolled out all under one roof, so we can create a one-stop shop for developers," she says. "They don't need to outsource for all these other services: that was the nucleus of building this company."
Cosic says her unique full-service firm not only saves her clients from staffing full-time departments for relatively few projects, but also brings her high-volume, broad expertise to the partnership.
"(The developer) might build one or two projects a year but we sit around 40 boardroom tables a year, and then we also monitor the market very carefully, so we really have our pulse on what is happening," she says. "In order to replicate that in-house, they'd have to have a large team of 20 people — it just doesn't make sense, fiscally."
In2ition's mandate, Cosic says, is to expand into an international company. Although her current clients have brought her to new markets, she says they've been successful in picking up new local builders and establishing a presence once they've landed. Another near-term goal: nudging technology forward, which she believes has failed to revolutionize the business thus far.
"We're doing a large internal push on technology," she says. "We're big believers in technology, in selling online, in harnessing the strength of the Internet and social media, which has huge potential in our industry. So we're taking it to the next level, which I'm not privy to tell you about yet — but watch for it next year."
The bigger, the better
In2ition loves a challenge. Cosic says standalone towers and mid-rises are their "bread and butter," but the massive community projects — such as Mississauga's award-winning Parkside Village — are unparalleled opportunities for her agency to flex their imaginations.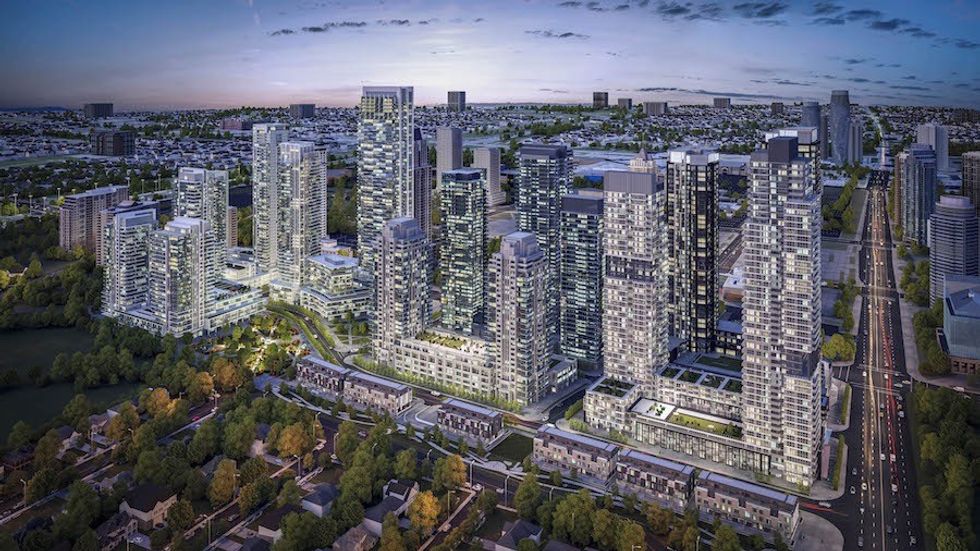 Mississauga's 30-acre, 24-building Parkside Village, a community project that has redefined the city centre. (Rendering courtesy of Amacon)
They've conducted a brisk "relaunch business" over the years, Cosic says, where banks and financial institutions ask In2ition to relaunch projects that have stalled. They also recently landed the Zibi project in Ottawa, she says, a 40-acre site that may include up to 40 buildings in its final form, becoming "one of the largest master-planned urban communities" in the country. In the past, In2ition has also worked on 3,000- to 4,000-unit communities in Western Canada.
"These massive developments are the ones that really stand out because of the magnitude of creative sales and marketing," Cosic says. "You have to constantly reinvent yourself in every phase, and every phase has to be better than the last phase, and you're building momentum constantly upwards.
"It's a wonderful way for us to be able to push the envelope in project marketing. Often when you have that large of a playing field, you can try new tactics, you can experiment with methodologies of sales and planning and design, that maybe you wouldn't have had the ability to in a smaller project. You can push the boundaries."
Outspoken advocate
New markets, changing conditions and mega-projects keep the company on its toes, and Cosic is effusive about her projects and builder clients, whom she calls "visionaries" and "mavericks" in the industry. She's also an outspoken advocate for increasing real estate supply in the GTA, and she's running to become a member of BILD's Board of Directors to push that message further.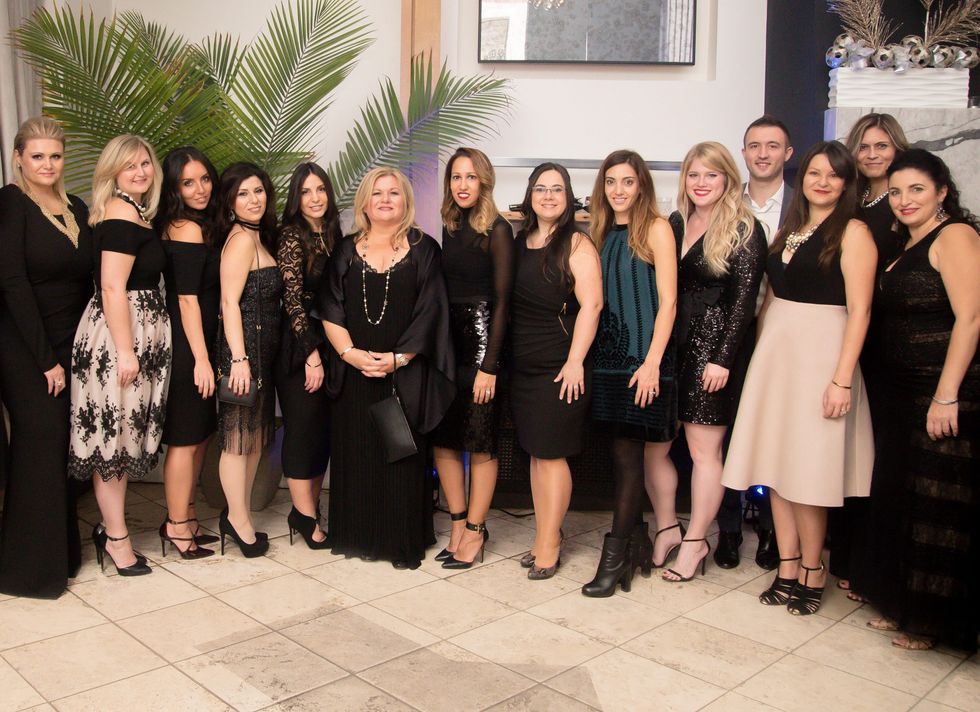 Cosic recalls a recent Sunday night dinner with friends, where a guest — "a doctor," she says — told her they were dreading going back to work on Monday. Cosic was incredulous about this throwaway comment.
"I just looked at the guy and I said, 'I love going to work every day,'" she says. "I still have not lost that passion after 25 years in this industry. You feel like you're on a brand new stage with every project, like you have the ability to create the imagery, to create the persona, to find that target market, to massage and move that market, the ability to create a brand new market.
"Project marketing really is not just sales," Cosic continues, "it's project design, it's marketing, it's the economics of the project, the viability, it's planning — it's all these things that get woven into project marketing, which is what we do. It's very unique and so diverse."
Industry Profiles