This article was submitted by Baron Alloway, Executive Director and Sales Representative at Catalyst Real Estate Brokerage Ltd. Have your opinion on how COVID-19 is impacting the Toronto real estate industry? Email info@storeys.com with the subject line Real Estate in COVID. 
It's always important to separate fact from fiction.
---
The real estate market is no exception to this rule. As news continues to circulate and rumours of a second "Great Depression" start to land alongside chilling allusions to the 2008 Housing Crisis, facts matter now more than ever.
We'd like to use some data from the Toronto Regional Real Estate Board (TRREB) to illustrate that, despite the seemingly endless cries from pundits, COVID-19 is not 2008.
Take a look at the data below, compiled from TRREB, that shows the average sale price centred around the 2008 Housing Crisis.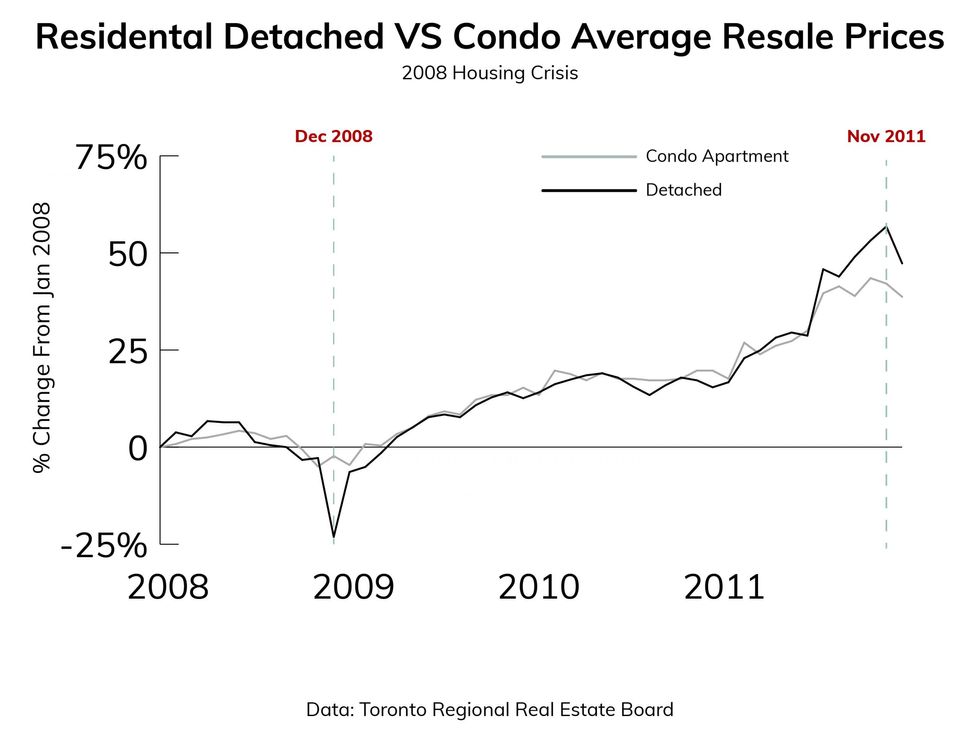 Baron Alloway
Take a look at the dip during December 2008. The dive taken by housing prices in the Fall of 2008 was completely reversed within three months. In terms of the overall trendline, this depression seemed to be merely a blip on the radar. Three years later, prices were up over 50% (or one and a half times) from January 2008, despite the looming recession.
Though the month-over-month comparison of the same data seems to tell a different tale.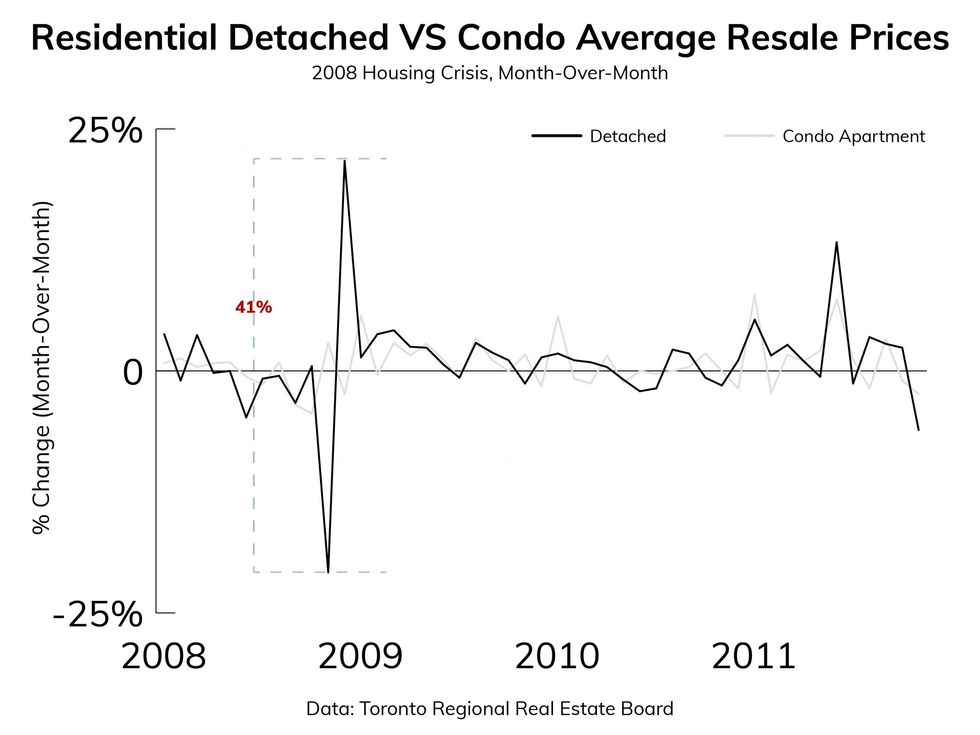 Baron Alloway
In the month of the "crash", housing prices fell by about 20%. In order to rebound, they had to make gains that doubled their losses (or 40%). In other words, this is a perfect illustration of how a percentage loss will require a much greater gain to recover to pre-loss levels. This is hardly a new phenomenon and is the basis of outlining the dangers of leveraged ETFs in stock exchanges.
[yop_poll id="2"]
However, what happened next is what most people seem to forget. In order to curb the recovery, housing prices would have to fall by about half of their total gains (15%). In our first illustration, the period was illustrated by the "flattening line" immediately following the dip. However, looking at a month-over-month comparison, it almost seems that there was a second crash.
Lastly, here's a graph illustrating sales volumes during those periods: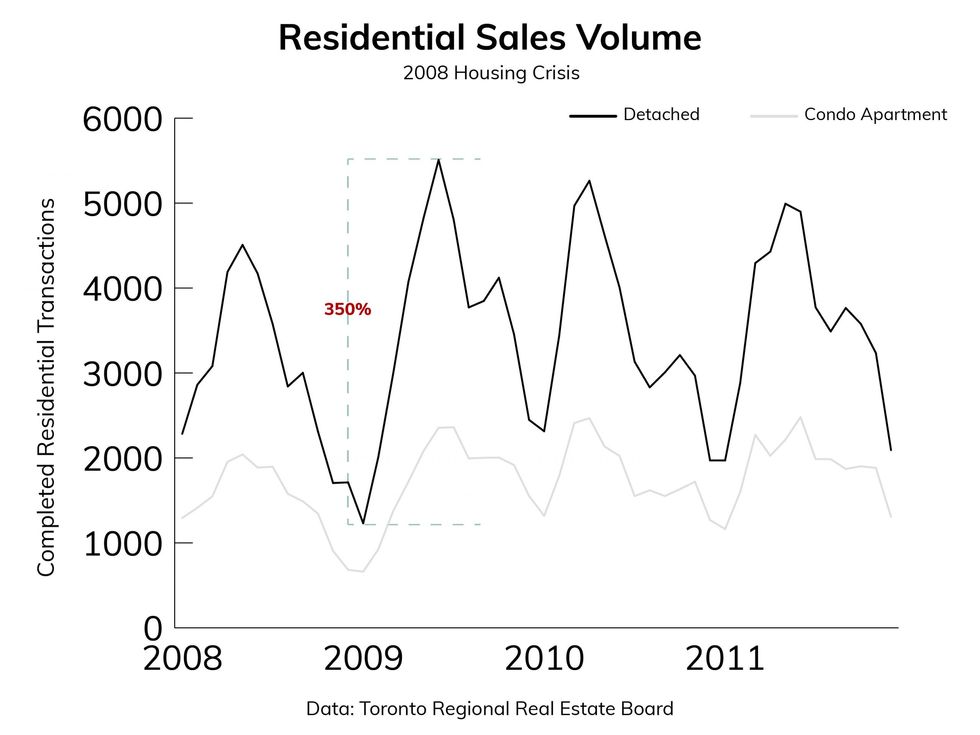 Baron Alloway
Detached home sales surged during the period of recovery. Within the first half of 2009, with battle scars still fresh in the minds of investors, the category saw a four-year high. The reasons behind this rise are largely debated, with explanations ranging from the illusion of detached homes being easier to borrow against, to the lack of exposure, to the risk of a condominium association in debt.
What is the significance of these charts? Let's take a look at year-to-date statistics for home sales, particularly focusing on the COVID-19 pandemic.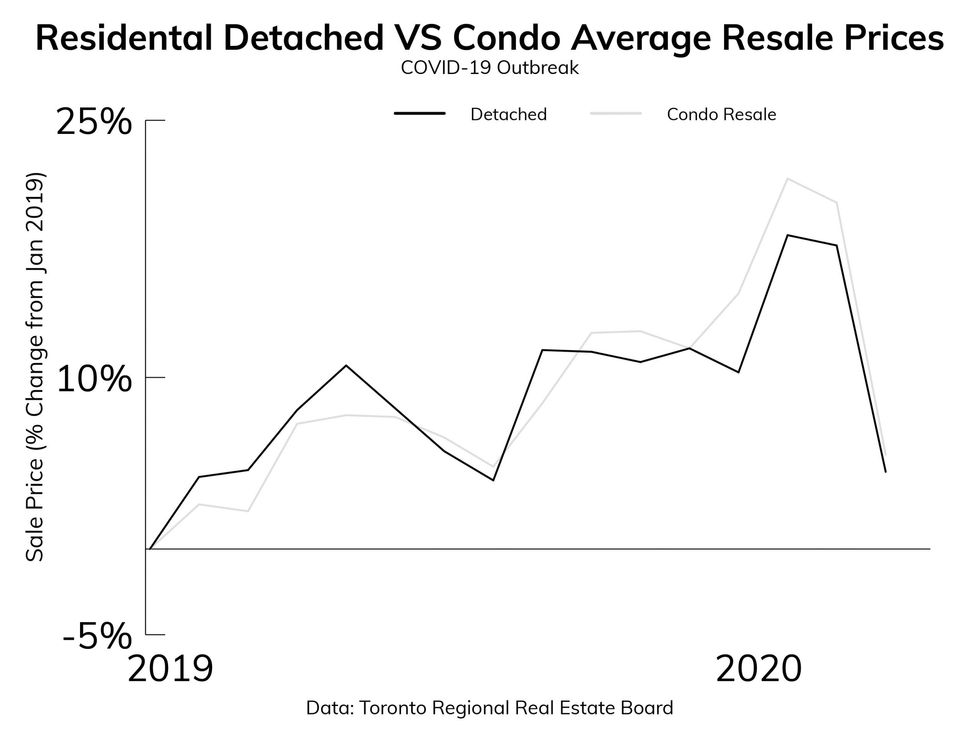 Baron Alloway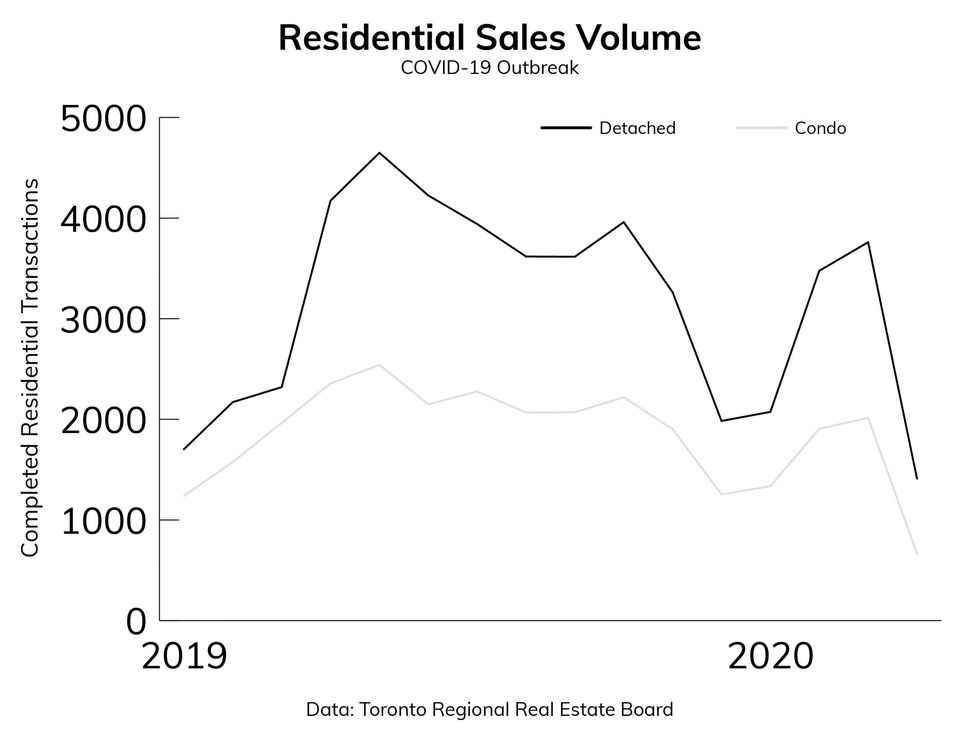 Baron Alloway
Immediately, the contrast is apparent. Home prices have seen such a meteoric rise in the past 18 months that the dip brought about by COVID-19 can be seen as more of a correction than a crash. Transactional volume would indicate that the pandemic has not halted the market, but merely brought it back to its winter volumes. Simply put: This isn't 2008.
So what is the importance of reviewing market data with historical context? It's all about timing.
Many buyers and sellers have had their original plans of buying and selling in the traditional "spring market" snuffed out in the fumes of COVID-19. The buildup of product scheduled to move will create a condition that can only be described as fascinating.
READ: 34% of Torontonians Still Say They Want to Buy a Home in the Next 12 Months
If you're looking to sell, the best guidance to follow is simply: wait (if you can). The market will correct itself as social distancing measures ease. People will be both desperate and eager, causing prices to skyrocket in the third quarter of this year. Specifically, detached home sales should soar. As 'quarantiners' emerge from their condominiums and realize a backyard might not be a bad idea, and worried investors flock to liability-free options, detached home sales should see a seller's market like no other.
However, within a few periods following, cooler heads will likely prevail. The same month-over-month drop after 2008 will again hit the Toronto real estate market. Pullbacks will send month-over-month numbers plummeting, and voices of doom and gloom will again reign clear.
But once we see this happen, it's time to get active again. The period of incessant volatility will come to a close, and conditions will be reminiscent of pre-COVID times. Every bad thing has the potential to turn into a good thing in the end... it's a matter of patience and waiting for the right moment.
Just don't try to get rich quick with the largest investment of your life, and everything should work out fine as everything begins to reopen.
Real Estate