Toronto
Real Estate News
Toronto Dominates North America for Most Cranes, With 208 Active in Q1-2021
If you take a quick look around Toronto right now, you'll still see plenty of buzzing construction sites and, in turn, you might also notice the surprising number of cranes towering over the city.
In fact, according to international property and construction consultancy firm Rider Levett Bucknall's Q1-2021 North American Crane Index, there are currently 208 cranes erected across the city, catapulting Toronto into a league of its own for active crane counts on the continent.
Toronto's crane count has increased since the last survey, as a staggering 84 more cranes have been erected in the months that followed.
According to RLB, Toronto continues to be home to the majority of total cranes in North America (43%), followed by Los Angeles(9%), Seattle (9%), and Washington D.C. (9%)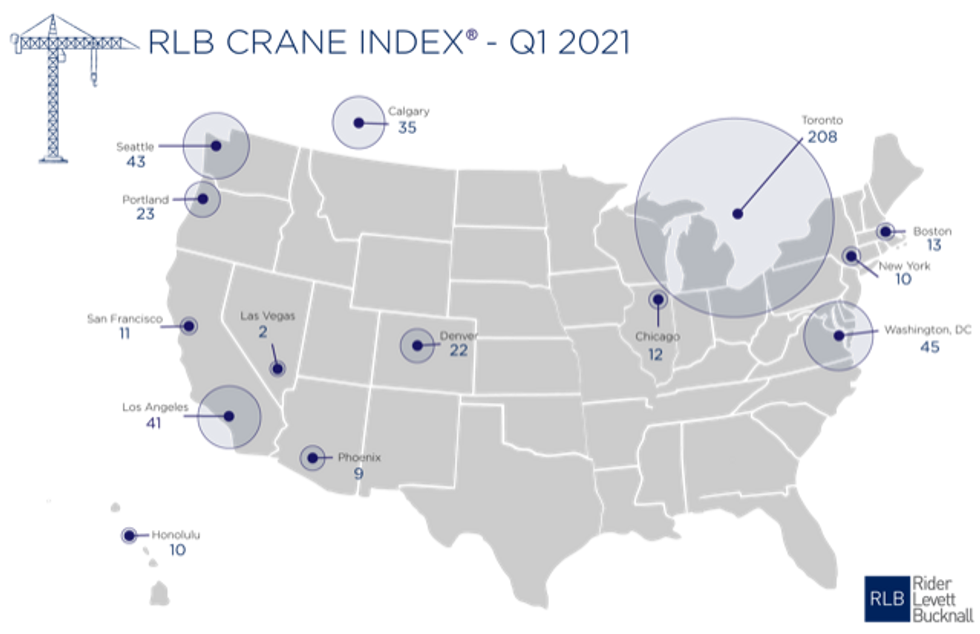 READ: 16-Acre Master-Planned Community Proposed for Toronto's Downtown Core
Cities seeing an increase in cranes this quarter include Boston, Calgary, Denver, Honolulu, Los Angeles, Toronto, and Washington D.C., while cities holding steady in their crane counts include Chicago, New York City, Portland, and Seattle. This quarter there were three cities to see a decrease in cranes, including Las Vegas, Phoenix, and San Francisco.
According to the index, there were 20,000 condominium starts in Toronto in 2020, accounting for the majority of the cranes, while there has also been a significant jump in commercial and mixed-use developments. Though, these projects had been slated for the past few years and were not impacted by the economic slowdown caused by COVID.
"The pandemic has contributed to a reduction in people moving to the Toronto area; this will lower demand for new housing. In the near term, this could mean a drop in condominium construction starts," reads the report.
"Another possible consequence of COVID is a shift toward permanent remote working, which may lessen the demand for commercial office space."
According to the report, residential projects account for 49% of all cranes counted, followed by mixed-use developments making up 20% of the overall count, while commercial projects contributed to an overall increase of 24% in active cranes, making up 12% of the overall count.
Also worth noting is that Calgary was the only other Canadian city to make the index, ranking 4th with 35 cranes, ahead of Portland (23), and Denver (22). What's more, New York currently only has 10 cranes.