Real Estate News
Toronto Office Vacancies Reach Highest Level Since 2008
It's still a ghost town in downtown Toronto's office buildings.
According to a report released Monday by commercial brokerage CBRE Ltd., office vacancies in Toronto climbed to their highest point since 2008 due to a pandemic-inspired work-from-home culture that has become the norm. 
The second-quarter vacancy rate for Toronto offices was up nearly a full percentage point from the first three months of 2021, now standing at 10%. This figure nearly matches the rate of 10.1% reached in 2008 in the midst of the global recession.
According to the report, most of the increase in vacancies in the past three months happened in April. The rate has held steady since. There are also some signs that the city's shiny office towers could finally come back to life in the not-too-distant future.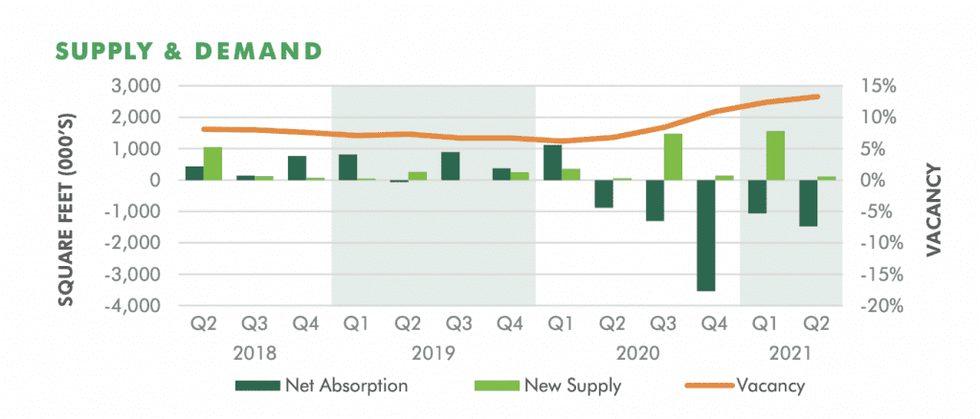 According to the report, the surge in vacancies will slow as vaccination rates rise and life returns to normal(ish). It points to signs that the traditional 9-5 grind may soon return (in some capacity, at least). "Reopening plans, tours, and renewal discussions are all on the rise as tenants prepare for their return to office in the second half of the year," reads the report.
The report highlights a sharp uptick in office leasing activity in Toronto. "Touring levels, both virtual and in-person, reached their highest point in May and the demand for flexibility and optionality is so high that top-tier sublets are now largely spoken form with interest extending to all sublet listings," it reads.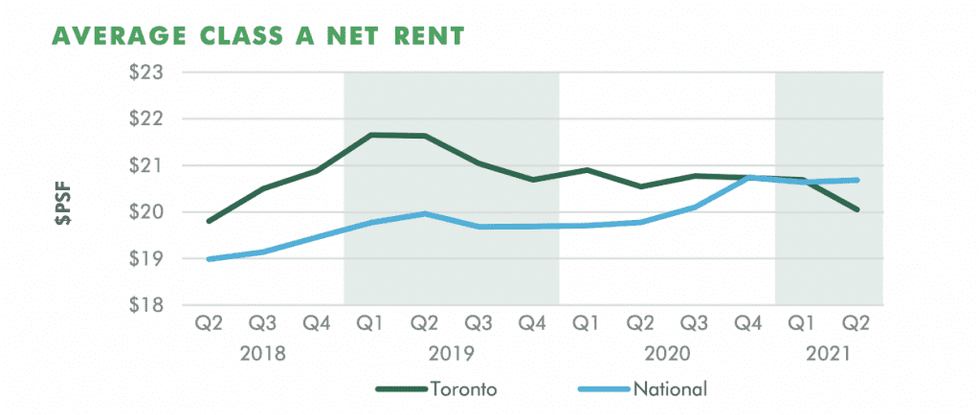 Another report released by CBRE last week found that we can expect a fusion of past and present when it comes to post-pandemic life. It reveals that companies will define workplace policies around hybrid work and employee flexibility. In a trend that emerged long before the term "social distancing" became a staple in our collective vocabularies.
In the meantime, it's business as usual south of the border on Wall Street. As Toronto tries to claw itself out of the longest lockdown in the world, all we can do is remain hopeful that we'll get there too.
Someday.