This article was written by Jaegap Chung, the co-founder of and a principal architect at Studio JCI in Toronto.
Home ownership has been an achievable dream for generations of Canadians. In fact, we've been conditioned to covet the proverbial white picket fence, backyard, and extra bedrooms – with ensuites for guests — from the time we are kids.
---
That dream is not an easy reality these days as Canada and the world are facing not one but two major crises: housing and affordability.

Soaring prices, the impact of inflation, climbing interest rates, fewer houses being put up for sale, supply chain disruptions and labour shortages resulting in fewer houses being built – these are among the many factors making home ownership unattainable for so many Canadians.
What to do? Well, there is a solution – rethink what home ownership looks like.
Architectural studios have been called upon to deliver creative solutions for public and commercial projects, as well as all scales of residential structures. Whether the project is low-, mid-, or high-rise, we must find solutions that address the most significant design challenges — sustainability and sensitively densifying neighborhoods — while also uncovering opportunities in undervalued spaces. You can accomplish both objectives by addressing what is known as the "missing middle."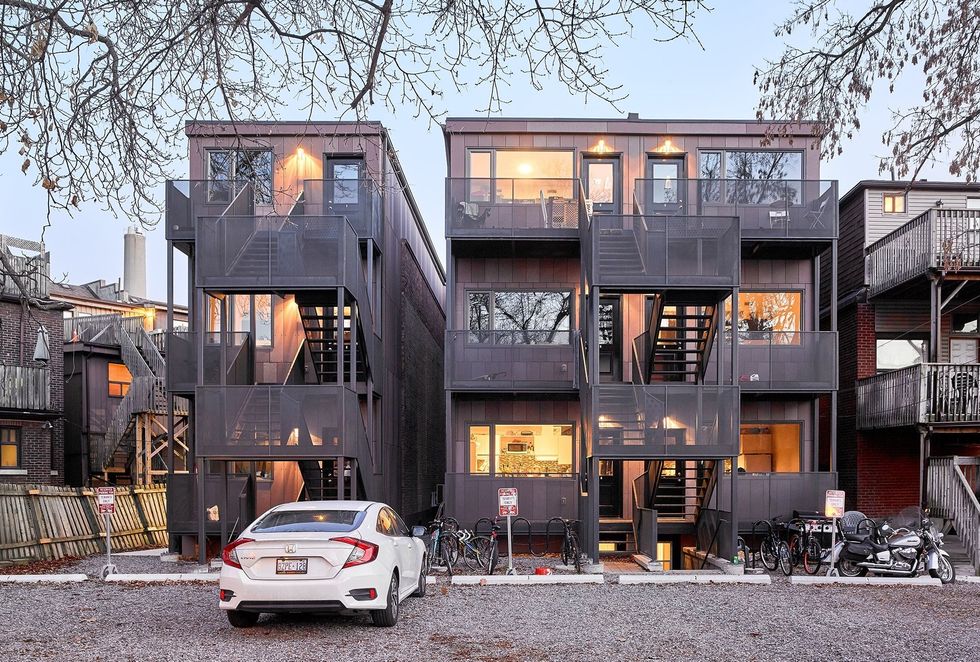 JCI
What Is The Missing Middle?
Missing middle housing can be defined as a range of housing varying in scale and consisting of multiple units compatible with the scale, form, and size of single detached family homes. They are often in the form of freehold or stacked townhomes, side by side duplexes, triplexes, and fourplexes. If designed well, this housing typology can seamlessly integrate within established residential neighborhoods (and not upset NIMBY-ers).
This form of housing is important because it provides a wide range of building typologies, but more importantly, it allows for more housing to be created. Imagine an area comprising 300 residential lots as a resource for housing. Now imagine putting a single family per lot – allowing 300 families to reside within this area. Ask yourself: is the space being optimized to its full potential? No, it's not. By adding two, three, or even four units per lot, you can triple or quadruple the number of households within an area.
Based on our research, we found that if only 18% of detached homes were to be converted to fourplexes, we can double the number of households in any given block. By introducing a range of housing forms, we can introduce diversity in neighbourhoods by attracting people of different income brackets as well as bringing together different generations into the neighbourhoods. I live in North York, and on my street, more than 50% of the single detached homes are occupied by octogenarians. A single elderly person living in a 3000-sq.-ft home with three bedrooms represents underutilized use of the land.
Housing with great connections to grade, 900-1,800 sq. ft of space, three- to four-bedroom units, situated in existing neighbourhoods with mature trees, and access to transit can be a highly desirable place to live. Missing middle homes can meet the needs of a growing family, but can also accommodate aging downsizers looking to stay in a neighbourhood and get support from a young family. By creating more of this housing typology, we can also optimize the use of existing city infrastructure such as parks, libraries, schools, and community centers. More people on any given residential street can also mean burgeoning retail business, while creating a sense of community. In the face of a housing crisis, this approach makes more than good sense – it's attractive.
Knowing this has fundamentally changed the way architects design and has a tremendous impact on built forms because missing middle homes come with great design opportunities. They allow for interesting indoor-outdoor threshold conditions. They can have elevator access, fully sustainable design with shared geo-thermal rooms. Spaces like kitchens, dining, living rooms can have access to large terraces that can be enclosed into three season rooms. This means that the top unit for these houses can have penetrating skylights and access to rooftop terraces, while the bottom unit can access a sunken courtyard which is fully accessible. The backyard for these houses can be shared, with bike and storage sheds. There are possibilities to integrate individual or shared parking spots. Overall, the design typology presents opportunities to create community, while also maintaining an individual's privacy and comfort in their home. Two of our recently completed projects – Broadview Terraces and River Street Infill – offer all these features and more.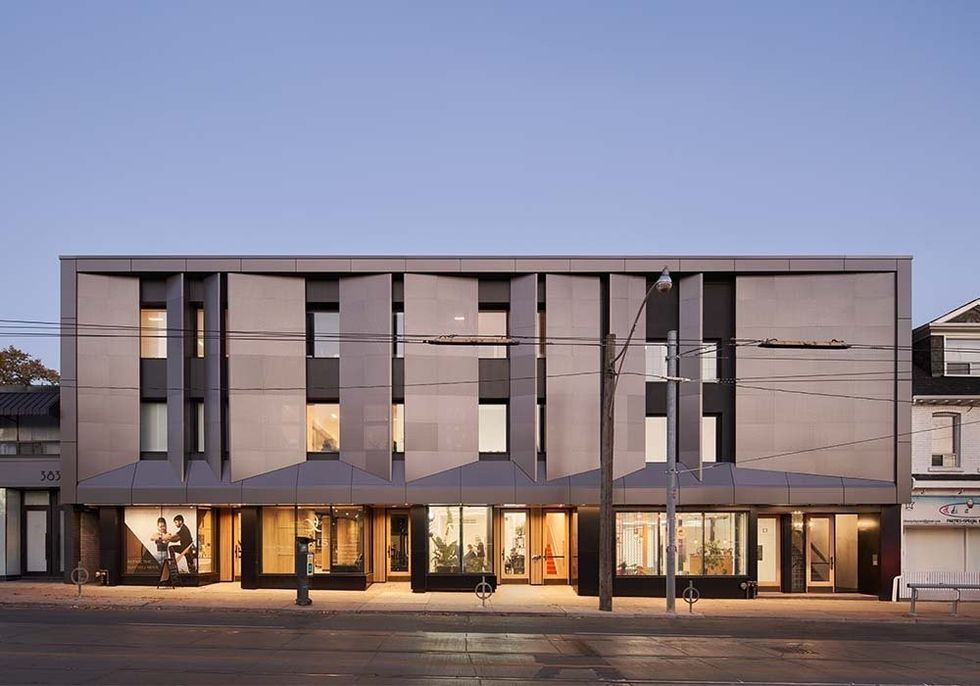 A missing middle project from JCI that repurposed two commercial structures into 11 one-bedroom units.(JCI)
A Not-So-Easy Path

If missing middle housing is so great, why do the challenges to build them seem even greater? The answer is the current approval structure. Time and time again, the message from the municipality has been that missing middle homes are a desirable form of housing. However, its actions have proven otherwise. Unless we create a wider adoption of approval process which is somewhere around the six-to-12-month timeline and includes approval without a site plan application (SPA) for projects with 20 units or under, it will not be enough to incentivize the development community to build these diverse types of housing.
Architecture studios like ours have been at this a long time and now find ourselves advocates of the missing middle. We have shared insights with the City and the public through roundtable discussions, speaking engagements, and workshops. And yet, we still have our challenges building more missing middle housing.
Here is but one example of a current challenge. We have a four-storey, 16-unit project with one level below grade parking and it has been almost two years since our first preliminary application consultation. The building is in an R zone within 800 m of MTSA (areas within a desirable radius of a transit station) and yet we are still required to go through the full zoning bylaw amendment application, including an archeological report at a significant cost to the client. Approval, including SPA, is expected to take another 12 to 18 months and two years for construction. The total timeframe will be around six years for 16 units – the very same timeframe as a large mid-rise building. As you can imagine, this process is a turnoff for developers.
But all is not lost. The Expanding Housing Options in Neighbourhoods (EHON) initiative in the City of Toronto has been implemented to facilitate more low-rise housing in residential neighbourhoods. EHON has been commissioned to create a new portal to allow low-rise projects on avenues and MTSA zones to be expedited. The City should conduct feasibility studies along new and existing MTSA zones to understand what the potential impacts might be. The City should also work with qualified professionals to create pilot projects on different City-owned lands to build examples of missing middle housing, to demonstrate to the public what can be achieved in terms of quality of units.
Studio JCI will continue to push the conversation forward, with developers, the municipality, and fellow architects. For our part, we will continue asking some important questions, including:
Make it easy for builders/developers to create missing middle housing. Incentives are great but eliminate the barriers to entry, and remove SPA process for units less than 20 in size. Urban design staff often have a difficult time commenting on these smaller projects, which can hinder the process. Missing middle projects should not be subject to onerous technical review for fewer than 30 units, and no SPA for units less than 20.
Pilot neighbourhood projects (eg: along the Eglinton LRT, and the Bloor/Danforth lines) with community input to create pre-approved permits that allow builders/developers to obtain permits as long as the permit falls within the right parameters. I think what is important here is creating a zoning BOX that allows builders/owners to understand their key parameters. This can be diagrammed very simply.
Advocacy: City staff, along with key community members, need to come together to inform the public of why missing middle housing is important and why we need to encourage more builders/developers to build it. Also, support the CMHC single stair pilot project that the LGA partnership is undertaking to remove the second means of egress for smaller missing middle projects.
Answers to these important questions will ensure the successful delivery and completion of missing middle projects – all while keeping in mind an appropriate timeline and sustainable design strategies.
Insiders