It once hosted performers like Joni Mitchell, Blue Rodeo, Leonard Cohen and Stompin' Tom Connors, and now the Matador may soon be home to a 6-storey, mixed-use residential building.
Located at 466 Dovercourt Road, the city's famed Matador Club has been sitting dormant for years, but it may soon see some new life if a recently submitted application for its redevelopment is approved.
---
Last month, developers submitted a rezoning application that asks to demolish the existing 2-storey commercial building and replace it with a 6-story mixed-use building that would house 30 residential units spanning 27,184 sq.ft. This is in addition to over 12,000 sq.ft of retail and commercial space in the basement and on the first and second levels.
The proposal includes 21 one-bedroom, six two-bedroom, and three three-bedroom units, along with nine stacked parking spaces.
READ: Budget 2020: What The Average Toronto Property Tax Increase Will Be
The property was originally constructed in 1915, and in 1916, the Davis Assembly Hall opened and served the local community for many years. However, it wasn't until 1964 that the Matador Club opened in the space as a country music venue and was a popular destination until it closed its doors in 2007.
Renderings of the building from Toronto/Hong Kong firm Axia Design Associates show a tan, brick building with tall, narrow windows and corner balconies that overlook the neighbourhood.
And while the site will undergo some major changes, the developers said they will preserve some remnants of the existing building including the exterior marquee and a wood-panelled wall plastered with the signatures of famous musicians that had once performed there years before.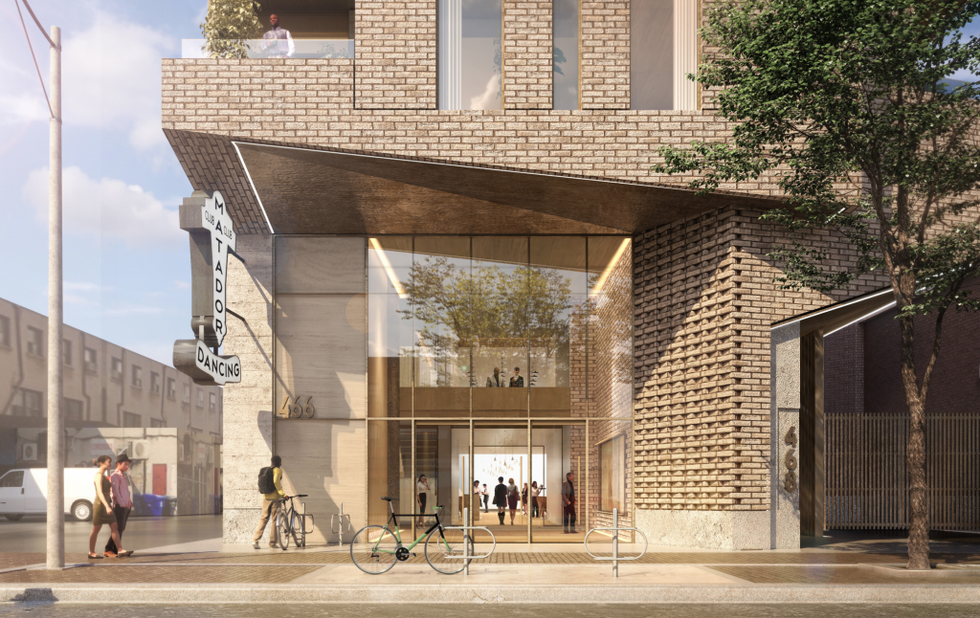 466 Dovercourt: Rendering via application proposal to the City of Toronto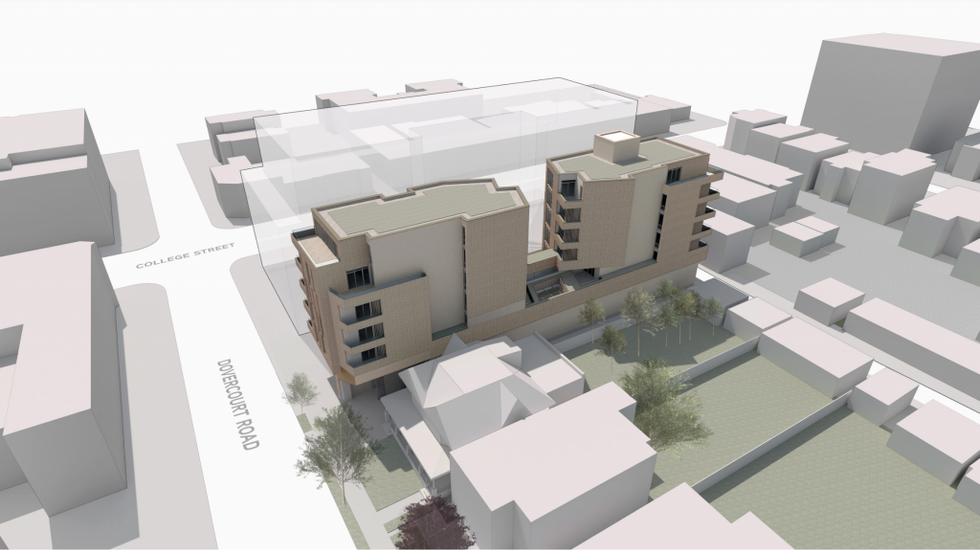 466 Dovercourt: Rendering via application proposal to the City of Toronto
For now, it remains unclear what type of businesses would take over the commercial space.
Future Developments