---
Real estate developer Hullmark has set their sights on building a new 15-storey tower on Toronto's Dufferin Street.
The high-rise project, planned for 450 Dufferin Street, joins a long list of other proposed and under-construction developments in the rapidly changing Little Portugal neighbourhood. Hullmark's proposal would replace an existing one-storey commercial building near the Waterloo Avenue intersection with a much more expansive combination of residential and commercial space.
The residential units, of which there would be 143, would range from studios to three-bedrooms, according to planning documents filed with the City. As far as modern Toronto condos go, the units appear the be decently sized, with even the studios -- the most common unit type in the building -- averaging 444 sq. ft.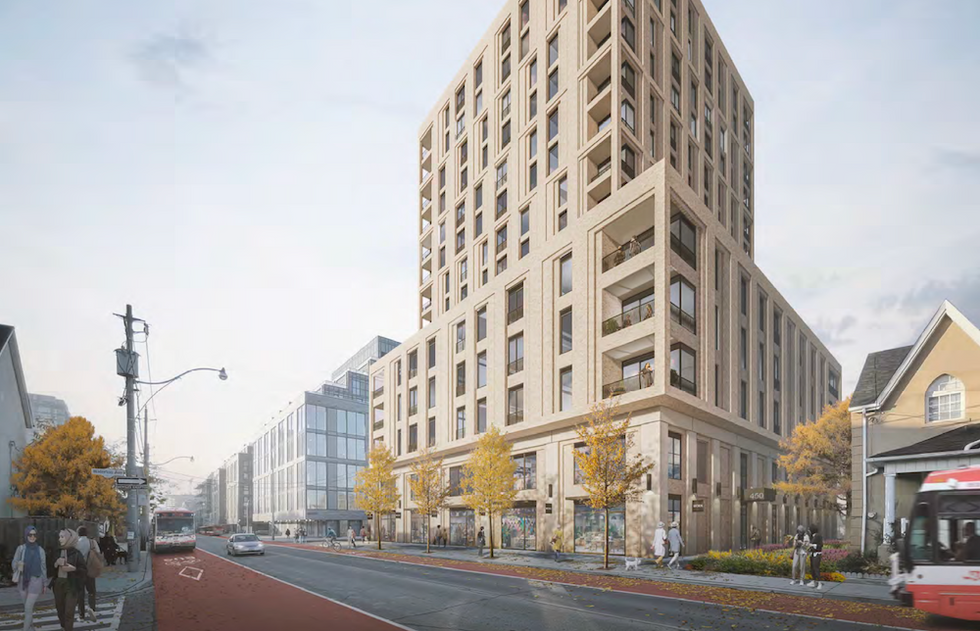 Hullmark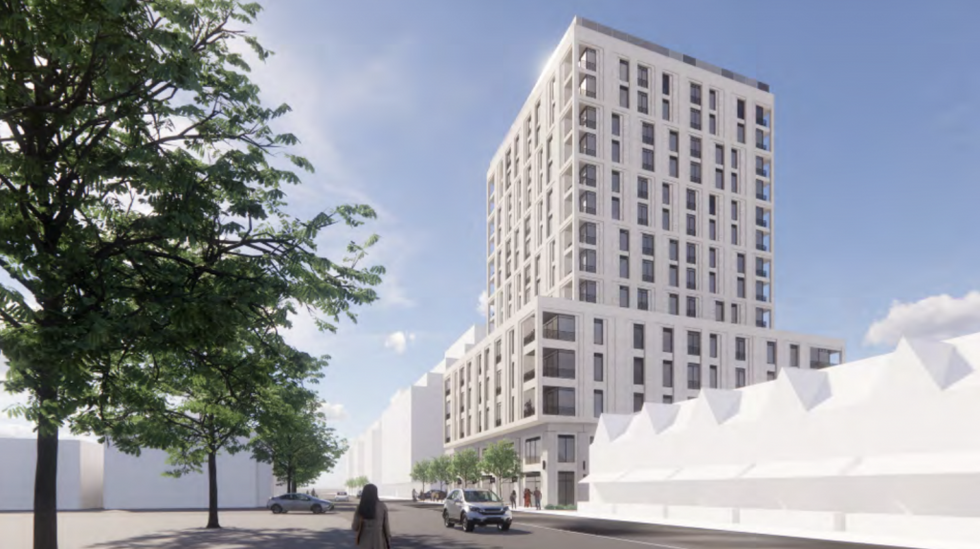 Hullmark
Residents would get to enjoy over 6,000 sq. ft of amenity space, both indoors and outdoors, but what exactly will be offered has not yet been revealed.
The planned commercial space would occupy over 9,600 sq. ft of the ground floor and mezzanine, the documents say, and would be "suited to contemporary employment needs." Details on what those needs are were not provided.
As is the Toronto way, the Superkül-designed tower would sit atop a four-storey podium base. But unlike most of the (uninspired) condo buildings that pop up all across the city, the design doesn't call for the facade to be almost entirely clad in large panes of glass. In fact, it appears to sit somewhere between a modern condo design and retro brutalist architecture, with thick strips of off-white brick encasing narrower -- but still floor-to-ceiling -- windows. The use of brick, the planning documents say, will help the building fit in with the area's traditional residential use.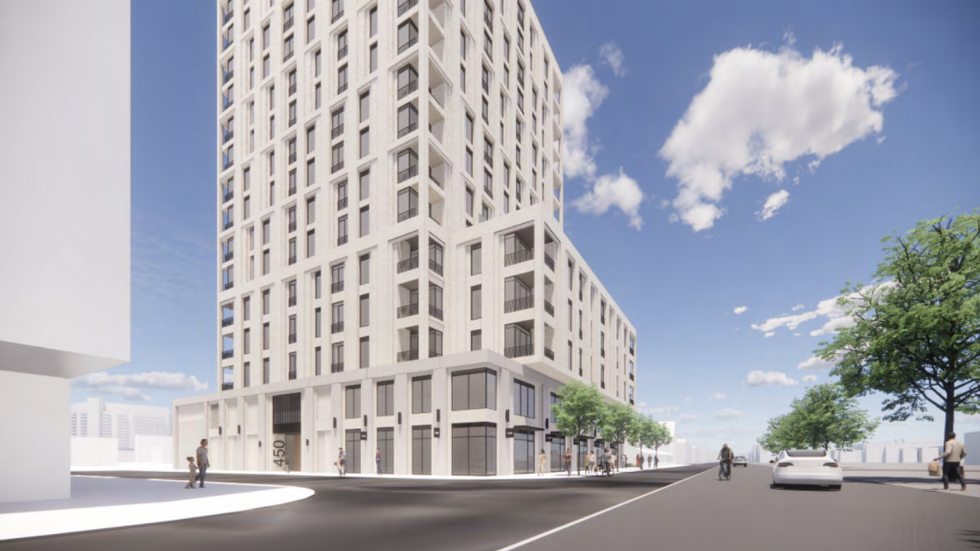 Hullmark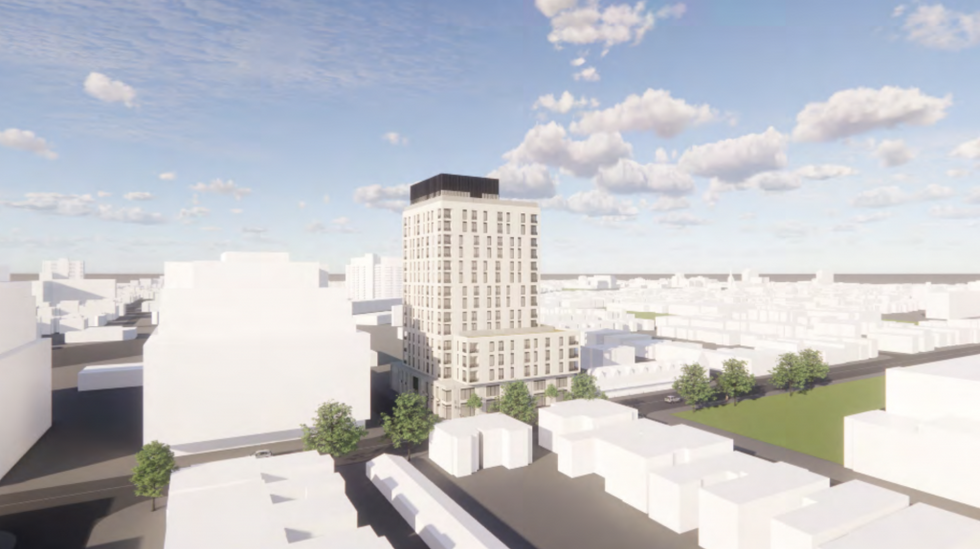 Hullmark
Hullmark also has hopes that the new development will improve the street's aesthetics, saying that the dated one-storey building that's currently on the site "does not provide an attractive or welcoming public realm." Along with the tower, the development plans call for new trees along the street, and a wider sidewalk.
"The ground floor along Dufferin Street will include glazing in regular bays, making visible the activities in the commercial spaces and helping to activate the public realm," the documents read.
The stretch of the building along Dufferin would have five commercial entrances, with a sixth planned for the north side of the building.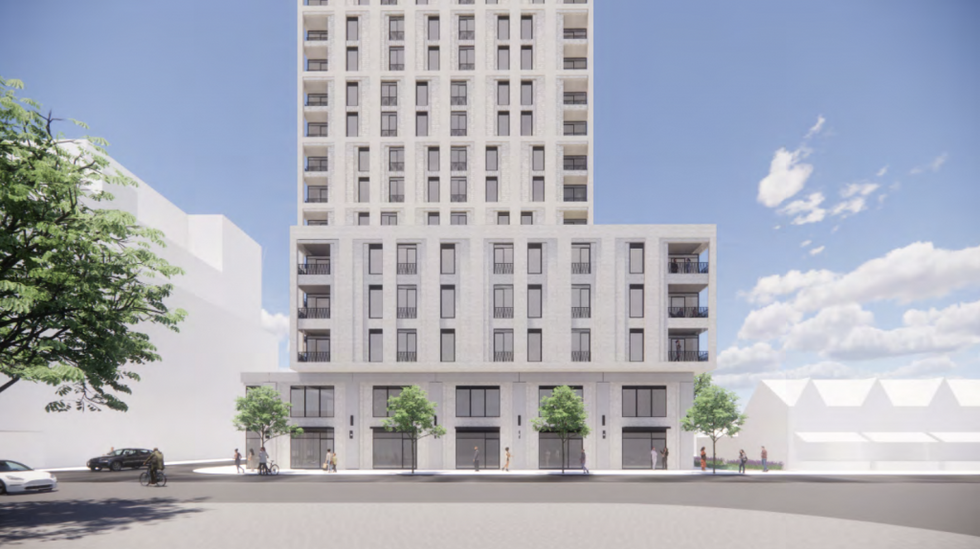 Hullmark
Underneath the development would be a 34-space parking garage, with 22 spaces set aside for residents and the remaining 12 going to visitors.
The project is still in the initial phases of making its way through Toronto City Council, so even if approved, it will likely be quite some time before we see the development actualize.
Toronto