Exciting news awaits those seeking the perfect blend of coastal charm and modern elegance in the heart of White Rock, BC. The Landmark at Foster Martin, the highly anticipated concluding tower of the award-winning development, is now unveiling its new Sales Office. This milestone marks a significant moment in the journey of this exceptional project, inviting visitors to immerse themselves in the allure of seaside living.
Nestled in the picturesque coastal city of White Rock, Foster Martin has captured the attention and admiration of residents and homebuyers alike with its impressive first two towers. Now, as the final chapter in this remarkable trilogy, The Landmark promises to exceed all expectations, and the new Sales Office offers a unique opportunity to discover the unparalleled beauty and design philosophy that sets this tower – and project – apart.
---
READ: Stunning New Seaside Development Serves Elevated Coastal Living
A Glimpse Into The Landmark's Visionary Design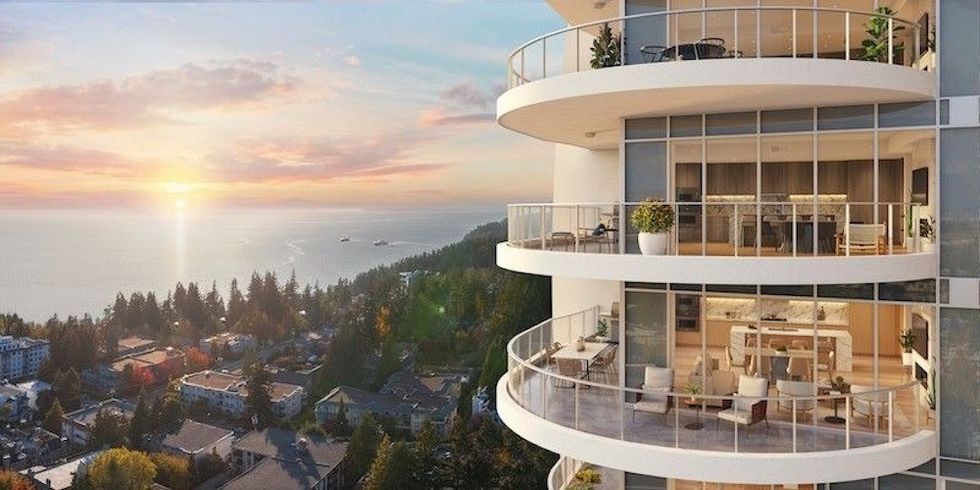 The Landmark
The Landmark at Foster Martin stands as a testament to architectural brilliance, designed by the acclaimed IBI Group. Drawing inspiration from the graceful movements of the nearby ocean waves, the dynamic pier, and the majestic mountain vistas, The Landmark's design harmoniously blends with the serene seaside community of White Rock. Staggered like waves caressing the shore, each tower captures the essence of sophisticated coastal living, immersing residents in a world of tranquility and luxury.
The Heart Of White Rock's New Town Centre
Located in the vibrant new town centre of White Rock, The Landmark offers more than just stunning views and impeccable design. With every essential amenity a leisurely 5-minute walk away, residents can easily access shops, restaurants, parks, schools, and more. Moreover, the ground floor of The Landmark will house service-oriented commercial tenants, including long-standing local businesses like White Rock Optometry, a pharmacy, a dental clinic, a chiropractor, a daycare, and various professional services. This thoughtful integration of amenities enriches the living experience, creating a true sense of community within the development.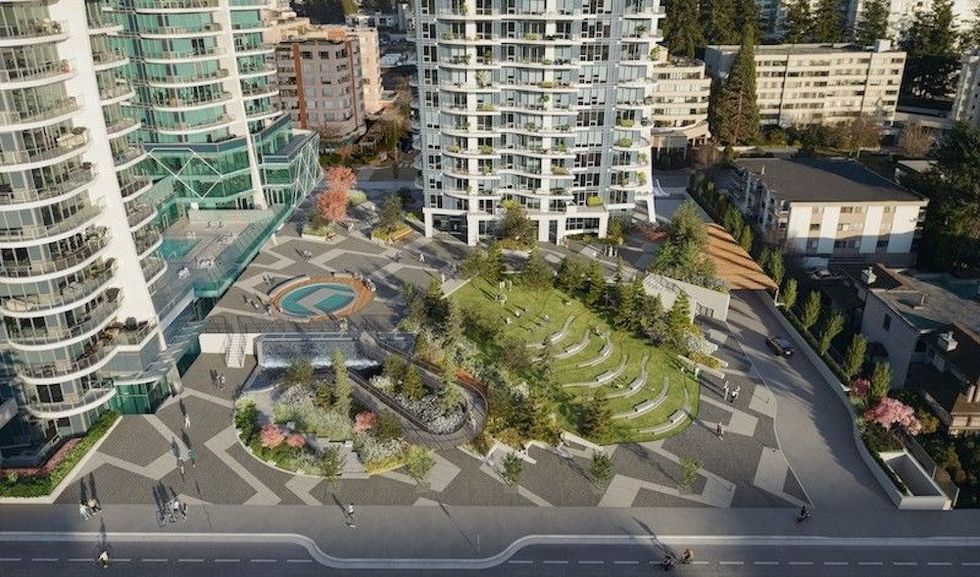 The Landmark
Indulge In Unmatched Amenities
Residents of The Landmark are pampered with a comprehensive suite of amenities that redefine elevated living. From an indoor and outdoor (seasonal) swimming pool with a sundeck to an outdoor hot tub, steam room, and sauna, relaxation and rejuvenation are always within reach. For fitness enthusiasts, a gym and yoga studio provide ample opportunities to stay active and healthy.
Social spaces like the multi-purpose room, game rooms, social lounge, and business room cater to gatherings, entertainment, and networking. Convenience is paramount, with amenities like a smart parcel box and carwash station ensuring that residents have everything they need right at their doorstep.
A Home For All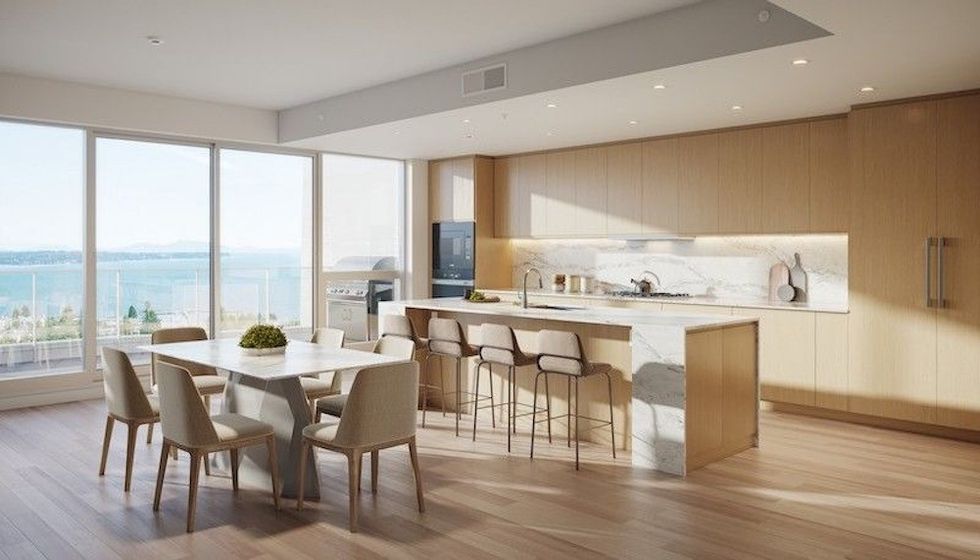 The Landmark
The Landmark at Foster Martin aims to create a welcoming community for all walks of life. While it holds particular appeal for local downsizers, upsizers, empty nesters, retirees, and first-time home buyers, its universal charm extends beyond any single demographic. The Landmark invites anyone seeking a taste of elegant seaside living to call this remarkable development their home.
The Sweetest Of Suites
Where the specifics of The Landmark's suites are concerned, the limited and award-winning collection of seaside homes includes one, two, and three bedroom units, which range from 753 to 1,950 sq. ft. The address will house a total of 128 units that range in price:
1 bedroom + den: 753 sq. ft, priced $700,000 - 895,800
2 bedroom + den partial-view: 1,173 sq. ft - 1,195 sq. ft, priced $912,800 - $1,579,800
2 bedroom + den south ocean view: 1,256 sq. ft - 1,371 sq. ft, priced $1,201,800 - $1,961,800
3 bedroom ocean view: 1,404 sq. ft – 1,421 sq. ft, priced $1,880,000 - $2,031,000
No matter which size or bedroom count you select, perks include thoughtfully curated floor plans, large windows, and a top-of-the-line Miele appliance package. The designer interiors will be complemented by engineered hardwood flooring, plus high-end stone and tile in each home. What's more, residents can select from either a dark or light colour scheme, depending on their personal tastes.
Discover The Landmark Sales Office: Unveiling Best-Selling Seaside Living Homes
To fully immerse yourself in all that The Landmark has to offer, don't miss the opportunity to explore the new Sales Office. Here, you'll discover firsthand the allure of this exceptional development.
Sales Office Information:
Grand Opening on September 9, 2023
Selling: By appointment only
Open: Saturday to Thursday
Daily hours: 12pm to 5pm
Phone: 604-531-7111
Email: info@fostermartin.ca
Address: #6 - 1493 Foster Street, White Rock, BC V4B 0C4
Step into the world of seaside luxury and embark on a journey of refined living at The Landmark.
This article was produced in partnership with
STOREYS Custom Studio.
Future Developments