---
Days before the Calgary Stampede kicks off, TELUS Sky has officially opened its doors in the downtown core. As cowboy-hatted Calgarians rush into the city to enjoy rodeos and midway foods, they won't be able to miss the state-of-the-art landmark, located in the 600 block of Centre Street South and boasting a whopping 60 storeys and 750,000 sq. ft of office and retail space.
That's not all. TELUS Sky is adding 326 rental homes to Calgary's real estate market. This comes at a time when rental scarcities are being felt country-wide, and with an average vacancy rate of just 1%, Calgary is certainly not exempt.
"Our $400M development continues our legacy of making powerful contributions to advance the economic strength and social vitality of both the city of Calgary and the province of Alberta," said Darren Entwistle, TELUS President and CEO. "As the transformative centrepiece of a revitalized city block, TELUS Sky sets a new standard of excellence in architectural beauty and environmental sustainability; exceeding the global standard for leadership in energy and environmental design. We are exceedingly proud that TELUS Sky will continue to build a friendly future for everyone who lives, works, and serves in the great City of Calgary."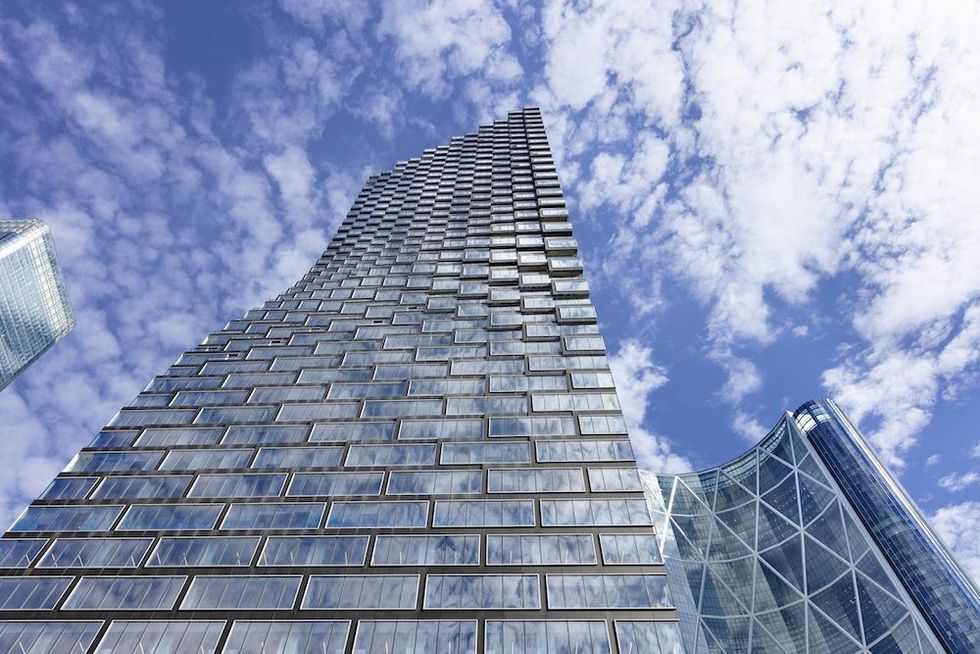 TELUS
TELUS Sky is built to Leadership in Energy and Environmental Design (LEED) platinum standards, cementing the company's repute as a global leader in sustainability. The building also encompasses a stormwater management system, a thermal energy system, 100% fresh air ventilation, eco-conscious windows, on-site bicycle storage, electric vehicle charging stations, and a living wall in the 11-storey atrium.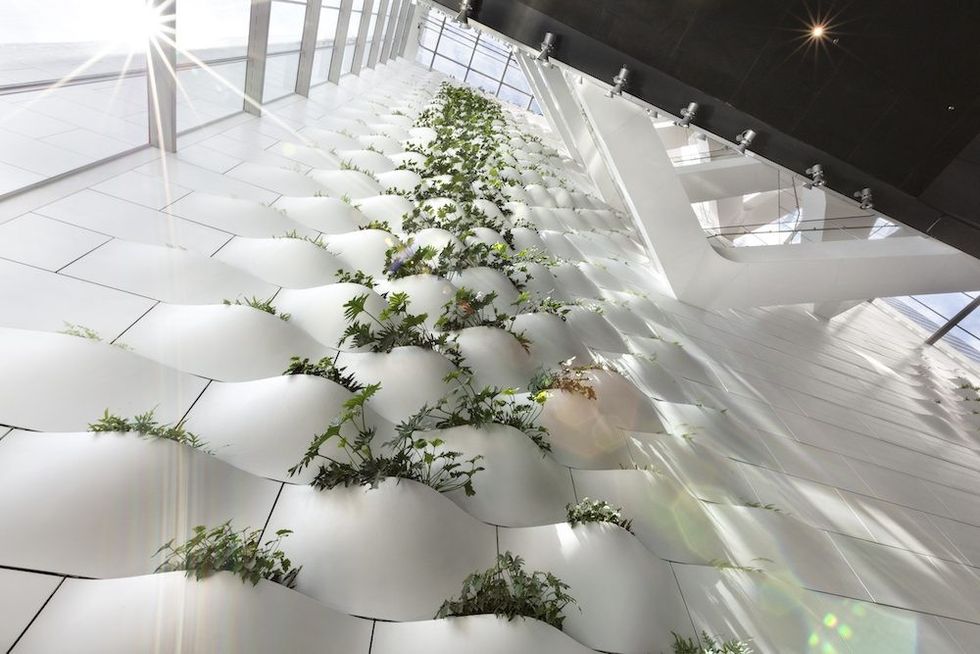 A living green wall in the 11-storey atrium improves air quality and provides occupants and visitors with a connection to natural elements. | TELUS
The new headquarters has been in the works for about nine years. Over that time, the project was shaped by many talented hands, including Copenhagen- and New York-based group of architects, Bjarke Ingels Group, Canadian architectural, engineering, interior design, and planning firm, Dialog, and developers, Westbank and Allied. Canadian author and artist, Douglas Coupland, is to credit for the eye-catching art display that appears on the building facade. Coupland's illuminated depiction of the Northern Lights adds a splash of colour to Calgary's skyline and is the largest public art display in the country. Artwork by Canadian and Indigenous artists is displayed throughout the interior of the building as well.
The development of TELUS Sky created over local 1,000 jobs and the office will employ more than 1,600 TELUS team members. The company's presence in the downtown core will also bolster Calgary's tech sector. Although Calgary is largely known for its oil and gas, the city's tech industry is booming and poised to expand in the years to come.
To top it all off, TELUS Sky has joined the ranks of Calgary's tallest buildings, spanning around 222 metres. Brookfield Place East and The Bow are currently Calgary's tallest buildings, but TELUS Sky is a close third. 
Office