---
Last month, Vancouver-based developer Strand launched leasing at its latest commercial project, Three Sixty, a mixed-use development set to rise nine storeys in Vancouver's Mount Pleasant neighbourhood.
Located at 360 West 2nd Avenue, at the intersection of Alberta Street, Three Sixty is the first project to be developed under a new industrial zoning district: I-1C.
The I-1C zoning came about following the the City of Vancouver's 2020 Employment Lands and Economy Review (ELER), analyzing economic issues and challenges the city may face in the future, particularly as it relates to employment space and job growth.
The review identified the top edge of the Mount Pleasant Industrial Area -- along West 2nd Avenue, bordering on Southeast False Creek -- as a strip of land where the new I-1C zoning would be allowed, and rezoning to Residential or Comprehensive Development would not. The change was meant to "intensify" industrial and office employment opportunities in the area while allowing for increased building heights that would better match the form and scale of Southeast False Creek on the north side of West 2nd Avenue, which is comprised of numerous mid-rises and high-rises.
Three Sixty was already in the works prior to the City's aforementioned review of employment lands, with original plans calling for a four-storey building. After the I-1C zoning was introduced, the design for Three Sixty was changed to double the density.
The development will now be a nine-storey mixed-use building, with light industrial space on the four lower floors (2.0 FSR) and office space on the five floors above (4.0 FSR). The building will also include four levels of underground parking and a rooftop patio, with a total leasable floor area of 112,000 sq. ft, according to Strand.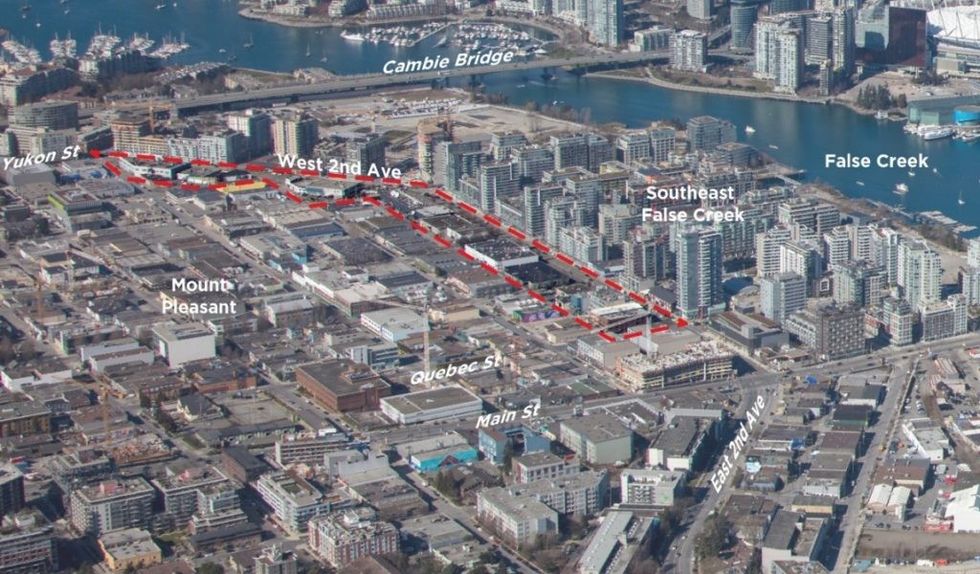 The area of Mount Pleasant where I-1C zoning is allowed. (City of Vancouver)
The biggest difference with I-1C zoning is that while most other light-to-medium industrial zones only allow for a maximum FSR of 3.0, I-1C zoning allows for a FSR of 6.0, so long as 2.0 FSR is dedicated to light industrial uses.
With its mix of industrial and office use, Three Sixty is yet another example of a "stacked" industrial space, a style that has grown increasingly common in Vancouver as a result of an industrial land shortage. Other notable projects of this nature include PC Urban's Evolution Block in the False Creek Flats and Wesbild's Marine Landing in South Vancouver.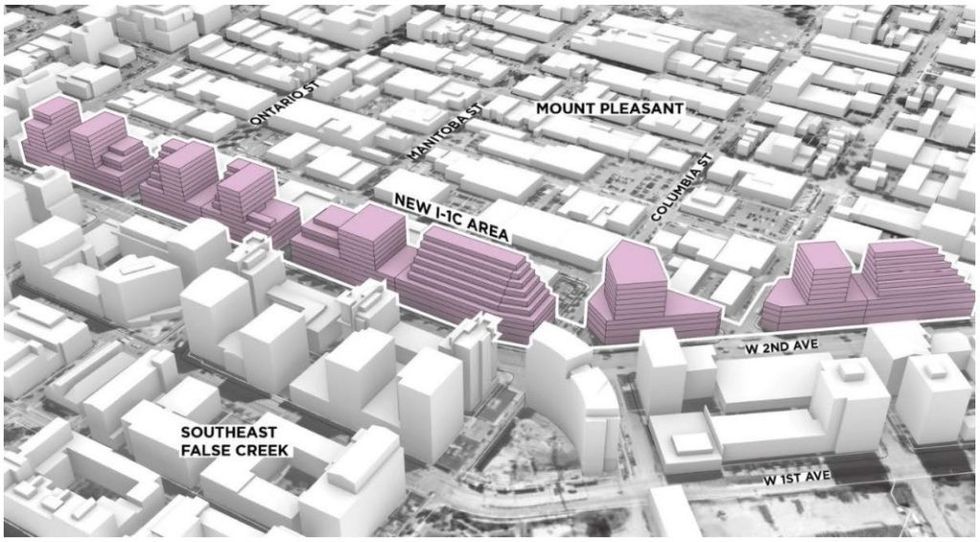 Conceptual build-out of the I-1C area. (City of Vancouver)
Like those projects, the light industrial floors of Three Sixty will have ceiling heights from 12 ft to 29 ft and floor loads from 75 lbs to 100 lbs per sq. ft, not unlike those in traditional light industrial spaces. Because of this, as well as the building's visibility on West 2nd Avenue, Three Sixty "will likely appeal to more high-end users with a strong brand appeal directly facing clientele," Robin Buntain and Glenn Gardner of Avison Young, who are leading leasing on Three Sixty, tells STOREYS.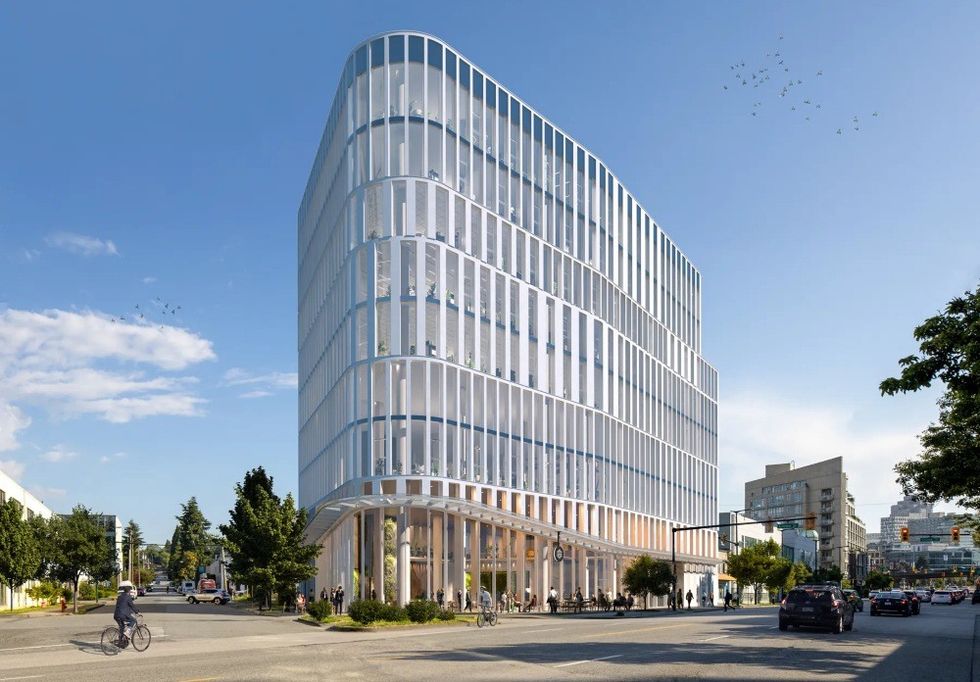 A rendering of Three Sixty, set for 360 West 2nd Avenue in Mount Pleasant. (Strand Development)
RELATED: "The Next Evolution": Why Stacked Industrial is on the Rise in Vancouver
"Industrial" is often associated with factories and heavy-duty manufacturing, but light industrial typically involves distribution centres, assembly places, and furniture stagers. According to the City of Vancouver's I-1C District Schedule, other allowable land uses include fitness centres, child care facilities, food and drink manufacturers, laboratories, and health care offices.
Asked whether the City of Vancouver should open up I-1C zoning to other regions of the City, Buntain and Gardner say that the City should definitely consider it.
"It would be wise for City staff and council to consider expanding this zoning in other areas of Vancouver as it will help revitalize certain nodes currently zoned for pure industrial use in particular," they said. "Increased density and variety of employment uses supports additional retail and creates an elevated experience for residents and customers."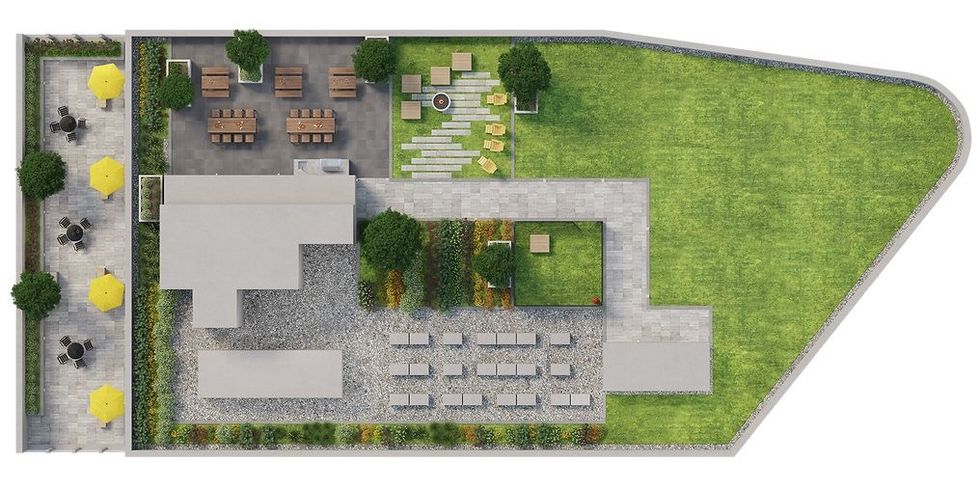 A floorplan for the rooftop patio, showing the unique flatiron shape of Three Sixty. (Strand Development)
Vancouver-based Yamamoto Architecture is serving as the architect of Three Sixty, and have designed the building in a way that emphasizes the unique geometry of the site, which is shaped like a rectangle with triangles at both ends. As a result, one of the end of the building will have an eye-catching flatiron shape.
Demolition of the site, which is currently occupied by several vacant bicycle shops, will begin this month, and Three Sixty is expected to be completed by mid-2025.
Office