On Monday, Surrey City Council considered a rezoning application submitted by Surrey-based Steelix Developments that has received an unusual amount of opposition.
The developer is looking to build a 22-storey mixed-use tower at 15330 102A Avenue in the Guildford neighbourhood of Surrey, at the intersection with 153 Street, about halfway between Guildford Heights Park and the Guildford Town Centre shopping centre.
---
The site – owned by Steelix under Kelson Guildford Holdings Ltd. — currently consists of a single-storey commercial building occupied by The Taphouse (a pub that has another location in Coquitlam) and a relatively large surface parking lot. The building was originally constructed in 1981 and has an assessed value of $9.7M, as of July 1, 2022, according to BC Assessment records.
The site was the subject of a previous development application for a six-storey residential building that has been discontinued. The more recent 22-storey proposal calls for a white-cladded tower housing 296 residential units, with commercial retail space on the ground floor.
The suite mix is expected to include 15 studios, 188 one-bedrooms, 65 two-bedrooms, and 28 three-bedrooms, while the ground floor is expected to have approximately 8,300 sq. ft of commercial space.
Residents would enjoy a variety of amenities, both indoors and out, including shared kitchens and dining space, lounge areas, a games room, workspaces, a gym, an open lawn area, barbeques, and a kids play area. Underground would be a parkade, accessible from 153 Street, with 383 vehicle parking stalls and 361 bicycle parking stalls.
The site is currently rezoned as CHI (Commercial Highway Industrial) and Steelix Developments is seeking to rezone the site to CD (Comprehensive Development) to allow for the proposed density — a floor space ratio of 4.3.
City staff are in support of the proposal, saying that "the proposed mixed-use building is of high-quality design and appropriate for a town centre location" and they believe the project "will help to achieve a more urban, pedestrian streetscape" as envisioned under the Official Community Plan.
Staff also said that "the proposed building façade reflects a contemporary and dynamic built form with particular attention provided to tower and podium placement, building height, solar access, and street interface" and notes that a "generous" public plaza will be provided at the intersection of 102A Avenue and 153 Street.
The community, however, has presented an abnormally strong opposition to the proposal.
After development proposal signs were installed at the site on May 30 and pre-notification letters were sent out on August 17, the City received a total of 149 respondents. For comparison, a proposal for a 42-storey building near Surrey Central where pre-notification letters were also sent out on August 17 received zero responses.
Of the total 149 respondents, 117 were in opposition of the proposal.
A primary concern among them was the proposed density, particularly as it relates to the rest of the surrounding area, which consists entirely of buildings below five storeys. The City said that multiple residents said they purchased homes in the area specifically because of its low density, and that this project, if approved, would set a precedent for other high-density projects vicinity.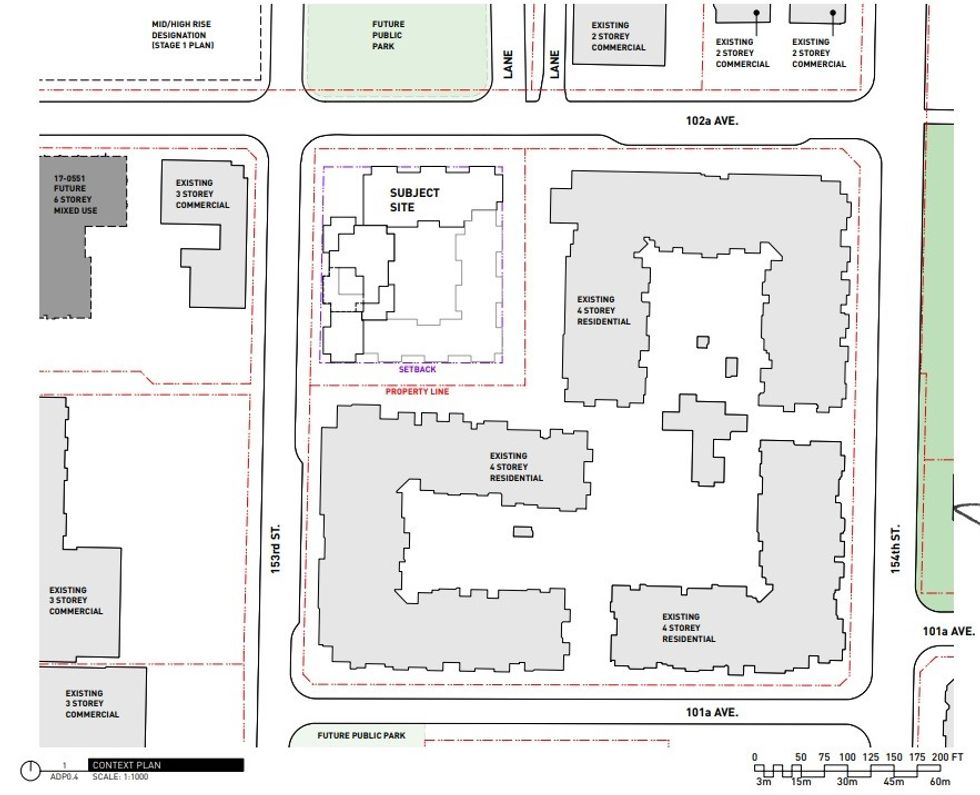 Steelix Developments
Others were concerned about the resulting effect on traffic, pointing out that the area lacks adequate access to public transit. Many voiced displeasure with the potential construction impact and noise.
Thirty-one respondents were in support of the proposal, including the Surrey Board of Trade. The supporters said that the project would add more housing options, attract new people to the Guildford area, and revitalize the neighbourhood due to its mix of uses.
The project will be subject to both Tier 1 and Tier 2 Community Amenity Contributions, as well as the City's Affordable Housing Contribution.
On Monday, Council granted the project a first and second reading, and forwarded the project to a public hearing that will be held on Monday, September 25.
Future Developments