"We do not live in a static world."
This sentiment -- shared by Michoel Klugmann, founder ofFirmland Developments Corp., at this week's 2021 Economic and Investor Forecast -- speaks poignantly to the events that have played out over the last year. Nothing in life is stagnant, and, serving as a prime example, the realm of real estate illustrates how changes, both large and small, are forever in progress.
---
While change can be exciting -- inspiring and invigorating, even -- it also has the potential to cause concern. The last 12 months have pushed the limits of such uncertainty. Where real estate is concerned, last spring saw activity in some areas of Toronto plummet.
But while the pandemic is powerful and, no doubt,has had some lasting affects on aspects of the industry, GTA real estate on a whole has bounced back with impressive force.
"Someone said to me, 'if a global pandemic couldn't derail the Toronto real estate market, what will?'" said Hunter Milborne, CEO ofMilborne Group. He notes both the construction and resale markets are strong, much of which can be credited to historically-low mortgage rates. "People are getting mortgages and renewing mortgages today at between 1.5% and 1.8% for five years, which is pretty historic; I've never seen that in a long career."
(Indeed, Milborne has been in the industry for more than four decades, and is revered for his unparalleled results in the new-condo marketplace.)
READ: A Nature Lover's Perfect Perch: Boutique Condo Set to Rise Over East End Ravine
COVID is likely to fade -- hopefully soon -- and when that time comes, the vibrancy of the market can be expected to roar back. 
This real estate rebound, alongside the potential that stems from it, served as jumping-off points for the 2021 Economic and Investor Forecast, which took place virtually on Tuesday night. Featuring Milborne and Klugmann, and moderated by Storeys' very own publisher, Danny Roth, the forecast focused on current happenings and future predictions for the city's east end condo market.
In essence, the event provided ideal intel for anyone looking to get in on the ground floor of a neighbourhood where investment opportunities are aplenty, and values are only expected to rise.
"We live in very dynamic times," Klugmann said. "Real estate in Toronto is a moving story."
As such is true, it's important for investors, buyers, and renters to understand the direction the story is going -- be that because of COVID, or in spite of it -- and how they can get the most out of the gripping read.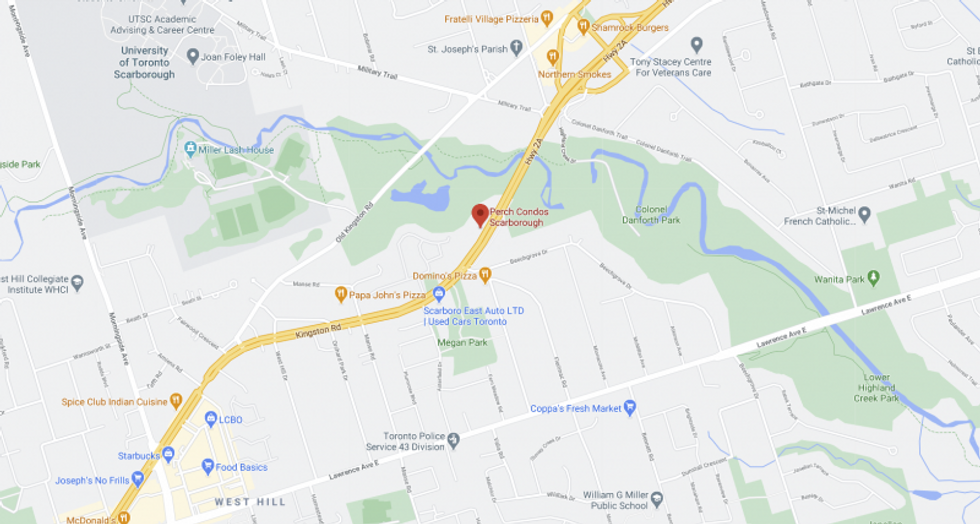 Google Maps
"The fundamentals of the Toronto-GTA real estate market haven't really changed too much," assured Milborne, speaking in response to the pandemic.
What has shifted in this time, he explains, are the neighbourhoods buyers are showing most interest in. Right now, the city is seeing a trend of decentralization, with attention moving from the inner-416 to the outer-416, and into the 905.
In fact,new condo sales in the 905 outpaced those of the 416 for the first time ever in 2020. Activity in the area accelerated last year as demand for relatively-affordable suburban sites intensified. But it's not only the 905 region that's boasting increasingly affordable offerings; wallet-friendly, stunning spaces can be found in Toronto too, you just need to know where to look.
This knack for navigation is something both Klugmann and Milborne have. It's this knowing that led them to the east side of town.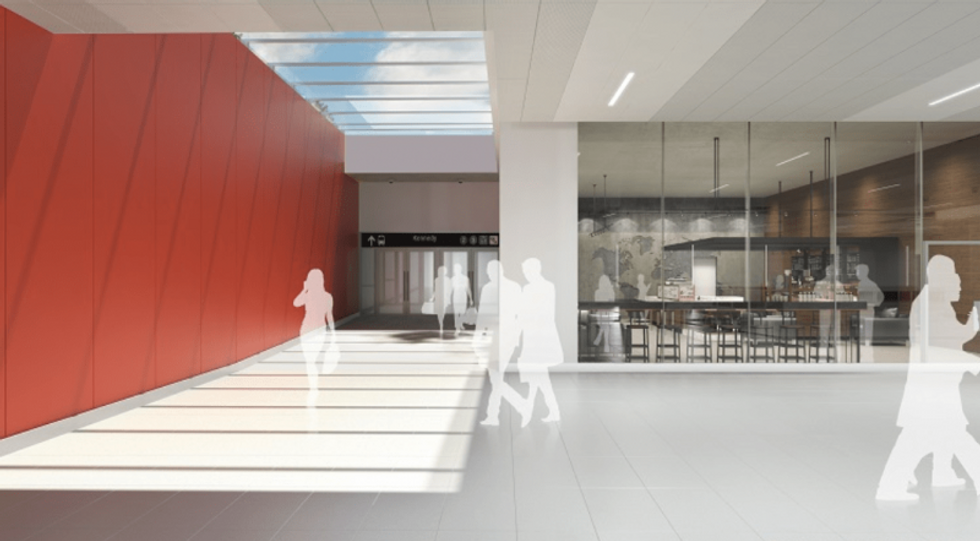 metrolinx.com
Scarborough's Highland Creek area -- the future home of Firmland's up-and-comingPerch Condos project -- is a pocket of the city that has been all but begging for developers to notice its potential. The area is of the moment, with new transit hubs laying down roots, an expansive augmentation of University of Toronto's Scarborough campus in the works, and an overall sense of connectedness with nature running through it.
Indeed, a future Light Rail Transit offering will mean increased accessibility within Scarborough, as the Eglinton East LRT Extension is set to stem from Kennedy Station. With planned stops at Guildwood GO Station, Morningside, and UofT Scarborough, movement within this section of the city will only be more streamlined and accessible with time.
The University of Toronto's master-planned expansion, too, is bringing a stir to the area. With new academic and research facilities, university housing, a hotel-conference centre, a transportation hub, and the rerouting of Military Trail in order to support a pedestrian- and student-friendly inner core, the undertaking is massive, and the impact it will have on the surrounding neighbourhood can't be understated.
Increased vibrancy, connectedness, and a stronger sense of community are all on the horizon for an area that's already well-respected for all three of those factors.
This is all without mentioning the revitalization of East Harbour, too. The city's waterfront is seeing transformation through a master-planned, 60-acre, mixed-use development where modern office, retail, cultural and public spaces, entertainment hubs, and stunning parks are soon to be established. This neighbourhood, bringing forth upwards of 12,000,000 square feet of development and 50,000 new jobs, is a breeze to access from Scarborough, thanks to the Don Valley Parkway's downtown trajectory.
Offering some historical perspective, Milborne notes that when Highway 401 was built, it was as a means of bypassing the city. Now, however, it serves more as an arterial road, basically a 16-lane highway that runs through the middle of the city. Hence, an area that was once seen as less than intriguing, less than captivating, has become increasingly attractive with time. Now, developments along the 401 are coveted; they mean easy access to the city's offerings without the feelings of suffocation that can come with downtown dwellings.
"The old adage in real estate, there's three important sayings: location, location, location," Milborne says. "One of the common questions we always get is, 'where's the next neighbourhood? Where's the next emerging area? Where's the next neighbourhood where, we believe, that the appreciation is going to be faster on a percentage basis than other neighbourhoods?'"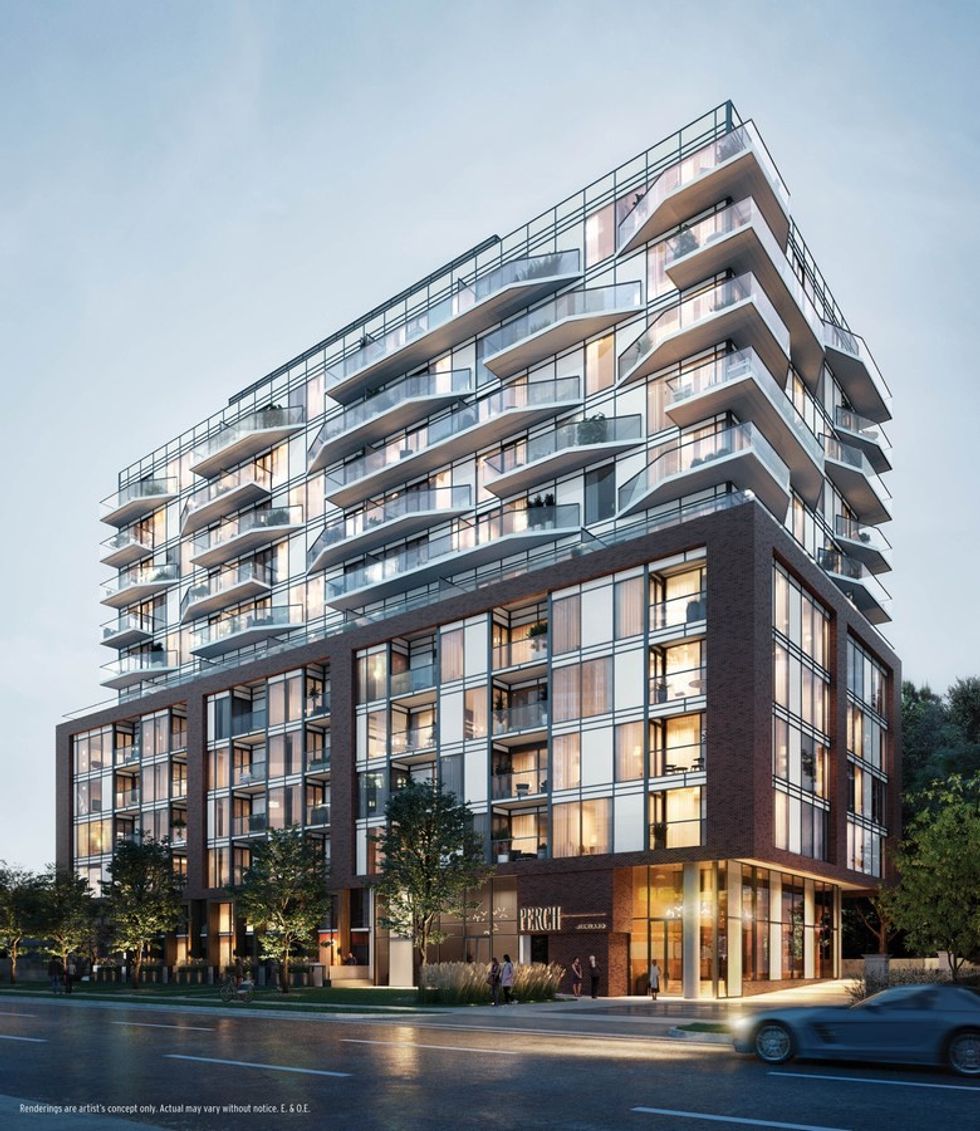 Perch Condos
The answer, it seems, lies in Scarborough. Or, to be more exact, it lies in the exclusive Highland Creek area, at the foot of Perch Condos; this is where Old Kingston Road meets Colonel Danforth Park and, likewise, the city meets nature.
Describing Kingston Road as "one of the last frontiers of affordable land," Milborne says that this expanse of development lands (and Scarborough at large) is a friendly municipality for development approvals. With motel sites available for purchase at relatively affordable prices, and approval processes spanning a prompt year-or-so on average, the city's east pocket is primed for building and, as such, should be on the radar of anyone looking to invest in real estate right now.
Indeed, the value offered on a Perch condo means that costs are at a nearly 50% discountof what a project in the core might sell for; think, a price-per-square-footage of $1,436 downtown compared to ~$850 at Perch.
Speaking to the combined benefits of the Perch project, our own Danny Roth says, "really, a 50% discount is significant savings for comparable product [to downtown condos] -- in some ways better, given the amenities and the neighbourhood -- and the growth potential. It seems like a home run."
And Roth is right (...if we do say so ourselves). With respect to the neighbourhood -- Highland Creek is an area where average household incomes sit around a lofty 110K-- plus amenities that simply aren't often considered in other development projects (stroller parking, a wine tasting room, and the dedicated Karaoke lounge come to mind), one might wonder how such value can come with such a price. 
Milborne explains, though, that it's being ahead of the curve on location that allows this team to run full-speed ahead, no expenses spared, and continue to provide a relatively-affordable product.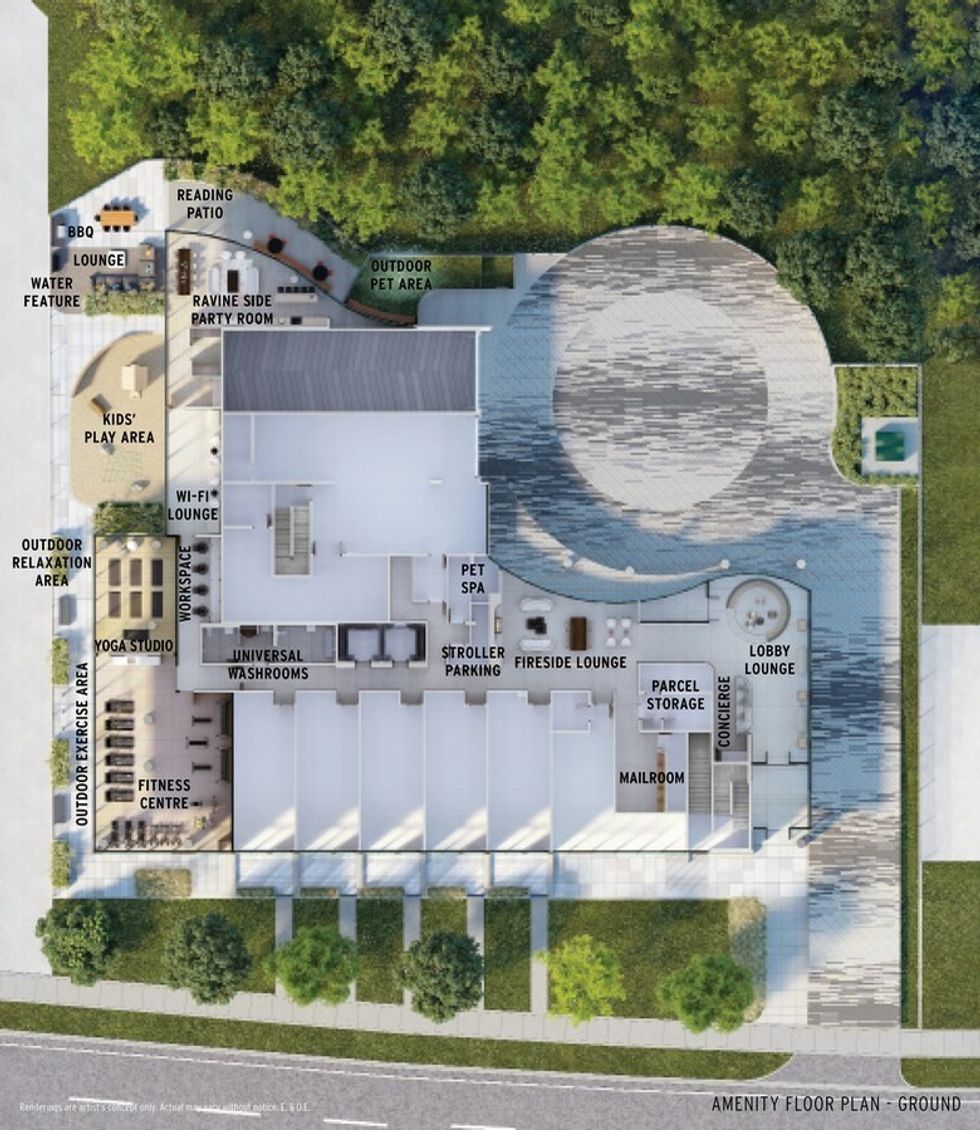 Perch Condos
"The hard cost to build a building and the soft costs related to it aren't that much different, whether it's at Yonge and Bloor or, you know, wherever it is. It's really the land cost that's the difference," he explains. "The building costs are pretty much the same, especially when you do something that's really cool, and you haveCore Architects andCecconi Simone, it's really, in many ways, very much like a downtown building. But it happens to be on this enormous ravine."
Klugmann reinforces this sentiment, in agreement: "Frankly, land over here trades at significantly lower prices than the downtown," he says.
So, yes: Scarborough is the place for investors to be eyeing right now. And if you're looking for a reputable place to make those investments, Perch Condos awaits.
But what about for end-users? What will the live-in experience look like for someone hoping to make a move to the east side of town and -- in particular -- into the Perch development?
Suited to a range of different types of city-dwellers, the 168-suite, 12-storey project presents units ranging in size from one-bedroom to three-bedroom plus den, and ranging in cost from the high400's to over $1 million. The development provides ideal space for the student -- recall the proximity to UofT, while Centennial College is nearby as well -- the single office worker, and the growing family, all with equal comfort. Indoor amenities, in addition to those already mentioned, include a yoga studio, fitness centre, kids' play area, and party room... just to name a few.
Outside, a rooftop outdoor dining area awaits the return of celebrations, while private terraces and the reading patio provide more serene opportunities to embrace the fresh air.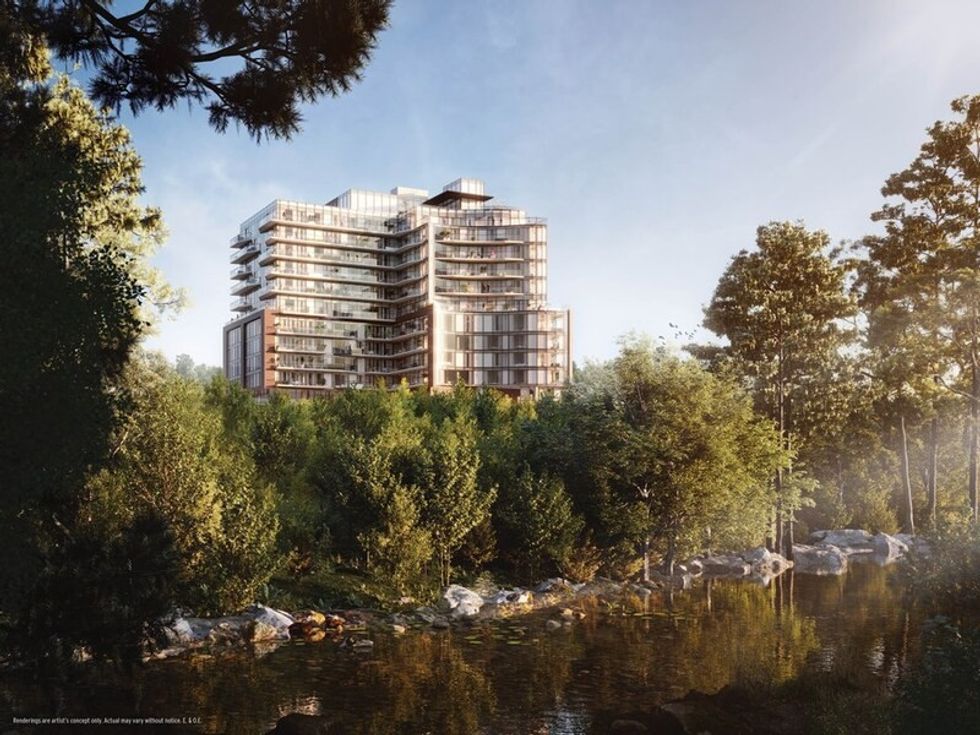 Perch Condos
All this, while Highland Creek babbles on below.
To stake your claim on more information about this on-the-rise development visit the Perch Condos website, or email info@perchcondos.com.
Future Developments