From opulent design to fine finishes to refined lifestyle amenities, SmartVMC's Park Place lays the foundation for a lush and vibrant condo lifestyle.
Comprising two mixed-use towers at Highway 7 and Commerce Street, the flagship 100+ acre master-planned community from SmartCentres brings 1,100 residential units — and more than 10,000 sq. ft of retail space at grade — to Vaughan Metropolitan Centre (VMC).
---
Park Place's 48- and 56-storey buildings, designed by Hariri Pontarini Architects (HPA), exude elegance through a curved design, promoting seamless integration between the condo, the development's central park, and a booming retail plaza.
"Park Place embodies a contemporary vision that stands out prominently against the newly transformed Vaughan skyline," HPA tells STOREYS. "The development's design approach involves carving out space adjacent to Commerce Street, creating a welcoming retail plaza seamlessly connected to the newly developed park. The tower orientation has been precisely planned, with an offset to preserve views and maximize natural light."
Speaking of the central park: this development's central green space is swoon-worthy. The park anchors the community and spans a whole nine acres. Pair it with the lively retail plaza and chic design principles, and this condominium's residents are served with the perfect backdrop for building the lifestyle of their dreams.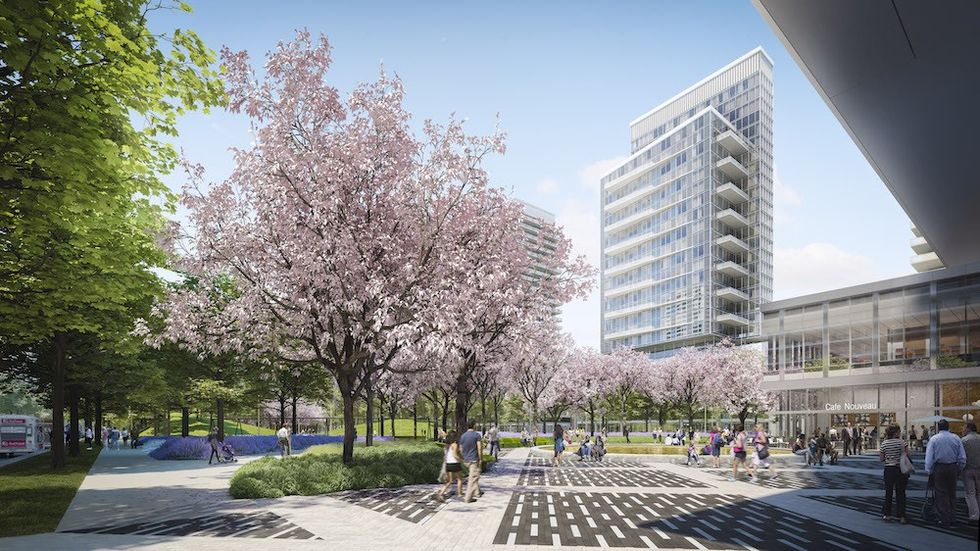 Park Place plaza (via SmartVMC)
What's more, Park Place's architecture leans green, in the sense that sustainability and eco-consciousness were top of mind through the project's creation.
"Wrapping around the towers are bands of white fritted glass, seamlessly bridging the gap between the building's envelope and its balconies," HPA explains. "This not only enhances aesthetics but also provides opportunities for solid walls, improving the overall window-to-wall ratio. This gives way to passive sustainable design principles, striking a balance between responsive solar strategies, a cohesive architectural skin, and the comfort and preferences of the occupants who value abundant natural light and scenic views."
Park Place central park (via SmartVMC)
And, according to SmartCentres, the architectural impact of the development won't only be noticed by residents; the beauty that emerges as Park Place rises is part of a larger picture, creating a landscape that will enhance views from the highway, while setting the stage for an ever-deepening sense of connection within the master-planned community.
"As a key part of the master-planned SmartVMC, Park Place will elevate the architectural conversation along Highway 7, connecting the SmartVMC to our southern edge and starting to frame the park," says Paula Bustard, Executive VP Development, SmartCentres.
"As we have already seen with the Transit City and Millway developments, the impact of thoughtful, attractive design on the broader community is immense; just as the art on your walls is an expression of who you are as an individual, the built form of Park Place is an expression of who we are as a community."
Bustard describes how the podium and public plaza, which include retail — Balzac's, Buca, Pumpernickel's, and Roll & Go Sushi are already open and operating — craft a smooth and seamless transition between public and private areas of the development.
"Everything down to the placement of stairs and benches has been considered, to ensure that what is created is a warm and inviting space that plays an active role in fostering a healthy community," she says.
Residents will appreciate a short walk to the YMCA or library for body and brain wellness, while PwC and KPMG are also both nearby, meaning a quick commute to work. Of course, the development also boasts direct access to Vaughan Metropolitan Centre TTC station, the SmartVMC regional bus terminal, and Commerce Street VIVA station, all of which sit at the community's centre.
And for leisure, the central park is a lush green space in and of itself, but it also serves as the perfect backdrop for outdoor activities that can be hard to come by in the city: picnics, soccer, outdoor yoga — the list could go on (and on). What's more, the project site is poised to welcome events like festivals and art exhibits, inviting in a true sense of community.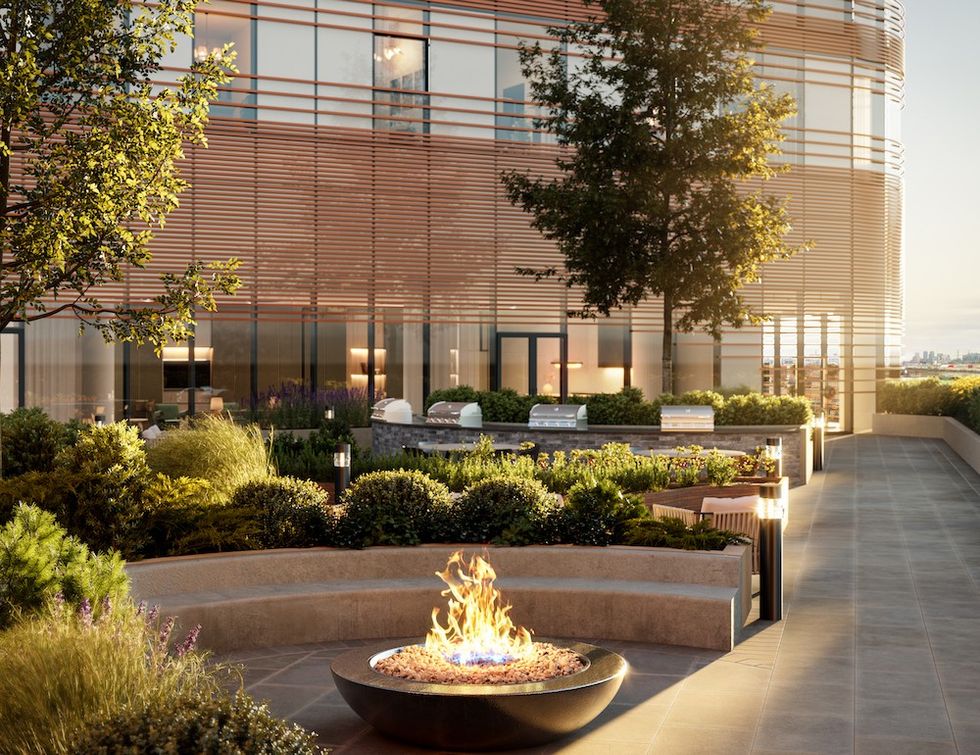 Park Place terrace (via SmartVMC)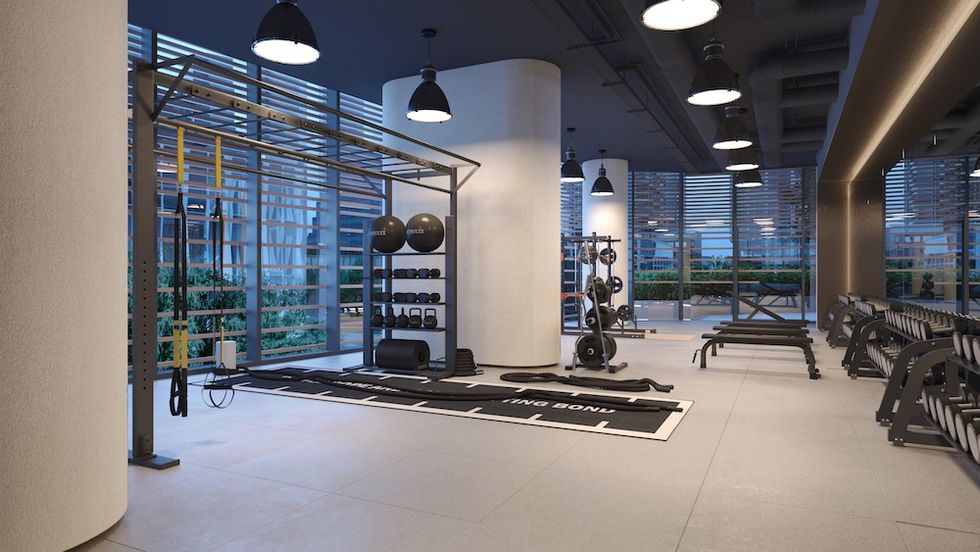 Park Place gym (via SmartVMC)
Peeking inside the development, HPA describes Park Place's interior design as being anchored by two main ideas: first, to provide a seamless continuation of the buildings' architectural ideas and design language, and second, to "create connection to place," in the context of green space and the lively, urban elements of the surrounding community. These principles, the team says, can be found in details large and small, from dramatic curved interior walls to warm wood and rich red tones used throughout the material palette (which serve to play off the look of terracotta).
This careful design consideration continues into the amenity realm. A double-height, dual aspect communal lounge sits "at the heart of the amenity program," HPA says, serving as both an open-concept work space and an extended, community living room. From this space, further offerings "pinwheel" in every direction, inviting residents to move seamlessly from the gym to the park to the media room, and back again. HPA also describes a "transit-themed" play space for kids, a private, stepped terrace area complete with barbecues, a fire pit, and even a dedicated dog run.
READ: Park Place Suites Officially Available At Vaughan's SmartVMC
Where suites are concerned, sizes range from 470 to over 1,100 sq. ft, with layouts from one- to three-beds. Each unit boasts contemporary features and smart integration, such as touch-free entry, smart thermostats, and app integration.
Park Place kids' playroom (via SmartVMC)
With SmartCentres Real Estate Investment Trust at its helm, Park Place is an integral component of SmartCentres' project of the moment: a $15.2B intensification program, through which rental apartments, condos, seniors' residences, and hotels are being developed under SmartCentres' residential sub brand, SmartLiving.
And, as is evidenced by all the details — architecture to suite finishes to lifestyle-enhancing amenity offerings — to lay roots here will be one smart move.
Park Place is now selling, and new buyer incentives are available. To learn more and to register, visit theparkplacecondos.ca.
Cover image: SmartVMC Nine-Acre Central Park (rendering)
---
This article was produced in partnership with STOREYS Custom Studio.
Future Developments