---
Although building construction investment in Canada dipped in September, Ontario reported gains in both the non-residential and institutional sectors.
This is according to the latest construction figures from Statistics Canada, which revealed that, nationally, investment in building construction fell 0.6% to $20.9B, marking a seventh-straight month of decline on a constant dollar basis since reaching a peak in February 2022. While Canada's residential sector saw a loss of 1.3% to $15.4B, the non-residential sector saw a gain of 1.6% to $5.4B.
The data also showed that Canada saw gains in industrial construction investment -- up 2.9% MoM and 24.0% year over year, marking the 10-straight month of incline -- commercial construction investment -- up 1.1% MoM to $3.0 billion -- and institutional construction investment --up 1.6% MoM to $1.4B.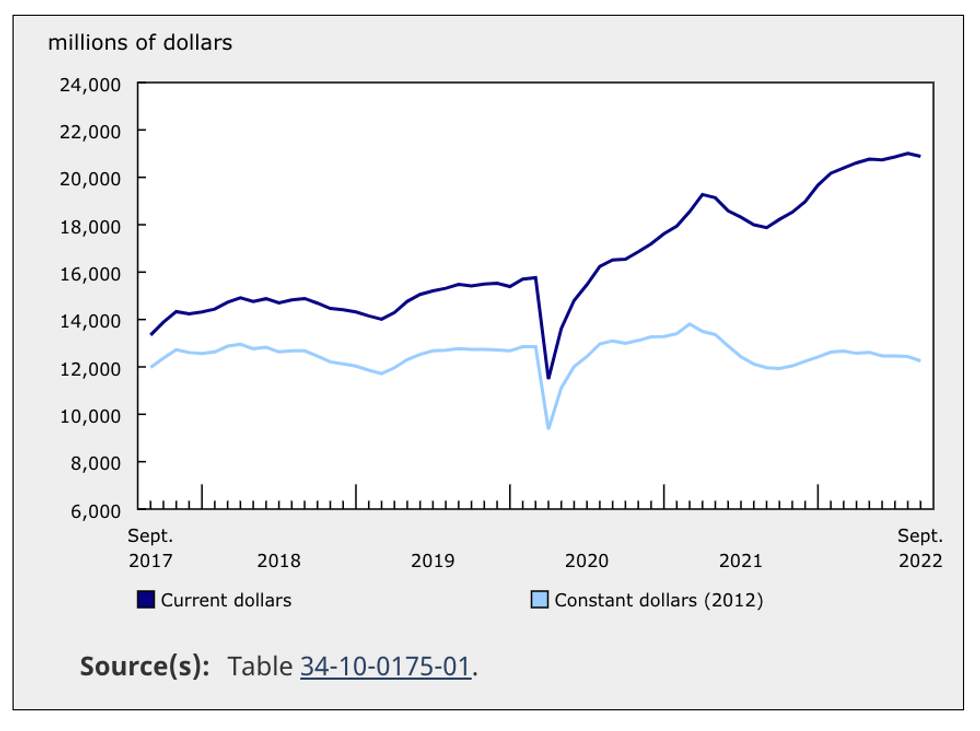 Investment in building construction, seasonally adjusted, Statistics Canada
Regionally, the data was nuanced.
September was a "strong month" for non-residential construction investment in Ontario, with the sector seeing a 1.6% month-over-month increase to $5.4B. While Ontario led the pack in terms of total investment dollars, investment in the non-residential sector was also up in most other provinces. Nova Scotia, Nunavut, and Newfoundland were the outliers. Ontario also drove the growth in Canada's institutional segment, seeing a 2.5% MoM increase, attributed to the construction of a new post-secondary school in Toronto and an elementary school in Hamilton.
On the flip side, StatCan attributes "most of the weakness" in Canada's overall building construction investment to Quebec. Overall, Quebec saw its building construction fall 3.4% in September, with its residential sector to blame for the drop. That said, the province saw an uptick in non-residential investment, in line with the national trend.
On a quarterly basis, the total dollar value of building construction investment rose 1.0% to $62.8B in Q3, marking the fourth-straight quarterly increase. Non-residential investment increased 2.1% quarter over quarter, while residential investment increased 0.7%. In addition, multi-unit investment climbed 1.8% for the fourth quarter in a row, with most of the growth attributed to BC, while investment in single-family homes decreased 0.2% in the third quarter.
Real Estate News