---
As affordable housing, not to mention supply, is extremely limited in Toronto, alternative housing options are becoming the norm. Helping to fill this gap are secondary housing units, which have steadily become more available throughout the city.
Secondary units, which are self-contained residential units housed within dwellings, predominantly single-family homes, or above detached garages, are more commonly referred to as basement apartments, accessory apartments, in-law suites, and laneway homes.
While these housing types are far from new, they're growing in number, particularly in Toronto, where it's estimated that nearly one out of six (15.4%) ground-oriented homes has a secondary unit, according to a new Housing Market Insight from Canada Mortgage and Housing Corporation (CMHC).
Not only is this the highest ratio in Ontario, but it totals an estimated 75,000 secondary units.
READ: How the New Stress Test Rules Impact Housing Affordability Across Canada
Using the Municipal Property Assessment Corporation's (MPAC) database, CMHC researchers created a method to identify which properties in 28 Ontario municipalities contain a secondary unit. According to CMHC, past attempts to estimate the number of these units, including by CMHC, were unsuccessful owing to a lack of reliable data. 
CMHC found that basement apartments were the most common type of secondary unit. At the same time, municipalities with a low supply of purpose-built, condominium, and subsidized rental housing tended to have a higher ratio of properties with these units. Additionally, cities with low vacancy rates were also more likely to have secondary units.
While you might expect these housing units to be more prominent in municipalities with more ground-oriented homes, CMHC found that this wasn't always the case. The main exception to this is Toronto, which is home to the greatest number of ground-oriented homes by far as well as the most secondary units at nearly 75,000.
Ottawa, on the other hand, easily had the second-largest stock of ground-oriented homes but had fewer secondary units (3.3%) compared to Mississauga (7.4%) or Brampton (9.6%). Another example is Greater Sudbury (8.9%), which had more secondary units than municipalities with a far greater number of ground-oriented homes, such as Hamilton (3.1%) and London (3.7%).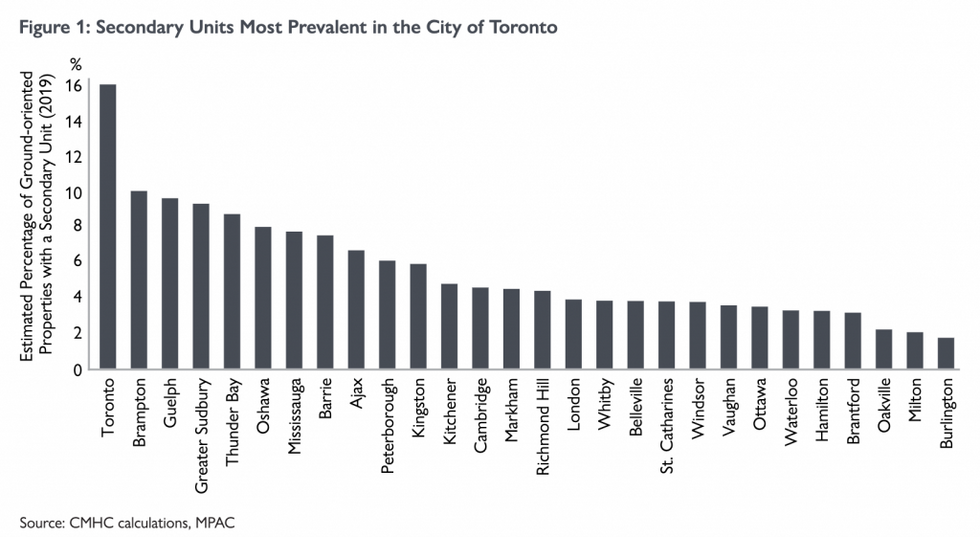 CMHC found that secondary units are more prevalent in the older established neighbourhoods highly coveted by renters due to their close proximity to their downtown cores and major amenities, making them prime rental areas.
When you look at Toronto, you can see the highest concentration of these units were in neighbourhoods, such as Trinity-Bellwoods, Roncesvalles, and Little Italy, where homes, on average, were built before the 1920s and often have design features that make it easier to allow for secondary units.
"Along with the creation of new purpose-built rental apartment structures, secondary units help to address shortages of affordable rental housing," said Anthony Passarelli, Senior Analyst with CMHC, adding that they are a practical solution to addressing rental supply gaps, particularly in neighbourhoods with predominantly low-density housing.
In a city like Toronto, where affordable housing is limited, having more rental housing available is critical.
Passarelli told STOREYS that adding to the existing supply of rental units in Toronto helps address the affordable housing issue. "You're adding secondary units to the supply to help keep up with the growing demand, or outpace it, and this helps keep demand from growing too fast."
Given that secondary units, especially basement apartments, typically rent for less than the average condo in Toronto, Passarelli says adding more of these units is a great alternative for those who might not be able to afford high-rise condo rents.
What's more, Passarelli says the average size of basements apartments is generally larger than high-rise apartments, with Toronto units boasting an average floor plan of 719-sq.ft. "If you add more, that fit larger families or more than one person, these basement units can help people who want to rent, but they need more space," said Passarelli.
After months of declining rents amid the pandemic, average rents in Toronto trended upward in April, up slightly for 1-and 2-bedroom units, with 1-bedrooms going for $1,816 and $2,407 for 2-bedrooms, suggesting that tenant demand is improving.
As tenants continue to seek more space to work from home, secondary housing units could serve as an ideal housing option for those looking for larger and more affordable rentals both in the short and long term.
Toronto