A proposal has been submitted to City of Toronto planners for a 12-storey mixed-use condo development that would rise in the Tam O'Shanter-Sullivan neighbourhood in Scarborough.
Earlier this month, a rezoning application was submitted to the City on behalf of Impressions Group to redevelop the site at 3471 Sheppard Avenue East, which currently houses a 2-storey commercial and office plaza and a parking lot.
---
The 3,687 square-metre lot is located on the southwest corner of Sheppard Avenue East and Aragon Avenue, just east of the intersection of Warden and Sheppard avenues.
According to the proposal, the building will contain, two levels of below-grade parking, ground floor commercial space, and residential space on the second to twelfth floors.
Rendering submitted to the City of Toronto
READ: Application Submitted to Build 65-Storey Tower Near Yonge and Eglinton
There is a total of 195,225 sq.ft of gross floor area proposed for the development, which will house 212 residential suites and 9,418 sq.ft of commercial space.
The residential component will house 2 studio units, 72 1-bedroom units, 81 1-bedroom + den units, 26 2-bedroom units, 11 2-bedroom + den units, 15 3-bedroom units, 5 duplex units, and the suites would range in size from 484 to 1,022 sq.ft.
Architectural drawings prepared by SvN Architects show private terraces located primarily on the southern and eastern sides of the building.
The building will also house both indoor and outdoor amenity spaces for residents and visitors to use. The outdoor amenity space is located on the second and seventh floors and the indoor amenity space is located on the ground and second and third floors.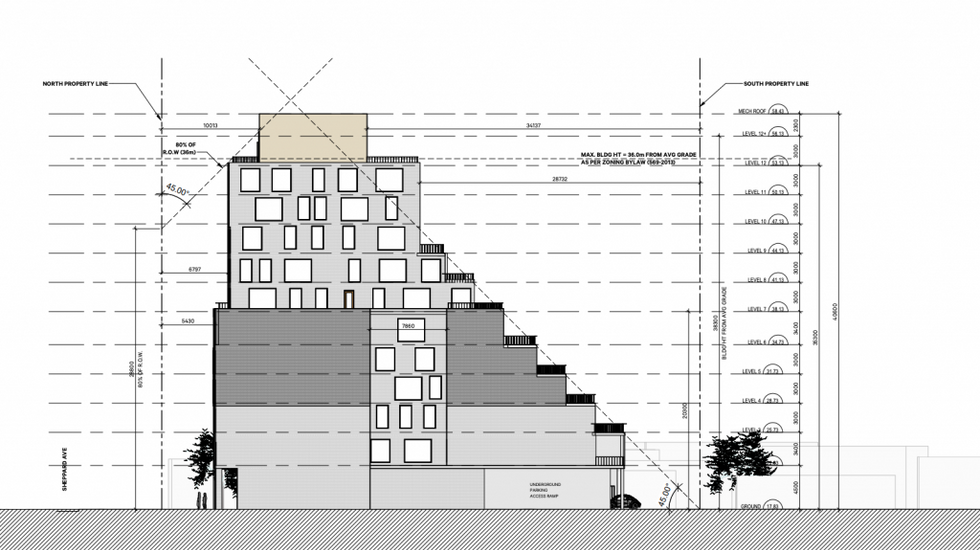 Rendering submitted to the City of Toronto
According to documents submitted to the City, a two-level underground parking garage will house 199 parking spaces, which will be accessible from a driveway along the southern portion of the property. There will also be room for 215 bicycle spaces on the first floor of the parking garage.
Things in Scarborough are looking up... at least 12-storeys up.
Future Developments