---
What a month it has been for Riverdale Park East. One-hundred-and-forty years after opening, the magnificent east end green space was declared Toronto's best park by local media and then, just days later, hosted its first ever rave.
Though most of us might have thought raves were, like, so last century, Toronto police spent much of Friday night dispersing a large crowd gathered to enjoy summer in the city. As neighbours quickly discovered, two DJs showed up for the event along with a heavy-duty sound system. By the time dog walkers arrived Saturday morning, it was clear, amidst the litter, that Riverdale, for better or worse, was Toronto's newest "destination park."     
Though long popular with locals, in recent months the facility has become the place where -- weather permitting -- hundreds now congregate daily to picnic, admire the sunset and generally hang out. On weekends, the place crawls with visitors. Though served by two streetcar lines – the 504 and 505 -- Broadview Ave, which runs along the park's eastern border, has become a parking lot.
Raves notwithstanding, most would agree Riverdale's new-found popularity is good news. No one is complaining – yet. But as the example of Trinity-Bellwoods Park reminds us, that could quickly change. The west-end destination routinely attracts throngs of youngish tribalists, many not overly observant of pandemic protocols. Understandably, neighbours long ago tired of the noise, the garbage, the hostility and seeing their front yards used as urinals.  
READ: NYC's Stunning (But Pricey) New Public Park Should Inspire Toronto's Waterfront
Who can blame them?
When it comes to Toronto's public realm, these sorts of problems are relatively new. Perhaps it's no surprise City Hall's response has been timid. So far, it doesn't go much beyond painting circles on the grass, posting "Amenity closed by Provincial Order" signs, handing out several dozen tickets and, occasionally, sending in the cops.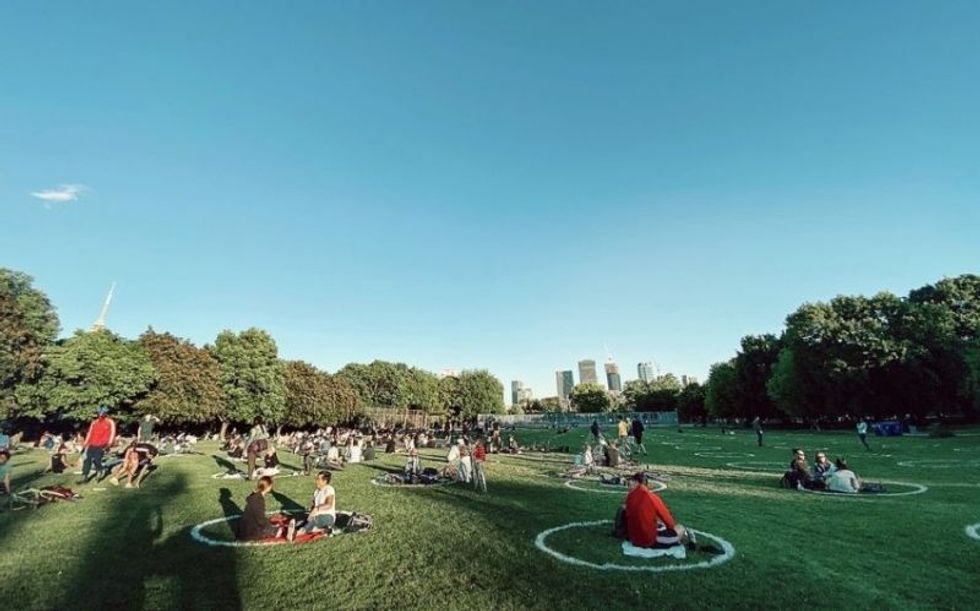 Shutterstock
Clearly, Official Toronto has failed to grasp the extent to which Covid-19 has changed our relationship to the public realm. 
Yes, we have CafeTO and ActiveTO, both laudable programs that create new opportunities for residents to inhabit the city more fully. Taking back street lanes from vehicular traffic and allowing eateries to set up tables and chairs on sidewalks has proved hugely popular. 
But the bureaucratic, legal and institutional foundations of pre-pandemic attitudes remain largely intact. The recent Local Planning Appeals Tribunal decision against the city's proposed Rail Deck Park was a powerful reminder of just how little control Toronto has over its own destiny. The anti-urban culture that has prevailed for decades at the province and agencies like LPAT leaves Toronto adrift in a sea of suburban resentment.
Who could forget that time in 2017 when then Premier Kathleen Wynne nixed Toronto's attempt to impose tolls on the Don Valley Parkway and the Gardiner Expressway because she feared they would anger 905ers?
Sadly, even if the city were at the helm, it's unlikely things would be significantly different. Powers granted in the 2007 City of Toronto Act, admittedly small, still haven't been implemented. Though the act allowed, "Broad permissive authority to raise new taxes except in areas specifically prohibited, such as an income tax, wealth tax, gas tax or a general sales tax," only a hotel levy was adopted. The legislation did allow the city to install speed bumps without Queen's Park's permission, but it didn't help Toronto get badly needed downtown green space. 
Through it all, local political leadership is still conflicted about whether to prioritize cars and trucks or parks, pedestrians and non-vehicular mobility. The real test of city council's commitment to an expanded public realm will come once pandemic fears subside. Thanks to Covid, that's when we will have to decide what it means now that parks are the communal backyard for thousands of high-rise condo-dwellers, not the property of joggers and dog walkers.
It will also be the moment when Torontonians will have to learn how to share public space. Obviously, raves are unacceptable in neighbourhood parks. At the same time, neighbourhood parks must now accommodate a larger, more diverse public. In a city consumed by NIMBYism, these lessons won't be easy. 
Alas, powerlessness also means never having to say you're sorry. For all its success, Toronto's constitutional invisibility has left the city an infantilized mess. The election of avowed government-hater Rob Ford a decade ago was a wake-up call for anyone who believes Torontonians have moved past the primitive politics of me, me, me.
The essence of city life is us, us, us. That means the "other" next door as well as a park full of strangers. 
Hume with a View