Toronto's entertainment district could see the addition of a new hotel and residence if plans for the mixed-use building is approved by city council.
Plans for the 39-storey, mixed-use development at the corner of Peter and Richmond have been submitted to the City of Toronto and are now waiting for approval. The site at 120-128 Peter Street and 357-359 Richmond Street West is currently occupied by a number of heritage buildings and is steps away from the city's iconic Queen Street West.
---
READ: An Award-Winning 'Living Lane' is Coming to Regent Park
The project, which was first proposed in 2015 and has undergone a number of revisions, now calls for 270 residential units, including bachelor suites and one, two, and three-bedroom layouts, while the hotel component will house 106 rooms.
Designed by architectsAlliance, the mixed-use building, which is dubbed the "Carlyle Condos," the building will hold 16,777 m2 of residential space, 6,180 m2 of 'other' space, and 500 m2 of below-ground parking, which will house a total of 58 vehicle parking spaces in addition to 286 bicycle parking spaces.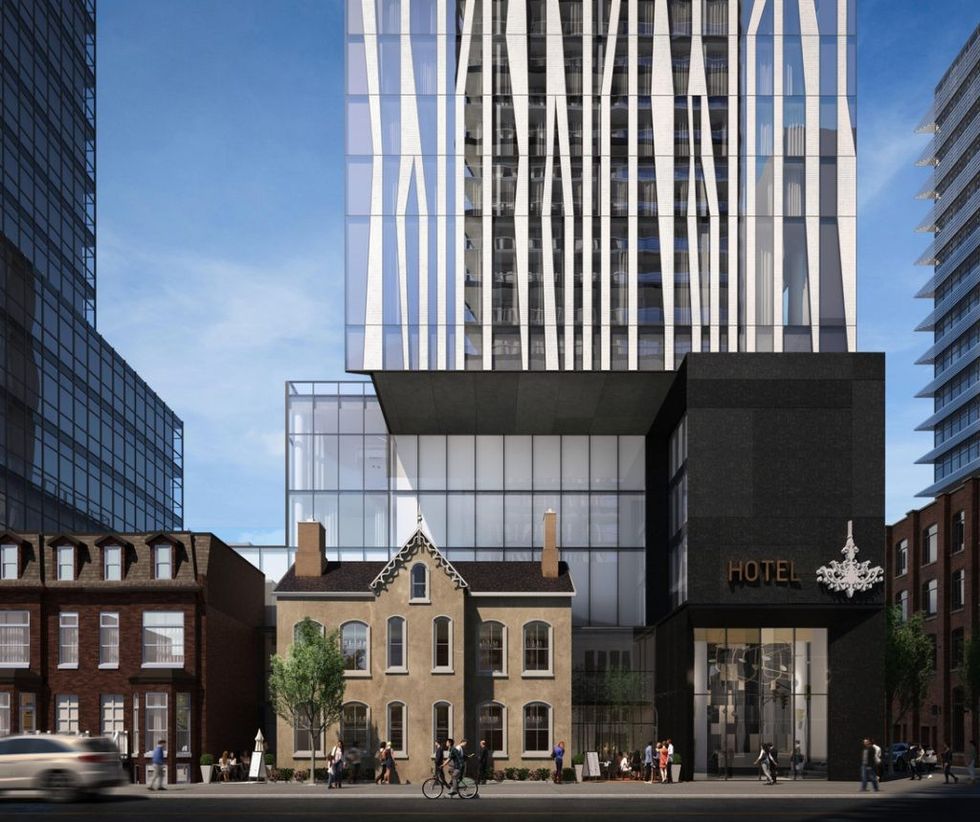 Rendering submitted to the City of Toronto
According to documents submitted to the City, the first 13 floors of the building will be designated to the hotel component.
The sixth floor of the building will house the amenities, which will be shared between hotel guests and residents. At this time, there are no plans for what the amenities will include.
Rendering submitted to the City of Toronto
The project is said to incorporate five of the existing heritage buildings on the property into the design, with three heritage homes on Peter Street set to remain in place underneath a portion of the tower podium, while two more heritage buildings on Richmond Street will also be incorporated into the development.
Some of the buildings, which are semi-detached residences and "some of the last remaining of their kind in the area", date back to the 1870s, according to city planning documents.
Rendering submitted to the City of Toronto
Future Developments