Toronto
Future Developments
Reserve Your Space at Downsview Park's Chic New Townhomes
From new high-rises to transit extensions, Downsview is booming right now.
And if you're keen on a lifestyle that offers ground-level home vibes paired with condo-like conveniences, a highly-anticipated selection of townhomes is inviting you to reserve your spot in the coveted neighbourhood.
The Reserve Collection at Downsview Park — presented by Stafford Homes and with sales fronted by Baker Real Estate Incorporated — is poised to present its final phase.
With a selection of ultra-luxury townhomes and city towns ranging from two to four storeys, these builds are complete with all the curated finishes you'll find in a lavish condo, while offering the grounded feel of a freehold.
READ: Suave Oakville New-Build Prioritizes Aesthetics From Top to Bottom
In the midst of Canada's largest urban park, these abodes offer immediate access to Keele and Sheppard and — via the TTC access immediately nearby — the rest of the city, too.
Tucked into their own charming residential strip, the townhomes stand directly between Mt Sinai Memorial, Stanley Greene, and Downsview Parks. Families will appreciate schools within walking distance, while shopping, eateries, groceries, and healthcare options are all just minutes away.
A quick zip down Wilson will have residents at Yorkdale Mall in no time, where they can hop onto Line 1 to access the downtown core for a game or a show. The soon-to-be-completed Jane Finch LRT, which will run just north of Downsview Park, will offer even more access to the broader urban experience. And, with the 401 just a couple blocks south, escaping the city for a weekend couldn't be easier.
Although, given the benefits of these new townhomes, staycations may hold more appeal than a getaway.
Outside the abodes is green space galore: trails, lush grasses, and shady trees offer the ideal background for picnics, runs, and games of fetch with the dog. Meanwhile, indoors, these homes blend that freehold feeling with the curated, contemporary finishes you'd find in a downtown condo.
Imagine: modern architecture, dappled with granite or quartz kitchen counters, contemporary tile backsplash, engineered hardwood, stained oak stairs, porcelain bathroom tiles, and frameless glass showers. Ceilings soar 9′ overhead, while the main floor comes complete with pot lights, offering the entire space an ambient glow.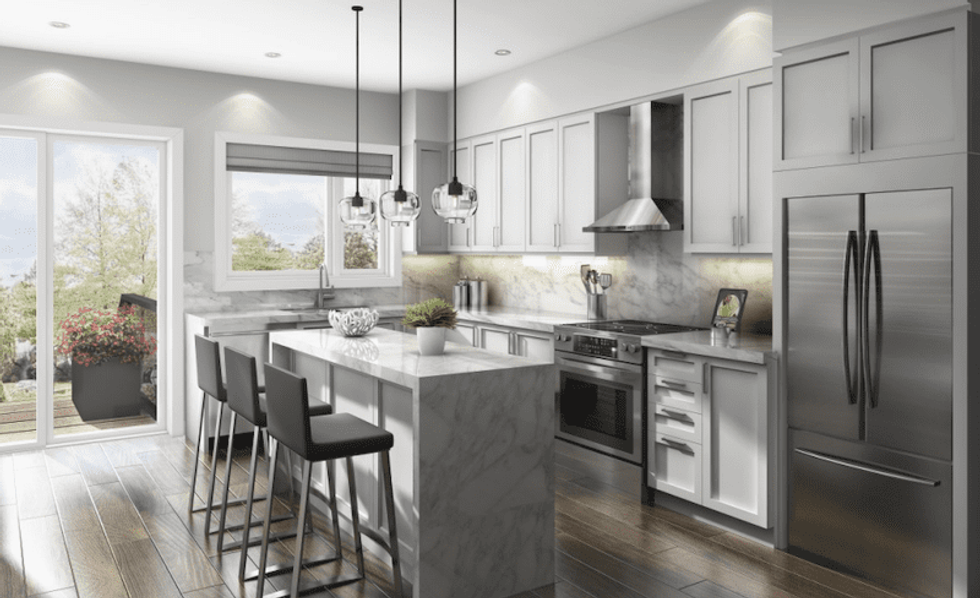 Broken into "City Towns," and three- and four-storey offerings, townhomes range in size from 1,122 to 2,686 (+667) sq. ft., wherein finished lower levels serve as optional add-on living space.
The City Towns present a lifestyle most comparable to condo living; ranging from two to four bedrooms, select suites come complete with a rooftop terrace, and all homes are finished with an above-ground parking spot. Meanwhile, the three- and four-storey townhomes — dubbed The James and The Cooper — boast Primary retreats with 5-piece ensuites, walk-in closets, multiple balconies, decks, and backyards.
Each three- and four-storey townhome includes double-car parking; in some cases, that will look like a double-car garage, and in others, it means a single-car garage with a lift for the second vehicle.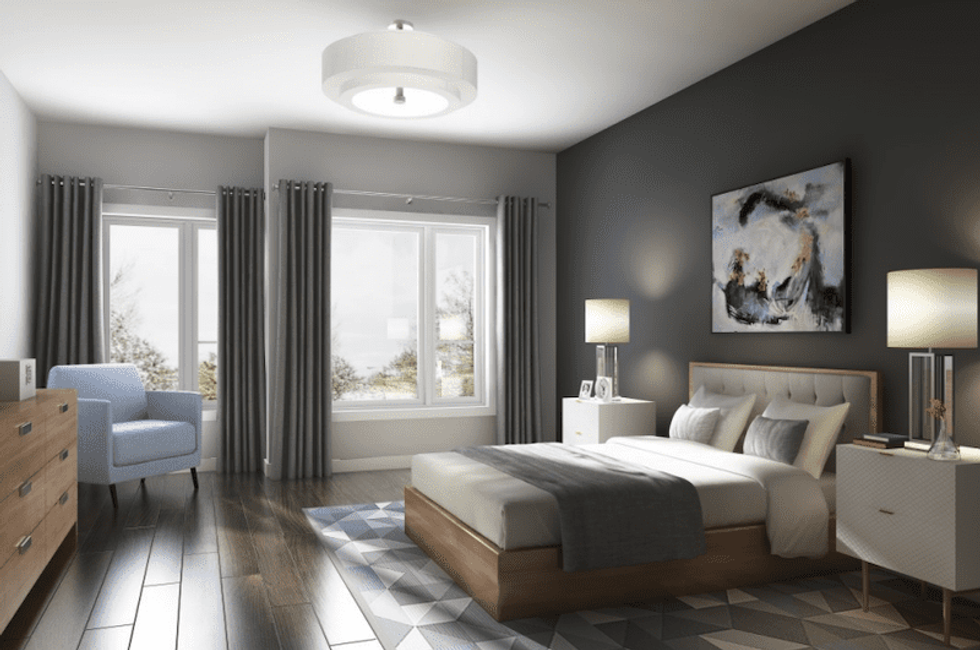 With the additions of high-velocity heating systems, MOEN temperature balance controls in all showers, and centrally-located thermostats, life in these townhomes won't just look good, but will feel good, too.
To reserve your space at The Reserve Collection, register today.
---
This article was produced in partnership with STOREYS Custom Studio.