The latest rent report from Padmapper is about to make Torontonians groan. 
The 6ix continues to outpace all other Canadian cities when it comes to rent, and has topped the charts yet again. Padmapper's August report, which uses July data, found that Toronto was the only top five city to see prices increase month to month. The cost of a one bedroom now sits at $2,300. 
---
Although this is only a minimal $10 increase from last month, it's still significant. That's because this is the highest rent reported by Padmapper for the City of Toronto. 
It's also eye-opening to compare the price of a one- and two-bedroom unit in the city. The cost of the latter remained unchanged from last month. At $2,850, a two bedroom is only $550 more expensive than a one bed, which means sharing with a roommate could make rent significantly cheaper.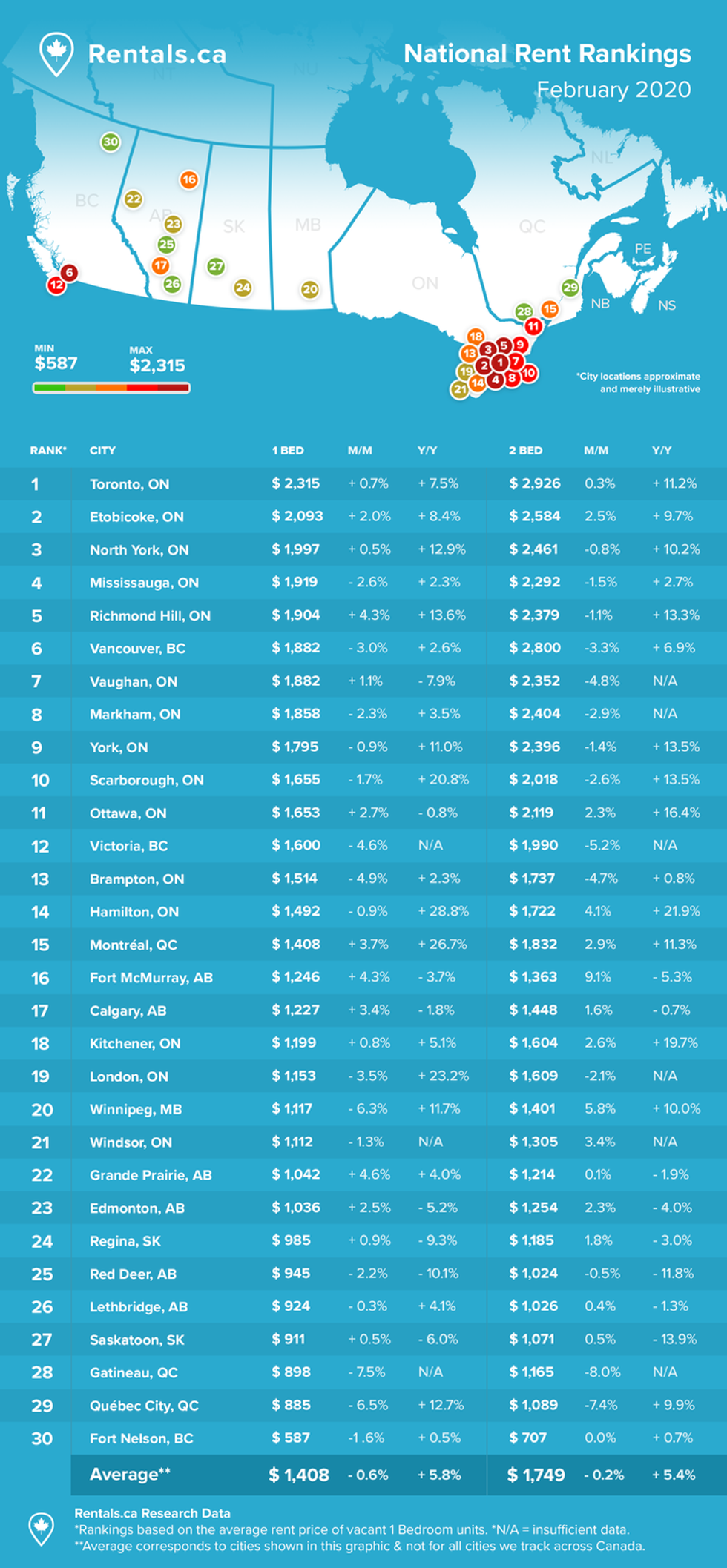 Although Toronto holds the title for most expensive rent overall, Vancouver holds the title for the most expensive rent for two bedrooms. These units on the West Coast go for $3,090. Surprisingly, this is a 3.4 per cent drop from last month. 
Overall, more than half of the 24 cities in the report saw prices hold steady, which is similar to the previous month's report. This is "surprising since it is hot moving season right now," Padmapper noted. 
Additionally, only five cities experienced rent growth month over month, but a total of 11 saw large double-digit growth year over year.
"This suggests that while the Canadian market overall has gotten much more expensive in the past year, it seems either a price ceiling may have been hit in a lot of these cities, since they aren't growing as much month on month, or the demand is finally beginning to taper off," Padmapper explained. 
Kitchener and Saskatoon saw the largest upward trend, according to the report. Both cities saw rents rise by a slight 2.3 per cent month over month. However, their prices have climbed by 15.9 and 15.8 per cent, respectively, since August 2018. 
On the other side of the spectrum, Quebec City and Kingston saw the biggest year-over-year decline, dropping by 11 and 9.4 per cent, respectively. Quebec City now ties with St. John's for most affordable one-bedroom rent, costing a mere $810. Kingston, on the other hand, has the 14th priciest rent at $1,060.
Renting