Toronto's rental rates have reached new heights. The cost of a one bedroom has now outpaced its previous high of $2,270 in January, according to Padmapper's latest rent report. A one-bed unit now goes for $2,290, which is 2.7 per cent growth from the previous month.  
This isn't good news for Toronto tenants, but luckily prices for two bedrooms remain unchanged month over month. The cost of a two-bed rental is still $2,850.
---
Despite Toronto's climbing rates, Padmapper's July report notes that this is "one of the flattest months we've seen" across the country. Only four out of 23 Canadian cities saw rental prices increase. Besides Toronto, this includes Hamilton, Kitchener, and Calgary.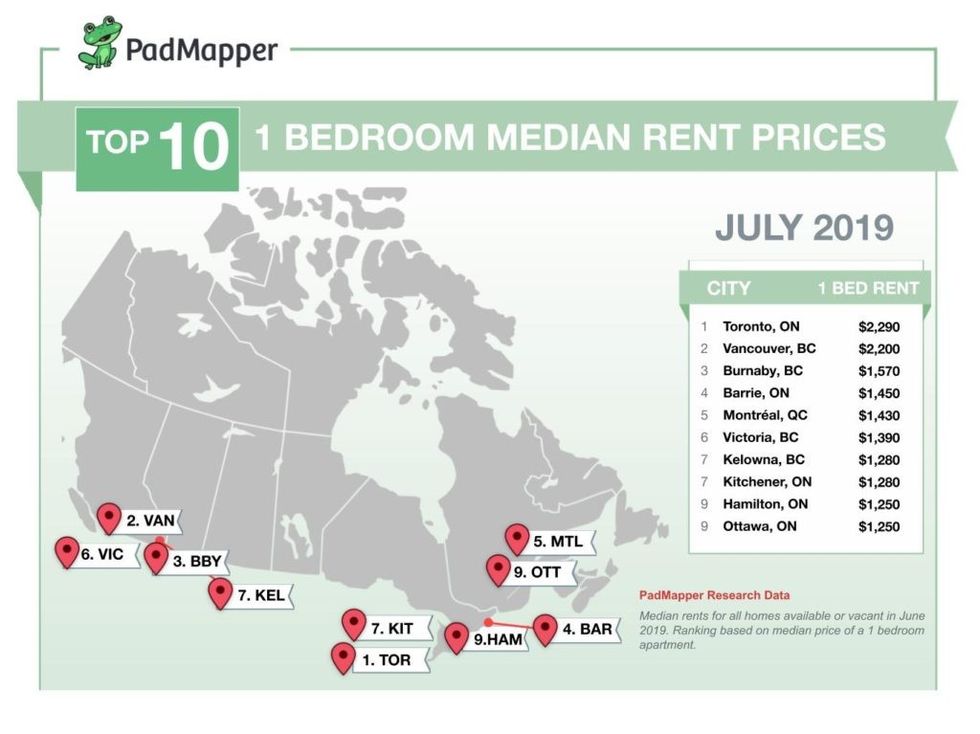 The former two cities managed to climb their way up the top 10 list. Hamilton had the fastest-growing rent this month, rising 4.2 per cent to $1,250. It's now tied for ninth place with Ottawa. Similarly, Kitchener's rental rates jumped by 4.1 per cent to $1,280, and is now on par with Kelowna at seventh place. 
The increase in Calgary wasn't quite as high, but still rose by a noticeable 3.6 per cent. It's now the 13th most expensive city for rent, with a one bedroom costing $1,140. 
While the majority of cities remained stable this month, six cities saw a downward trend. Saskatoon and Regina saw the biggest decrease in rent, falling by 4.4 and 2.2 per cent, respectively. A one bedroom in Saskatoon is now $860 and in Regina it's $910. 
But just because this month's report has shown fairly stable numbers, doesn't mean rents aren't high. 
"Nearly half of the total cities had double digit year over year growth rates for either one or two bedroom rents, signaling that even though it's been flat on a monthly basis, rents are still up significantly compared to summer of 2018," Padmapper noted.
Renting