Toronto
Urban Living
Part of Queen Street to Be Closed for 4.5 Years During Ontario Line Construction
A key stretch of Queen Street in downtown Toronto will be closed for nearly five years to construct a new subway stop apart of the highly-anticipated Ontario Line.
On Tuesday, Metrolinx announced the closure of two stretches of Queen Street on either side of Yonge, including a closure between Bay and Victoria streets and part of James Street. The closures are expected to start in early 2023 and end in 2027.
The stretch of Queen Street is close to Old City Hall, the CF Toronto Eaton Centre, Hudson's Bay, Saks Fifth Avenue, and St. Michael's Hospital.
During the construction, all vehicles — including streetcars — will be diverted off Queen from just east of Bay Street to Yonge Street and from Yonge to Victoria to complete the complex work needed to build an Ontario Line station beneath the TTC's existing Queen subway stop.
READ: Four New Subway Stations in Toronto Unveiled for Ontario Line
However, Yonge, Bay, and Victoria will remain open to north-south traffic throughout the construction, but part of James Street will remain closed. As a result, the TTC's 501 Queen streetcar would be forced into a long-term diversion.
Metrolinx says that while building a new subway stop in such a dense area "is no small feat," and building a station under an existing Line 1 platform is a "massive undertaking." However, it will also deliver major benefits. The 15.45-kilometre Ontario Line is expected to serve up to 388,000 trips per day by 2041.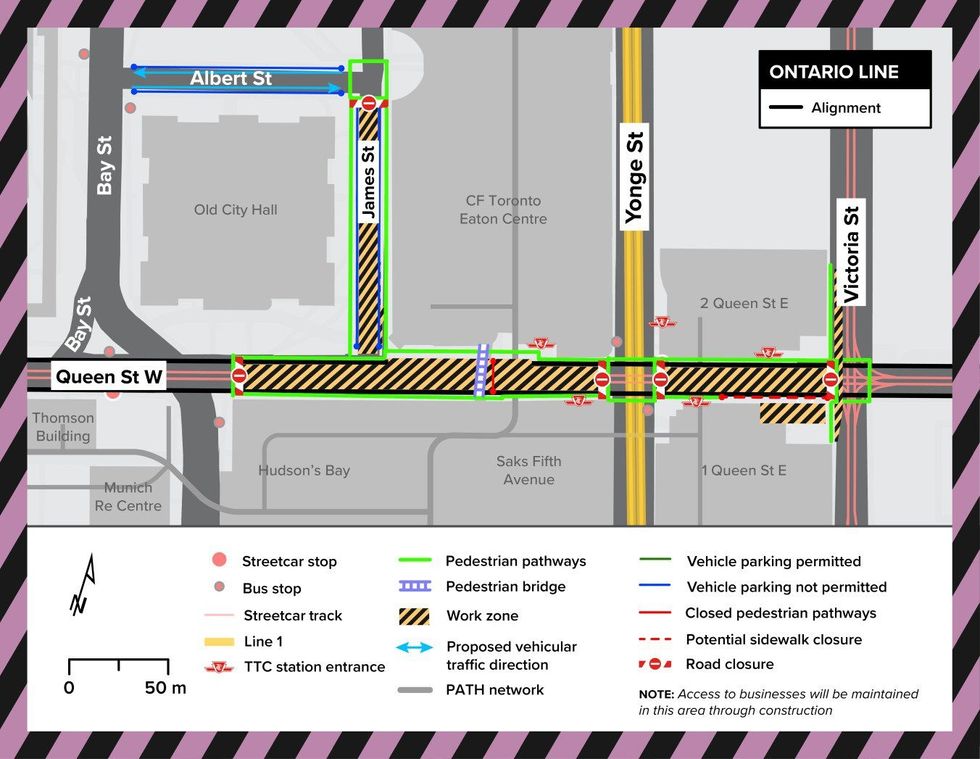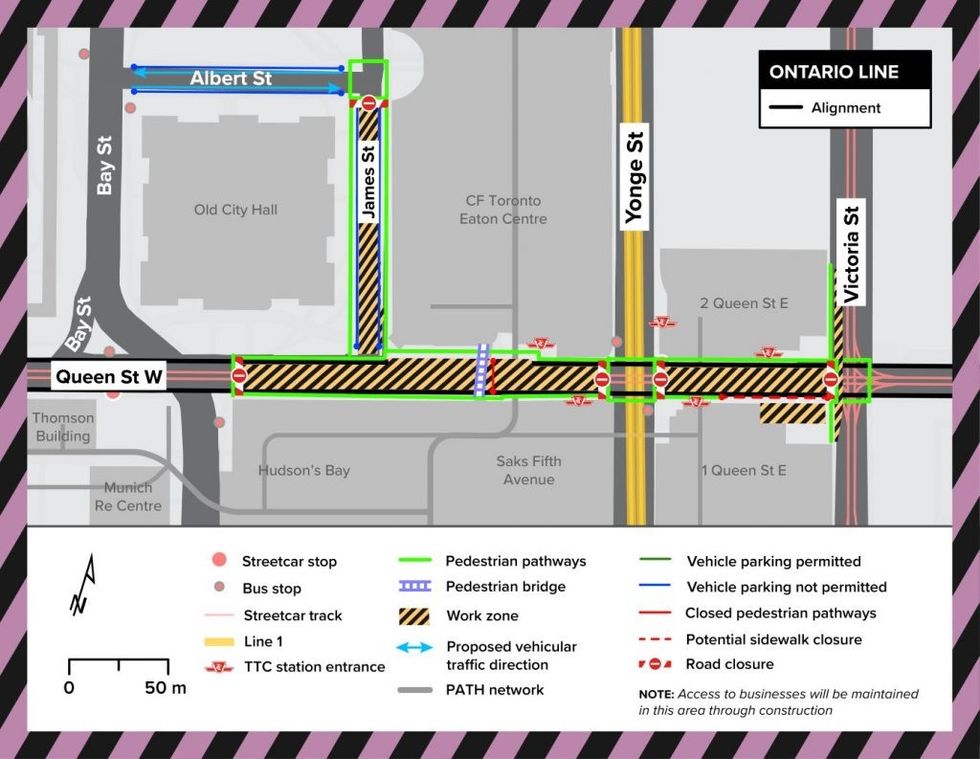 Metrolinx said it considered partial road closures but found that a full closure would make construction more efficient.
"We looked at a partial closure option, but diverting all traffic for a set period of time means construction can be completed over a year sooner, the Ontario Line can open more than nine months earlier, and we can minimize disruptions to residents, businesses and visitors," said Malcolm MacKay, Metrolinx program sponsor for the Ontario Line.
"More importantly, a full diversion like this gives people more predictability when moving through and around the area, avoiding a series of confusing on-and-off-road closures that would drag on for a longer time," he added.
Metrolinx says traffic management plans will ensure that drivers and people in the area can move around "quickly, easily, and safely" and that pedestrian access to all businesses in the area will be maintained throughout the construction.
Streetcars will run on special detour routes on Richmond Street and Adelaide Street during construction to keep people moving.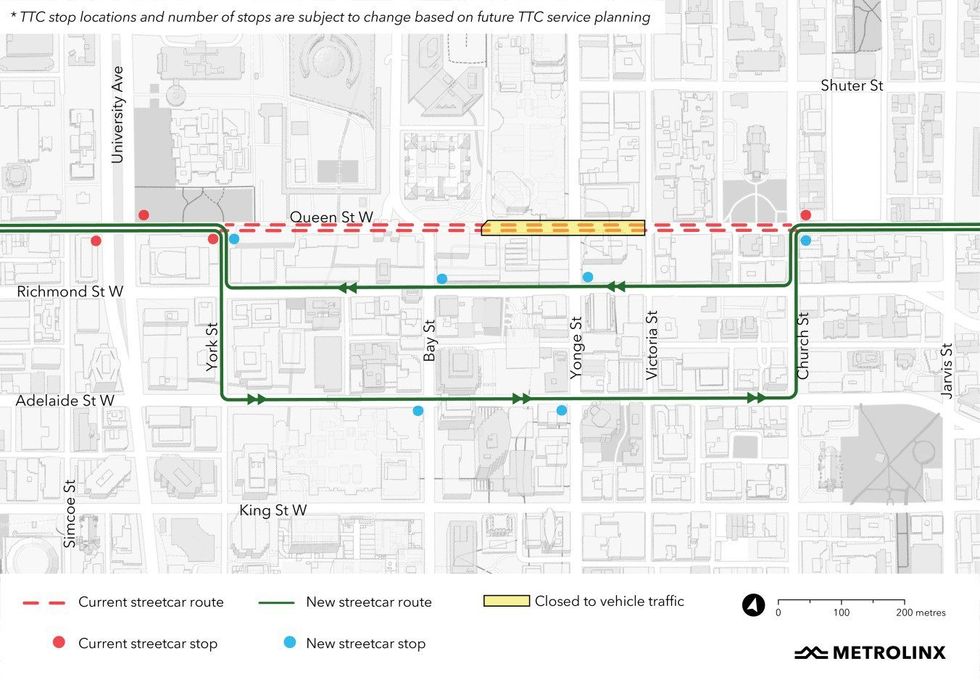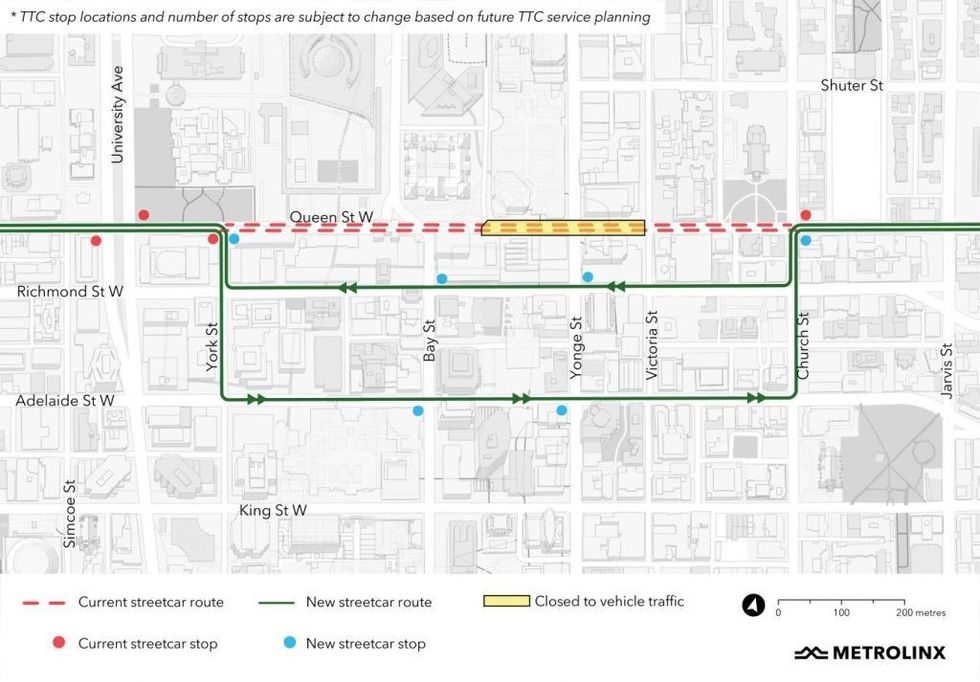 A 24-hour hotline will also be available during construction to give people direct access to someone who can listen to their concerns and address any issues. Metrolinx will also have community offices along the route to answer questions, provide updates, and help support the community through construction.