---
From mega yachts to giant inflatable ducks, Toronto has seen no shortage of eye-catching talking points sail through its harbour.
Yesterday afternoon, those down by the waterfront –- or with waterfront views from condo windows -– may have caught a glimpse of the city's most notable new floating arrival, an iconic bridge that will help redefine Toronto's Port Lands. 
Weighing 650 tonnes and spanning 83 metres, the steel bridge will comprise the western half of the new Commissioners Street bridge. The second half is expected to arrive later this summer.
Beginning on May 5 in Dartmouth, NS, the anticipated new structure journeyed up the storied St. Lawrence Seaway, past Montreal and the Thousand Islands and into Lake Ontario.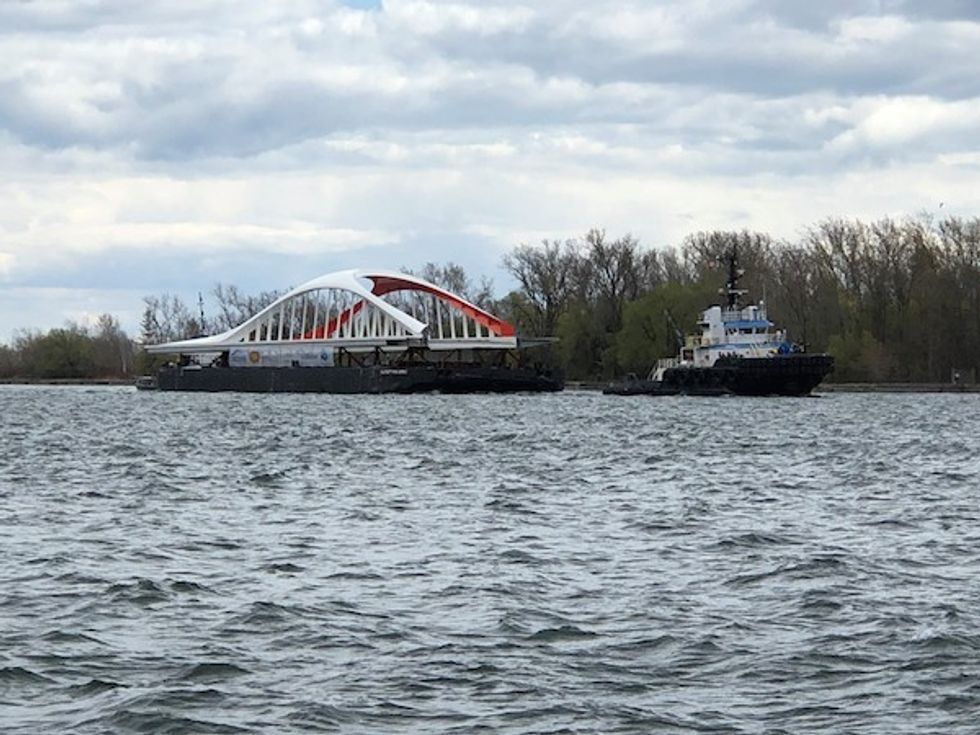 Image: Waterfront Toronto
The Port Lands bridges play a central role in Waterfront Toronto's much buzzed about $1.25-billion revitalization project, which is slated for completion in 2024. It will render the east waterfront flood-proof and transform the currently industrial and uninspiring wasteland south of Cherry Street and Lake Shore Boulevard East into a multi-faceted and green neighbourhood.
Once finished, the Commissioners Street bridge will be 152 metres long. As the largest of four impressive bridges built for the undertaking, it will cross over a new river, connecting Commissioners Street to Don Roadway. Most notably, it will transport cars, bikes, and people to the new, flood-proof and eco-friendly Villiers Island.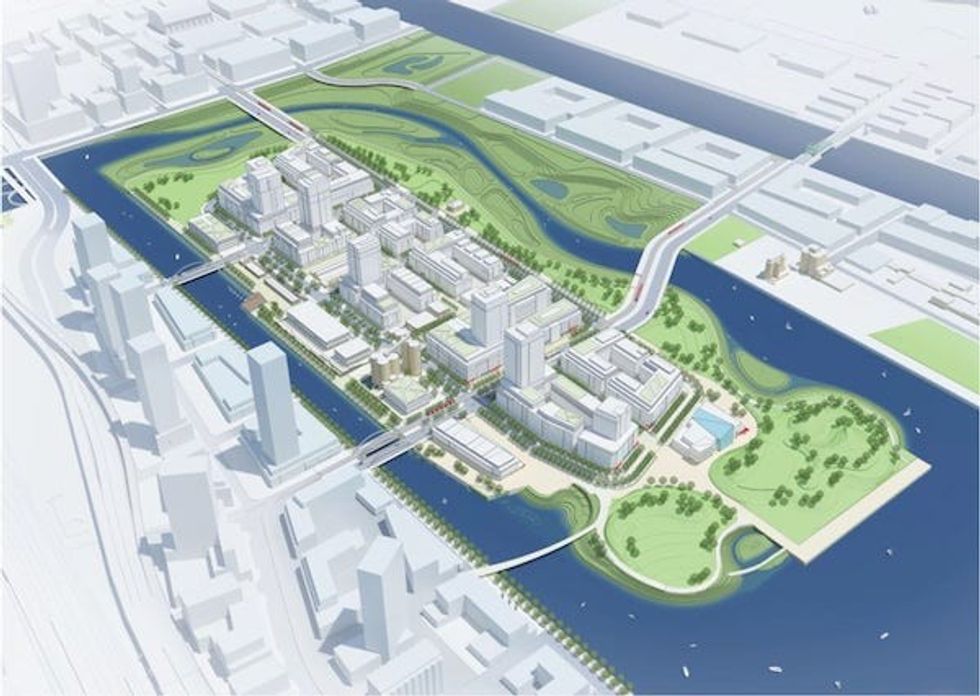 Image: Urban Strategies
Villiers Island will materialize through the naturalization of the Don River, meticulous flood protection, and the formation of the new river mouth and outlet into Lake Ontario.
In what will become a go-to destination year-round the Villiers Island will house new trails, parks, and green spaces. The 22-hectre area will also include a mixed-use residential development and restaurants. The ambitious initiative will also include an elementary school, community centre, and non-profit childcare services.
While it may be but a floating piece of the urban planning puzzle right now, once it's good to go, the white and red bridge will become an iconic Toronto landmark -- and one that represents progressive change.
News