---
The Region of Peel could take a page from Toronto's book and implement a vacant home tax. 
Today, Peel Region -- which includes Mississauga, Brampton, and Caledon -- launched an online survey to gauge public interest and input on the undoubtedly controversial issue. The survey will be available until May 16 and will complement a pair of virtual public consultations on Tuesday, April 26 and Tuesday, May 3. 
At a time when most of Canada is facing a housing supply crisis, homes that sit empty -- whether as an investment property or otherwise -- remove needed housing stock from the market that could be sold or rented out.
The move comes after Peel Region's home prices climbed to new heights in recent years. "A variety of metrics and studies indicate growing pressures on affordable housing supply and eroding housing affordability in Ontario including Peel," reads a press release issued by the Region of Peel. "A Vacant Home Tax is expected to discourage speculative behaviour which is one of the factors that has caused the housing supply and affordability issues in Ontario."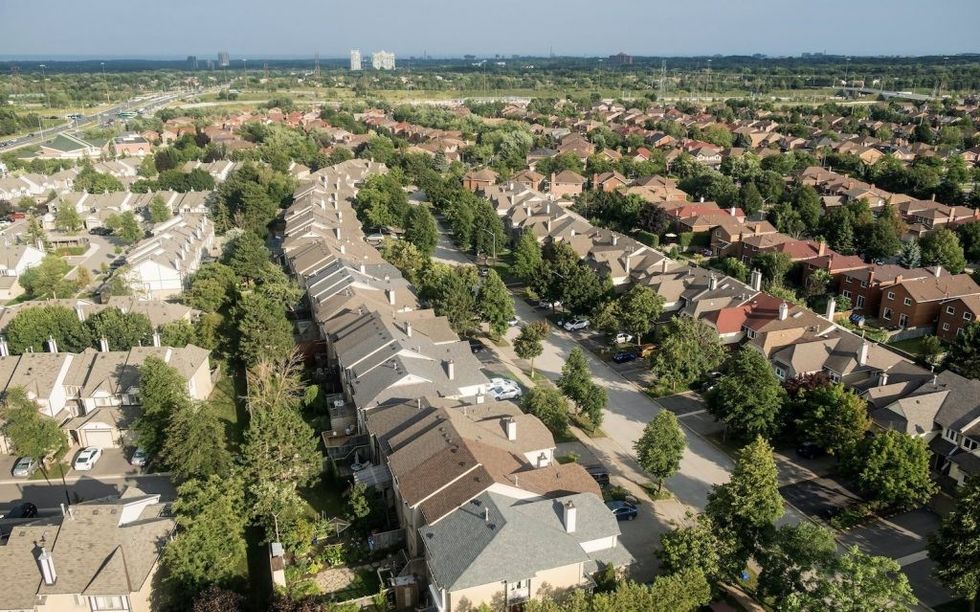 Mississauga homes/Shutterstock
Meanwhile, the City of Toronto passed a vacant home tax this past fall, which went into effect on January 1, 2022 but isn't payable until 2023. Toronto's tax will target owners of homes that sit vacant for more than six months of the year with a tax of 1% of a home's assessed value. Some exemptions apply, including the owner's death, if the homeowner is under medical care, or if the home is undergoing a renovation. Furthermore, the tax will not apply to 'snowbirds' if their Toronto property is their primary home.
The initiative is expected to generate $55M to $60M in new tax revenue annually, which will be allocated toward affordable housing initiatives.  
"As a revenue tool to support housing programs while not mandated by legislation, all jurisdictions that have implemented (or are considering implementing) the Vacant Home Tax have pledged to use revenues collected from this tax to help support rent relief programs, build and maintain affordable housing, and provide grants to non-profit organizations to assist the community," reads the Region of Peel press release.
While Peel Region has not specified details of a potential vacant home tax, the rules would likely be similar. Either way, the end goal remains the same: to increase housing availability and affordability at a time when Canada's housing situation had reached crisis levels in many parts of the country.  

The good news is that the number of vacant homes across Canada is actually on the decline for the first time in 20 years. Nonetheless, any effort to increase housing supply -- and simultaneously help house the most vulnerable -- is a welcome one in the eyes of many (investors, not so much).
Real Estate News