---
Ontario's provincial budget, released late this afternoon, was short on new housing measures but nevertheless earmarked $2B to build community infrastructure.
The funds will be invested in the Ontario Community Infrastructure Fund over five years and will be deployed across 424 small, rural and north communities in the province, where old roads, bridges, water and wastewater infrastructure will be both rehabilitated and built anew. A total of $1.3B in provincial relief will support critical municipal services like public transit and shelters through new federal-provincial investment of $632M, of which the province is asking the federal government to be a full partner.
MORE BUDGET COVERAGE:
An additional $14B in capital grants over 10 years has also been announced for school infrastructure including $1.4B to renew and maintain schools for the 2022 - 2023 year.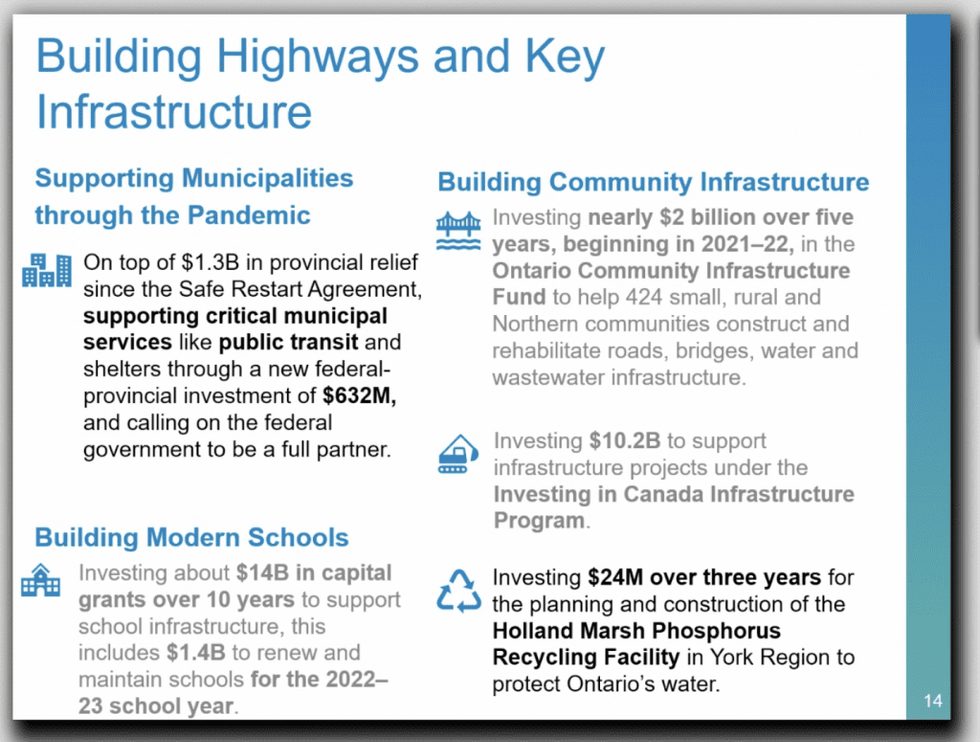 Ministry of Finance
The budget also announced that Doug Ford's Progressive Conservative Party will spend $230M through 2023 to augment health care capacity, including critical care in hospitals across the province of Ontario.
The budget also promises to expedite development timelines for all housing types in a bid to deliver homes faster, although the budget did not specify how it would achieve this ambition.
The Landlord Tenant Bureau (LTB) and the Ontario Land Tribunal will receive $19.2M over the next three years to help alleviate their backlogs. In the former's case, hearings were backlogged by around four months before the COVID-19 pandemic, but it has grown to somewhere around seven months.
There were 48,422 applications filed with the LTB in 2021 -- down from more than 160,000 over the two previous years -- of which 24,481 were requests to evict tenants who weren't paying rent. With such massive caseloads, it remains to be seen if the government's money will relieve the backlog.
"One of the defining affordability challenges of our time is housing. Our province is growing and every year, people from across Canada and around the world choose Ontario to build their careers and raise their families, here in Ontario. But every single year, they're putting pressure on our housing supply and the dream of homeownership becomes further and further out of reach," Provincial Finance Minister Peter Bethlenfalvy said. "In fact, as part of our plan, we'll increase the housing supply by building 1.5M new homes over the next 10 years. It's time to put more housing options within the reach of families who so badly need them. When we talk about building new homes for families, we say, let's get it done."
Ontario News