---
After month upon month of unrelenting downturn, Canada's housing market is showing signs of a slight rebound.
This is according to a new report from RBC Economics, authored by Assistant Chief Economist Robert Hogue, which examined the latest data from the Canadian Real Estate Association. In October, CREA reported that home resales inched upwards and property values saw a slower pace of decline compared to past months. In response, Hogue reported, "Canada's housing market may be entering the latter stages of its cyclical downturn."
"While we continue to think an inflection point is some ways off, it does suggest most of the price correction is likely behind us -- at least for Canada as a whole," Hogue's report went on to say. "Our view is that rising interest rates and the loss of affordability will keep market activity quiet into early-2023 and prices will bottom around spring."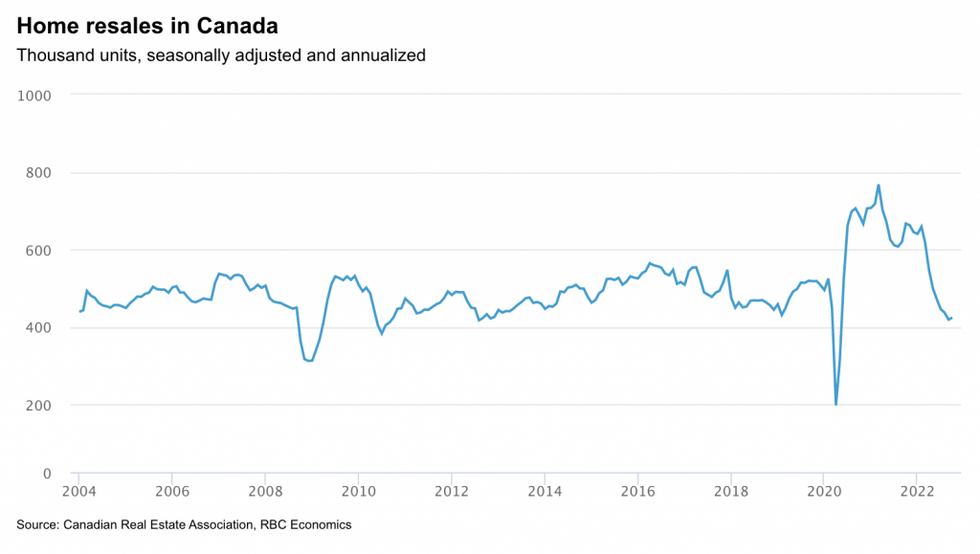 The national market saw home resales pick up ever so slightly in October, rising 1.3% month over month to 424,600 units. Hogue noted that "this potentially signals market activity is nearing a bottom after sliding 36% over the previous seven months."
On a local level, Victoria observed the largest monthly increase, at 19.7%, followed by Vancouver (+6.5%), Edmonton (+3.3%), Saskatoon (+6.3%), Winnipeg (+2.2%), Hamilton (+1.7%), Saint John (+2.7%), and Halifax (+9.2%). Resales were "essentially flat" in Toronto and Calgary, rising just 0.2% in both markets. Ottawa, Montreal, and Quebec City all saw declines in resale activity, dropping 2.9%, 2.4%, and 1.6% respectively. In most markets, resale activity remained below year-ago levels.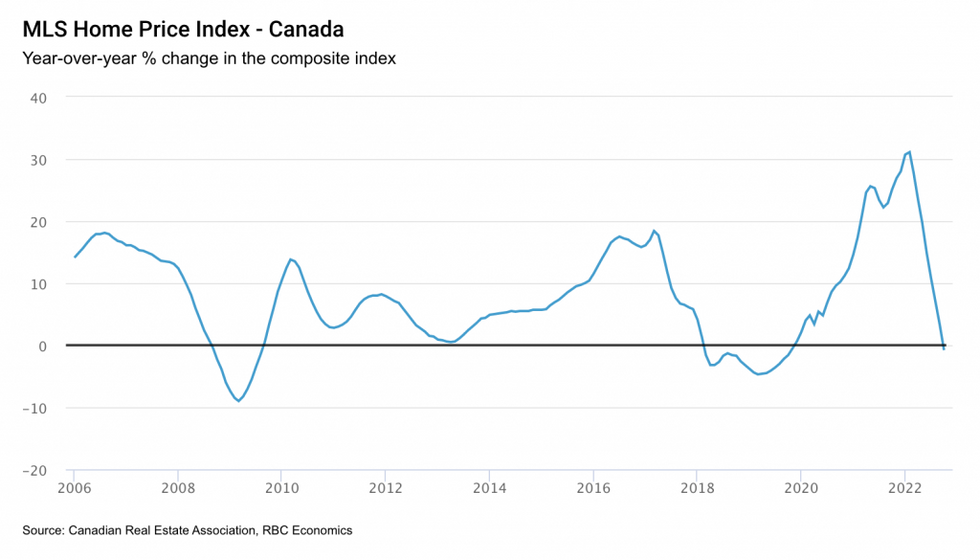 Although property values are continuing on a downward trend in Canada, October's MoM drop was the smallest since May. The aggregate MLS Home Price Index dropped for an eighth consecutive month, declining 1.2% between September and October. October's dip puts the index below its year-ago level by 0.8%, and 10% below the February peak.
"While the erosion of property values is widespread across the country, the magnitude varies considerably," states Hogue. Property values in Ontario and British Columbia have seen the most drastic peak-to-trough contractions, with Cambridge (-22%), London (-18%), Brantford (-18%), Kitchener-Waterloo (-17%), Kawartha Lakes (-17%), and Hamilton-Burlington (-17%) leading the decline in Ontario, and Chilliwack (-18%), and the Fraser Valley (-12%) leading the decline in British Columbia.
Overall, affordability concerns continue to weigh heavily on Toronto and Vancouver's markets, putting downward pressure on prices, although the downturn has been more severe in Toronto.
In October, the Toronto-area MLS HPI dipped 1.5%, putting it more than 11% below the February peak. In Vancouver, the HPI fell just 0.9% in October, putting the index 5.3% below a peak in March.
"We doubt this will mark a turning point," said Hogue of Vancouver's data. "We expect extremely poor affordability conditions will maintain intense downward pressure on property values in the area. The same goes for Toronto where were see prices continuing to fall in the near term."
Meanwhile, Calgary continues to be one of the few Canadian markets "bucking the general weakening trend." Although activity is unmistakably down in the city, it remains above pre-pandemic levels. In addition, prices have held steady since April. This is expected to continue in the months to come due to tight demand-supply conditions in Calgary's market.
Real Estate News