---
Standing at the intersection of Bayview and Eglinton in Leaside, one is surrounded on all four sides by construction, as the area rapidly intensifies in preparation for the new Eglinton Crosstown LRT.
Now, a new proposal is set to add another crane to the mix, with a 35-storey mixed-use building poised directly atop the primary entrance of the future Leaside TTC Station at 1787 - 1779 Bayview Avenue.
An OPA, ZBA, and SPA have been submitted to the city by Bousfields on behalf of Condor Properties Ltd. for the build, which would add 373 residential units -- 265 condos and 108 rental -- to the neighbourhood. The tower will reach a height of 114 m and encompass a GFA of 27,846 sq. m, 541 of which will be set aside for retail space on the ground floor.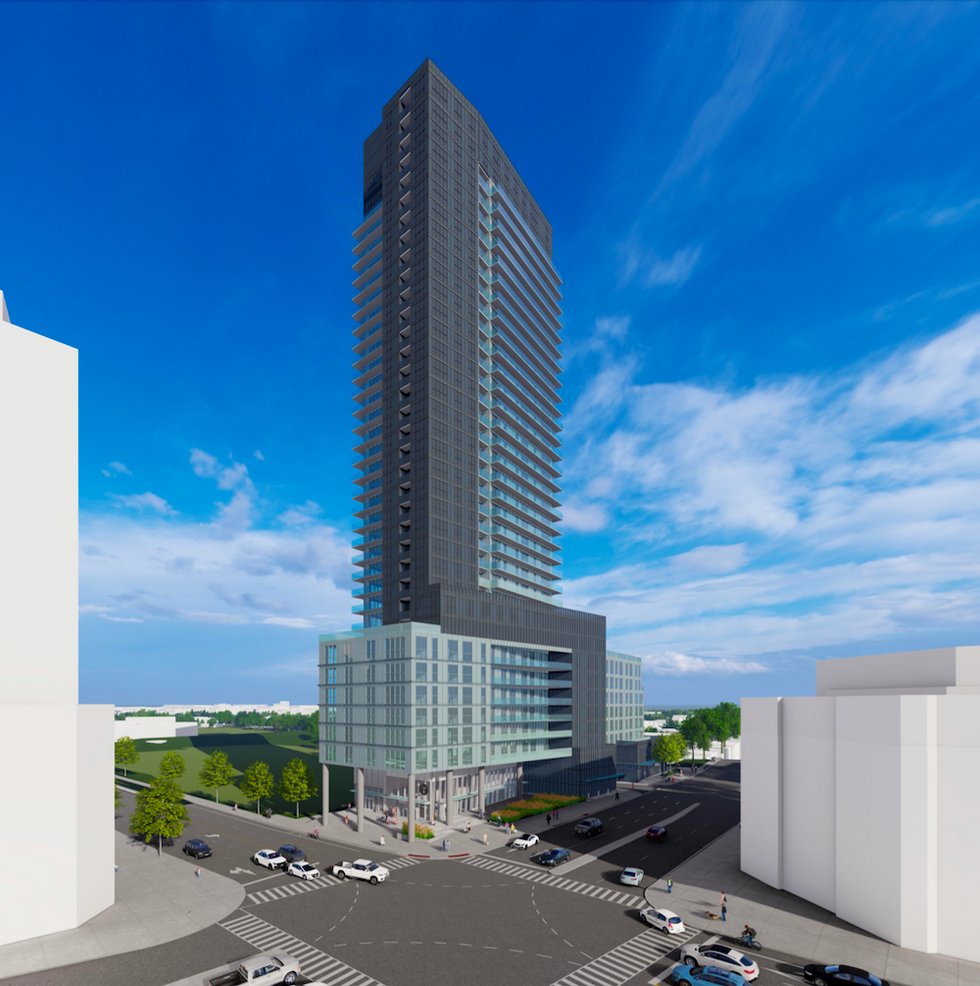 Rendering: IBI Group
The project will also include 10 replacement rental units, to supplement the existing rental housing to be demolished on the site. According to the plans, all rental units will be located within the building's podium, with market condo units in the tower above. The proposal includes 777 sq. m of outdoor amenity space, along with 1,766 interior, to be located on the eight and ninth floors. 
READ: Connecting Cooksville Community Proposal to Test 15-Minute City Concept
Despite the area's direct transit access, the project will indeed include parking, with 139 vehicle spaces slated for a four-level underground garage, along with 488 bicycle spots on the ground floor and mezzanine. Still, residents will benefit from dusting off those Presto cards, with the LRT just steps from their front door.
The tower will find itself in good company in the briskly densifying Leaside; it joins 25 recently proposed or under review applications within the direct vicinity. According to the Planning Rationale, the estimated population of the subject site is set to reach 50,697 people, living in a total of 26,923 units.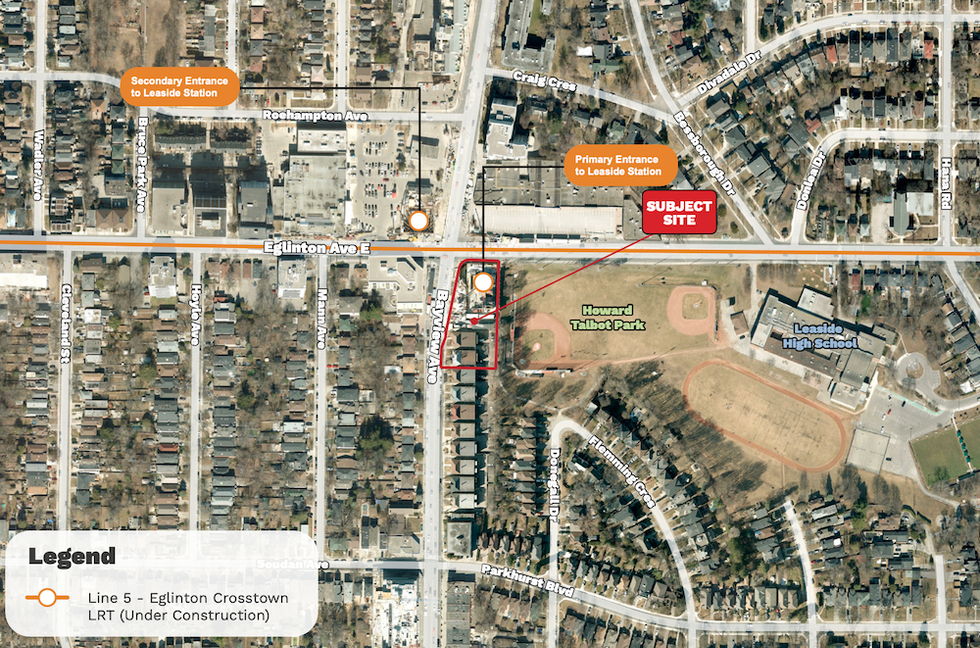 Image: Bousfields
"It is our opinion that the proposal will fit within the existing, planned and emerging context as it is within a Midtown Transit Station Area Core and provides a direct relationship with the evolving tall building context along Eglinton Avenue East in the Bayview Focus Area," reads the document.
Designed by globally-renowned firm IBI Group, the rendering depicts a sleek, rectangular tower flanked by linear glass balconies, set atop a boxy podium, directly positioned at the intersection of Bayview and Eglinton. 
Residents will have access to numerous amenities within a short walk including a number of schools, childcare, shopping, and places of worship, and Howard Talbot Park across the way -- not to mention thousands of new neighbours to meet. 
Future Developments