---
With a new mixed-use community proposed in Mississauga, a Toronto-based real estate developer is applying the international urban-design concept of the 15-minute city to the GTA. 
"Really, when it comes right down to it, a 15-minute city is this global movement to build communities where people's daily needs are met within a short walk of their homes," Ken Wilcox, Vice President of development at TAS, tells STOREYS. "So, within a 15-minute walk of your home, you have everything you need to satisfy your daily needs," he adds.
The 15-minute concept that Wilcox defines is at the heart of Connecting Cooksville, TAS's proposal for a multi-phase development directly south of the Cooksville GO Station. 
"What I think is really unique about Connecting Cooksville is that we have an opportunity to combine the 15-minute city with transit-oriented development," says Wilcox. "Here we have GO access, we have the Hurontario LRT, and we have MiWay express bus service -- so to us it just makes sense as the right place for density and community amenities," he adds.
As proposed, Connecting Cooksville includes five towers ranging from 34 to 46 storeys in height and a total of 2,224 residential units on a mostly vacant 5.5-acre greyfield site at the corner of Hillcrest Avenue and Hurontario Street.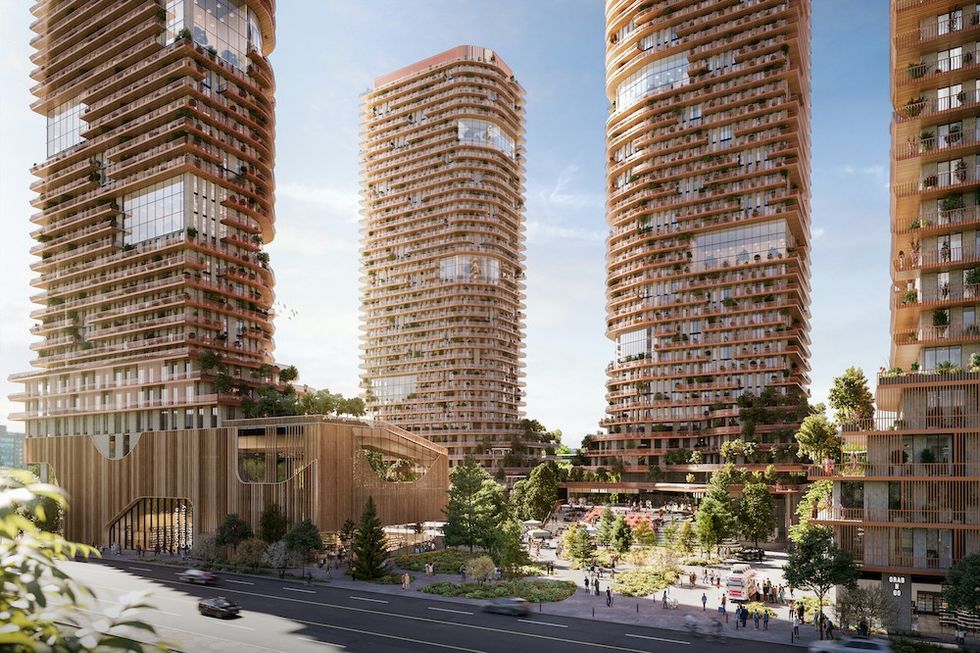 Rendering: SvN Architects + Planners
Although the exact mix of dwellings hasn't been established, the idea is to create a mix of condos and purpose-built rental apartments. TAS is also partnering with Options for Homes, a non-profit developer, to deliver between 250 to 300 condos through the latter's affordable ownership program. "One of our core principles here -- one of our core impact objectives at TAS -- is to broaden affordability, so we're constantly looking for ways of solving for affordability," says Wilcox.
Of course, as a 15-minute city proposal, Connecting Cooksville makes lots of room (21,177.8 sq. m, in fact) for a variety of non-residential uses including both office and retail as well as a variety of community amenities. Nearly half of the site has been set aside for privately-owned outdoor public space.

"We've been very deliberate about pushing the five buildings to the edge of the site and prioritizing the public realm," says Wilcox of the design by SvN Architects + Planners as well as WHY Architecture Workshop Inc., who contributed to the landscaping vision.

"I think the most exciting thing is that we've set aside the base of the southwest building on the site for a full-service community centre," Wilcox notes, adding that the amenity, which would also feature a public library, is something local residents had asked for during ongoing consultations.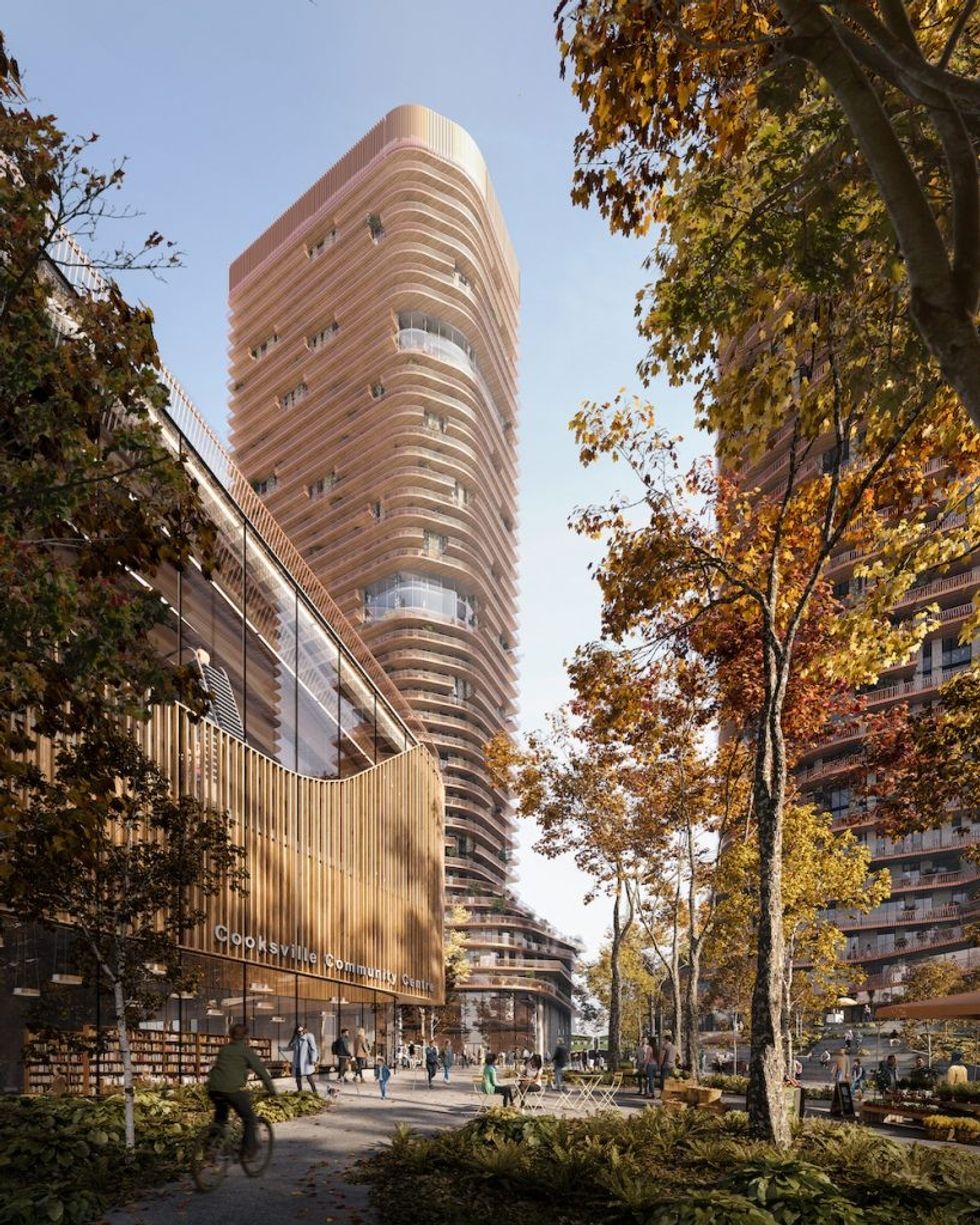 Rendering: SvN Architects + Planners
While TAS submitted its application for bylaw and official-plan amendments in June, the community engagement process began back in 2020, the same year that TAS completed assembling the properties that make up the site. For a project of this scope, which could break ground as early as 2024, Wilcox emphasizes the need for consultation as well as collaboration: "We're really committed to building a strong partnership with the City of Mississauga."
The evolving proposal has already gained some support from the Cooksville neighbourhood. "TAS, they're just really on the cutting edge of not just doing something for profit but really customizing it for what community members want," Hardy Steinke, executive director of Heart Comonos, a grassroots community-engagement organization, tells STOREYS. "They carry this community vibe; this is who they are."
Future Developments