Real Estate News
New Listings Just "Drops in a Bucket" as National Property Values Ease
With the busy fall real estate market looming, national property values have cooled off across many parts of the country compared to the more tumultuous months seen earlier this year.
In a recent housing market report, senior economist for RBC Robert Hogue said that the housing market has "calmed down considerably this summer," which has taken some pressure off Canadian property values.
Hogue noted that this comes as home prices continue to rise, with the composite MLS Home Price Index rose 0.9% month-over-month to $736,600 in August, up a notable 21.3% from a year ago, down from 22.4% in July 2020, and a cycle high of 24.6% in June. Though, the economist added that the pace of increase isn't as frenetic as it once was earlier this year.
While home prices continue to increase, the pace of appreciation is showing signs of moderation. Over the last three months, the average rate of increase was just 0.8% month-over-month — which is less than a third of the 2.6% rate recorded in Q1-2021 and less than half of the 2.0% pace recorded between July 2020 and March 2021.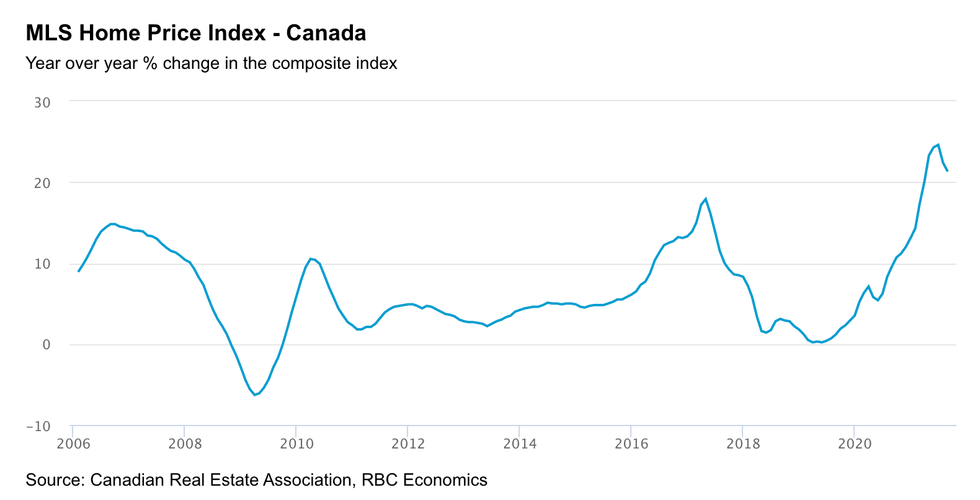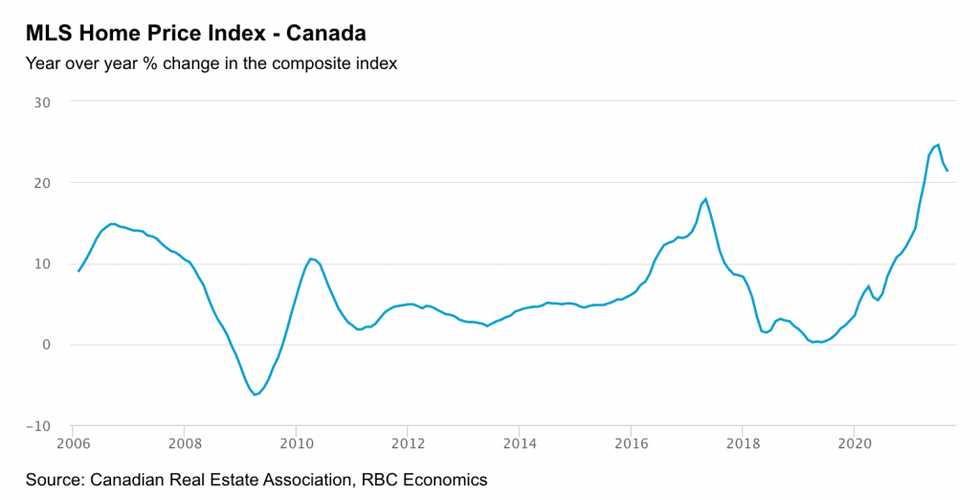 Hogue says Canadians can look forward to further moderation in the period ahead, though widespread price declines "aren't in the cards."
"Exceptionally tight demand-supply conditions in most markets will continue to provide solid protection against any major price corrections though we see prices flattening by early-2022," said Hogue.
READ: Average Cost of Home in Canada Set to Reach $680K This Year
Hogue said that new listings increased 1.2% from July across Canada after four consecutive months of inventory declines. Vancouver, up 12.7% month-over-month, saw the most significant increase, followed by Kitchener-Waterloo (up 8.9%) and Montreal (up 3.7%).
While the increase in new listings did give buyers more options to pick from, Hogue said they were "drops in a bucket" in markets in dire need of inventory. Ottawa (-10.4%), Calgary (-3%), Edmonton (-2.1%), and Toronto (-1.8%) saw new listings fall the furthest.
On a national level, sales declined 0.5% month-over-month in August and down 14% year-over-year.


"The slight increase in new listings no doubt contributed to slowing down the pace of decline," said Hogue, adding, "We expect supply availability to remain a central factor charting the path of home resales in the coming months."
The economist noted that a further uptick in sellers would help stabilize activity — or potentially boost it slightly, given the strength in demand.
"Failing that, however, we'd expect the cooling trend to take resales down closer to their (historically strong) pre-pandemic levels. Either way, we see activity remaining solid in the near term," said Hogue.
The recent cooling trends have been more apparent in smaller markets, including Chilliwack, Kamloops, and Kootenay in British Columbia and Barrie, Brantford, Cambridge, Guelph, Hamilton, Kingston, Kitchener-Waterloo, and southern Georgian Bay in Ontario. Hogue said all of these smaller communities had recorded home resales falling back to or below pre-COVID levels.
While you might assume that the cooling trend is a positive for the housing market, Hogue says it's a reflection of the severe supply shortages the pandemic housing boom has created in those areas, where demand-supply conditions remain super-tight despite lower activity levels.
However, the affordability advantage these smaller markets typically have over larger cities has eroded, particularly compared to downtown condos which have appreciated much less in value during the pandemic.