Real Estate News
CMHC Changes Course, No Longer Predicts Grim Market Outcome
Lower household spending and increased savings coupled with pent-up demand and low mortgage rates have helped fuel housing markets in a number of major Canadian cities, including Toronto, says the Canadian Mortgage Housing Corporation (CMHC).
As a result, existing-home sales and prices have generally exceeded pre-COVID levels and CMHC's forecast range over the pandemic.
Though, the national housing agency warns the sustainability of these trends will depend on the uncertain course of the pandemic and there are still underlying issues that could still impact the overall housing market in the months to come.
"Home sales and prices have been unexpectedly strong during the COVID-19 pandemic in Canada's major markets. This reflects pent-up demand from the early months of the pandemic, low mortgage rates and the uneven impacts of the pandemic across income groups," said Aled ab Iorwerth, CMHC Deputy Chief Economist.
As CMHC prepares its Housing Market Outlook report (that is slated to be released in the second quarter of 2021), the agency has released a new Housing Market Insight which explores housing trends in major markets since March 2020, when the global pandemic was declared.
READ: CMHC Suggests Worst-Case Scenario of Nearly 50% Drop in Housing Prices
According to the latest report, the pandemic has lead to more expensive housing types outselling less expensive apartment condominiums and attached dwellings in Vancouver, Toronto, Ottawa, and Montreal.
This was a result of high-unemployment among lower-income worker and fewer immigrants entering the country, which lessened the demand for more moderately priced homes, the agency said.


According to CMHC, the number of homes sold in Toronto between $1-million and $1.25 million rose from 8.8% to 12.1% between March and October. During this same period, sales of homes priced between $500,000 and $600,000 declined from 14.4% to 12.2%, while homes in the $600,000 to $700,000 range saw similar declines, down from 15.8% to 13.2%.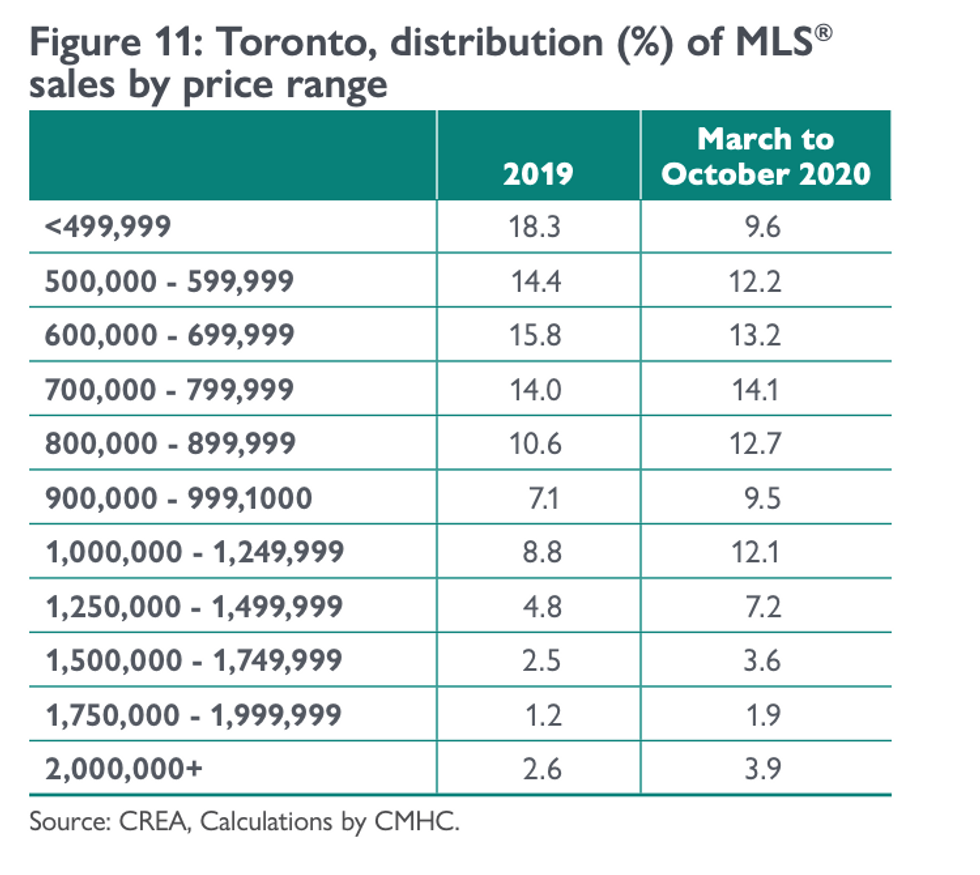 This came as the average household saving rate rose from 2% at the end of 2019 to 27.5% in the second quarter of 2020, as a result of sharply lower household spending.
Though, CMHC says in the third quarter, the savings rate declined but still remained elevated, as household spending recovered. Higher savings would likely have provided some households with increased means and confidence to fund home purchases.
CMHC's latest report comes on the heels of the Bank of Canada Governor Tiff Macklem saying there are now early signs of what he calls "excess exuberance" in Canadian real estate, as people expect "the kind of unsustainable price increases we've seen recently go on indefinitely."
Though, it's not like what was felt in 2016 and 2017 when multiple government measures were introduced to cool down the housing market.
Macklem said while he believes the situation should be monitored "very closely," at this time, the Bank of Canada is not recommending any new measures for the housing market.
While housing activity in most major markets has been unexpectedly strong during the pandemic, CMHC says it's still concerned about "major risks."
The national housing agency also noted that its latest report comes after its previous report in June when forecasts were made when "extreme uncertainty prevailed about how the pandemic and its economic consequences would evolve."
In the June report, CMHC forecast the average Toronto home price would decline for the rest of 2020, before starting to recover by 2021 Q1 and show growth throughout 2022.
In comparison, in January the Toronto Region Real Estate Board (TRREB) said the average selling price for January 2021 was up by 15.5% to $967,885 year-over-year and that it expects GTA prices will climb another 10% this year, with the average home forecast to eclipse the $1 million mark for the first time.
While the housing market in Toronto and other major cities continues to soar, CMHC cautioned there are still factors that could still have an impact.
Employment is still below pre-COVID levels in many places and government financial support programs are only temporary fixes and will eventually be withdrawn. As such, CMHC says a complete and sustained recovery continues to depend on the uncertain course of the pandemic.