Real Estate News
Canadian Home Sales Continued Cooling in July as New Inventory Sits at Record Low
National home sales continued to cool in July, falling for the fourth consecutive month in a row as new inventory reached a record low.
In July, home sales from coast to coast edged back a further 3.5% from June, but down 28% from March's peak. Compared with a year ago, sales were down 15.2% year-over-year, according to new data from the Canadian Real Estate Association (CREA). However, despite the declines, CREA says last month still marked the second-best July on record.
While headlines tend to focus on the moderation of sales right now, CREA says it's the record low inventory levels that should be the focus, as the number of newly listed homes last month dropped by 8.8% compared with June.
The drop in new listings was led by the major Canadian markets, including the GTA, Montreal, Vancouver, and Calgary. Across the country, new supply was down in about three-quarters of all markets in July.
READ: What Does the Reopening of Canada's Borders Mean for the Housing Market?
"The slowdown we've seen in home sales over the last few months has not been surprising, given that the level of activity we were seeing back in March was unsustainable," said Shaun Cathcart, CREA's Senior Economist.
"But we are not returning to normal, we are only returning to where we were before COVID, which was a far cry from normal," said Cathcart.
Cathcart said the problem of high housing demand amid low supply has not gone anywhere — it's arguably only gotten worse.
"And after years of everyone agreeing that medium-density housing was the future, we are still referring to it as the 'missing' middle," he added.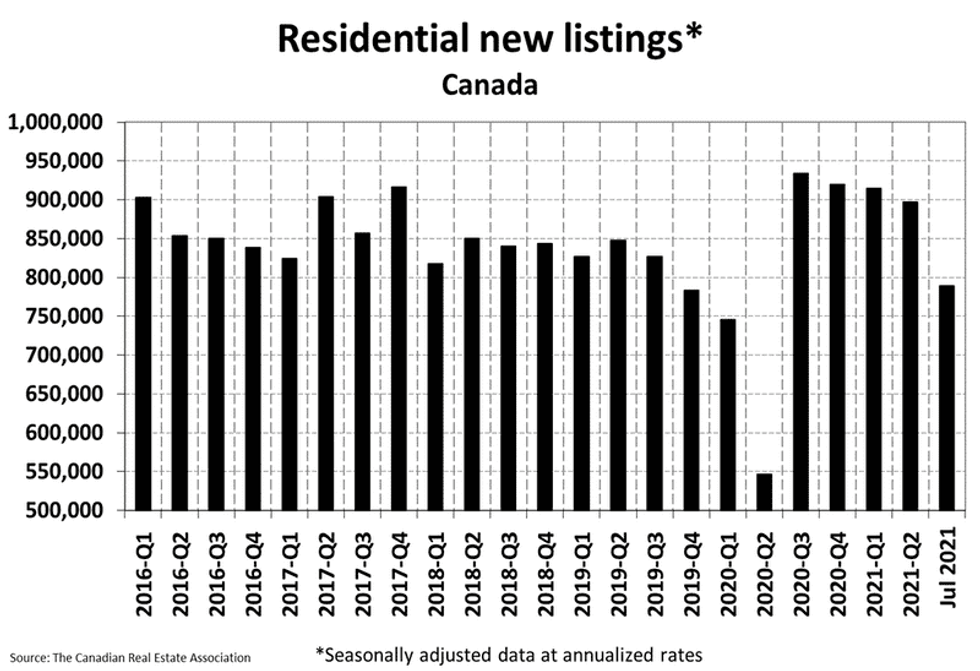 In July, the decline of new listings was enough to noticeably tighten the sales-to-new listings ratio — despite sales activity also slowing on the month. The national sales-to-new listings ratio reached 74% in July, up from 69.9% in June. According to the national real estate association, the long-term average for the national sales-to-new listings ratio is 54.7%.
Based on a comparison of sales-to-new listings ratio with long-term averages, CREA says the tightening of market conditions last month tipped a small majority of local markets back into seller's market territory, reversing the trend of more balanced markets seen in June.
"Another piece of evidence that conditions may be starting to stabilize was the number of months of inventory. There were 2.3 months of inventory on a national basis at the end of July 2021, unchanged from June," said CREA.
CREA noted that this is "extremely low" and still indicative of a strong seller's market at the national level and in most local markets. The long-term average for this measure is twice where it stands today.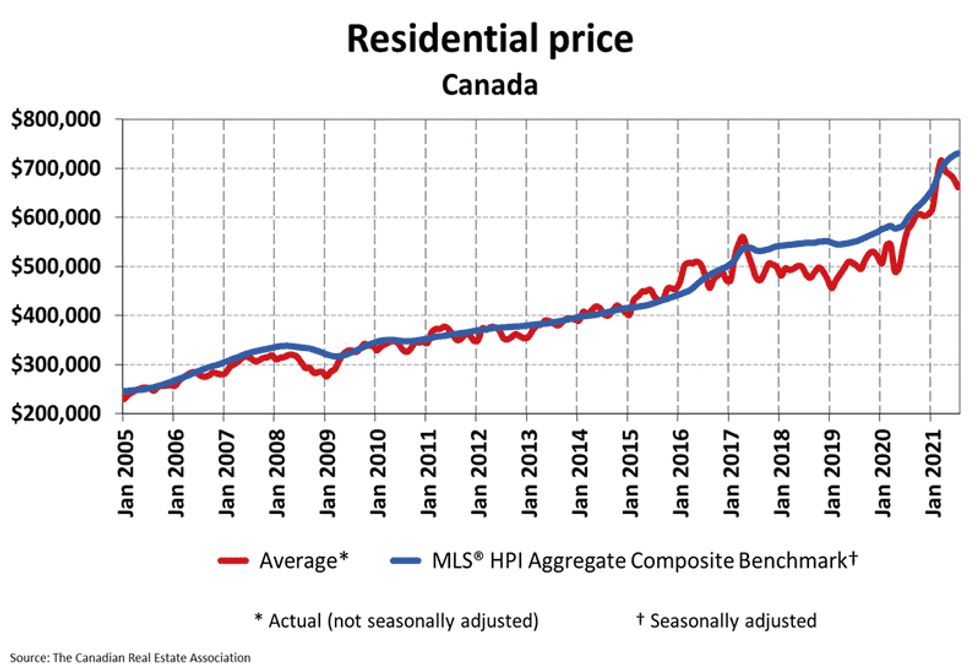 With new inventory down, prices continued to rise. The composite home price, which adjusts for the types of properties sold, rose 0.6% between June and July and was up 22.2% compared with July 2020.
The actual national average sale price reached $662,000 in July 2021, up 15.6% from July of last year. However, when the GTA and Vancouver — two of Canada's most active and expensive housing markets — are excluded, the average price was $132,000 less, CREA said.